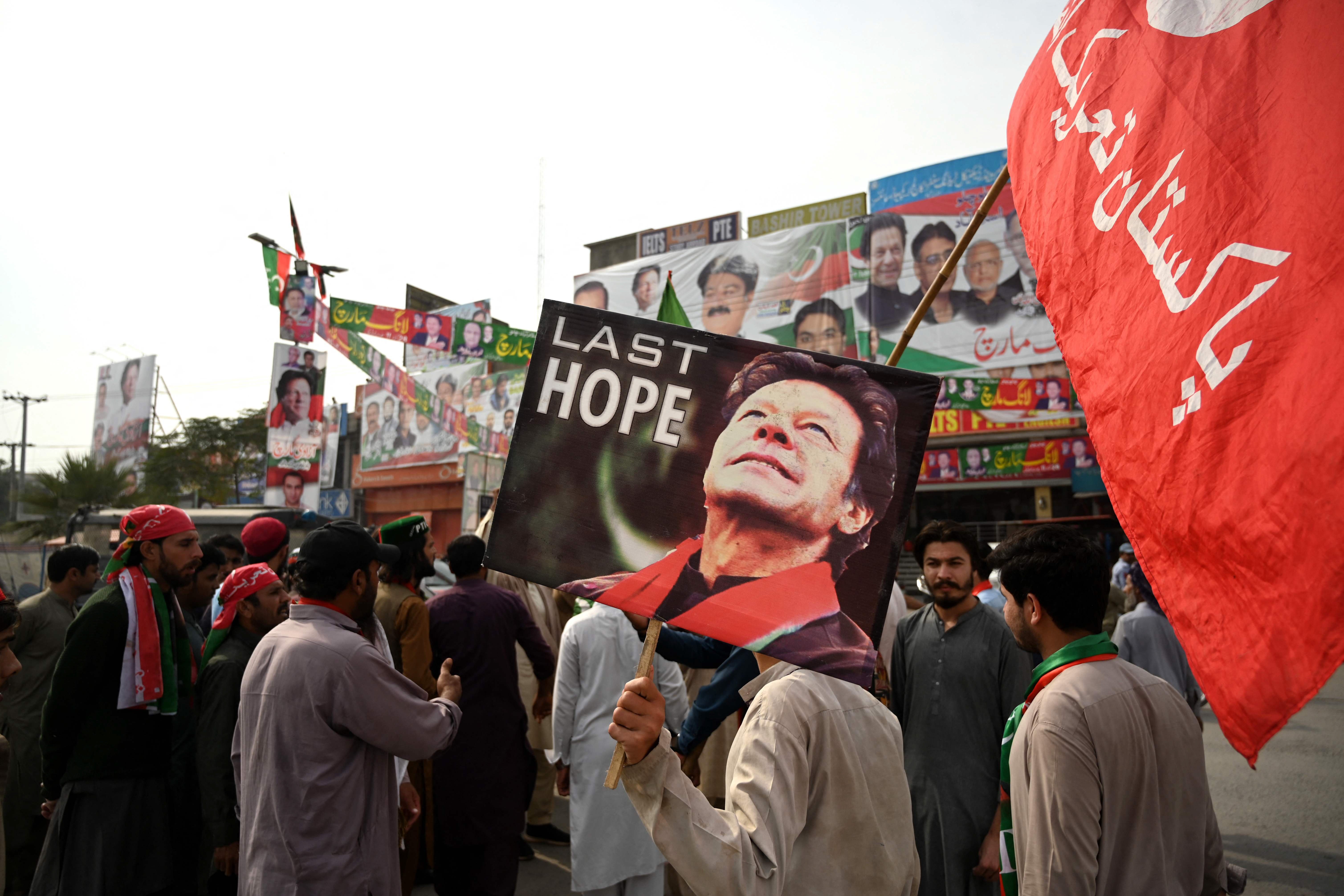 Pakistan Tehreek-e-Insaf (PTI) Chairman Imran Khan will address the nation at 4pm today, according to the party's Peshawar division Twitter handle.
The former prime minister will address the nation for the first time after he narrowly escaped an assassination attempt during the party's long march in Punjab's Wazirabad.
عمران خان 4 بجے قوم سے خطاب کریں گے،#عمران_خان_ہماری_ریڈ_لاین_ہے pic.twitter.com/PvC3SIfcr8
— PTI Peshawar (@PTIPeshawar) November 4, 2022
Earlier, PTI General Secretary Asad Umar announced nationwide protests will be held after Friday prayers today and that demonstrations will continue until the demand of PTI Chairman Imran Khan is met.
The PTI senior leader took to his Twitter handle to make the announcement just a day after the party chief narrowly escaped an assassination attempt.
"Today, after the Friday prayer, there will be a protest in the whole country. Until Imran Khan's demand is met, nationwide protests will continue," Umar said in the tweet.
آج نماز جمعہ کے بعد تمام ملک میں احتجاج ہو گا. جب تک عمران خان کا مطالبہ پورا نہیں ہوتا، ملک گیر احتجاج جاری رہے گا
— Asad Umar (@Asad_Umar) November 4, 2022
PTI leader Fawad Chaudhry also announced the party's plan and said in a tweet that the party has called for a nationwide strike after Friday prayers, further urging every Pakistani to participate in this protest.
تحریک انصاف نے نماز جمعہ کے بعد ملک گیر ہڑتال کی کال دی ہے، ہر پاکستانی اس احتجاج میں شرکت کرے #حقیقی_آزادی_مارچ
— Ch Fawad Hussain (@fawadchaudhry) November 4, 2022
Former human rights minister and senior party leader Shireen Mazari demanded that assassination planners, that the PTI chief has named, must be sacked.
Imran Khan is our Red Line. The assassination planners he has named must immed resign or be sacked. Btw was it a mere coincidence that there was a dark shadow in Gujranwala during time of assassination attempt on IK? #ResignShahbazSharif #SackGeneralFaisal #SackRanaSana
— Shireen Mazari (@ShireenMazari1) November 4, 2022
Protests in some parts of the country have, however, begun post-Friday prayers.
Earlier today, Khyber and Mohmand districts of Khyber-Pakhtunkhwa (K-P) saw huge crowds in the streets protesting against the assassination attempt.
Protest continues in Khyber! pic.twitter.com/6TpKpwkRUY
— PTI Politics. (@PTIPoliticsss) November 4, 2022
Protest is also underway in Sindh's Umarkot against the assassination attempt on the PTI chief.
عمرکوٹ سندھ میں پاکستان کی واحد قومی لیڈر عمران خان پر قاتلانہ حملے کے خلاف احتجاج۔ #عمران_خان_ہماری_ریڈ_لاین_ہے #حقیقی_آزادی_لانگ_مارچ#پاکستان_مارچ#SackGeneralFaisal#ریڈ_لائن_کراس_ہوگئی pic.twitter.com/hakkGwE1dc
— LAL MALHI (@LALMALHI) November 4, 2022
PTI Islamabad's Twitter handle shared points where the protests will take place in the city.
قائد عمران خان پر بزدلانہ حملے کے خلاف آج بعد از نماز جمعہ اسلام آباد میں ان مقامات پر احتجاج ہوگا
📍نزد فیض السلام مدرسہ فیض آباد
📍بہارہ کہو ٹول پلازہ سے آگے سلکھیتر
📍روات
📍سنگ جانی
📍خواتین پریس کلب کے سامنے احتجاجی مظاہرہ کریں گی#عمران_خان_ہماری_ریڈ_لاین_ہے
— PTI Islamabad (@PTIOfficialISB) November 4, 2022
'Imran more determined'
Former foreign minister and PTI Vice President Shah Mehmood Qureshi said that he met Imran Khan last night when he was brought into the recovery room after the operation.
Talking to the ARY News, Qureshi furthered that the PTI chief is more determined and confident than before and said that Imran knew that he could be attacked.
Vice Chairman @SMQureshiPTI talks to ARY regarding assassination attempt on Imran Khan. #عمران_خان_ہماری_ریڈ_لاین_ہے #SackGeneralFaisal pic.twitter.com/xYFVzMXpLe
— PTI (@PTIofficial) November 4, 2022
"He [Imran Khan] knew that he could be attacked… that a plot of an attack was being made to eliminate him but he is so brave that he decided to continue his march," the ex-minister said.
Qureshi also said that the deposed premier has clarity on who he wants to name for the assassination attempt and that the party has decided to register a first information report (FIR) against them.
It is pertinent to note that in a video statement, accompanied by a fellow party member and provincial minister Aslam Iqbal, Umar had disclosed that both of them had a conversation with Imran after the attack and the PTI chief had revealed that he already had information about it.
The former minister had said the PTI chief was certain that the men who had planned the attack were Prime Minister Shehbaz Sharif, Interior Minister Rana Sanaullah and Major General Faisal Naseer.
Rashid announces protest venue
Awami Muslim League (AML) chief and PTI ally Sheikh Rashid announced that a demonstration against the attack on the PTI chief will take place outside Lal Haveli.
The former interior minister made the comments as he appeared in a high court in a case of sloganeering against the PML-N leadership in Saudi Arabia.
"I will talk about politics today at 2 PM. We have to save this country and take it towards betterment," he said.
اسلام آبادکو گونتا موبےجیل بنادیاگیاہےجوجیل ہمارےلیےکل بنائی ہےاس میں انھوں نےاور77وزرانےرہناہےعمران خان پےحملہ کرنےوالےایک سےزیادہ منظم سازش کےآلہ کار تھےاگر عمران خان کو کچھ ہوجاتا تو پاکستان ہی نہیں خطےکی سیاست بھی بدل جاتی آج 2 بجے لال حویلی میں احتجاجی جلسے سےخطاب کروں گا
— Sheikh Rashid Ahmed (@ShkhRasheed) November 4, 2022
Lawyers protest
Lawyers in Punjab observed a strike in District Kachhari on an appeal of the Punjab Bar Council. As a result, all courtrooms were empty after 10am.
They boycotted court proceedings and hearings of cases were adjourned without a proceeding.
The former prime minister had sustained a bullet wound to his leg after an armed attack on his container, as he led the Pakistan PTI's 'Haqeeqi Azadi March' in Wazirabad on Thursday.
One person died in the incident, while several members of the PTI chairman's close circle, including Senator Faisal Javaid, former Sindh governor Imran Ismail, Ahmad Chattha and Imran Yousaf, were injured, party sources said.
PTI supporters took to the streets in protest hours after the assassination attempt on the party chief on day 7 of the long march.
Read Social media reacts to targeted attack on Imran Khan
Angry protesters attacked the residence of Interior Minister Rana Sanaullah in his hometown of Faisalabad. Protesters also took to the streets in Rawalpindi, Peshawar, Quetta, Karachi and other parts of the country.
The PTI protesters clashed with police at Faizabad Interchange in the twin cities of Rawalpindi and Islamabad. The capital police used heavy tear gas shelling to disperse the protesters, while a woman was detained.
Former ruling party workers, led by Punjab Minister Fayyaz Chauhan and National Assembly Member Sadaqat Abbasi also staged protests on Murree Road, Peshawar Road, GT Road, Kalar Saedaan Road and at other places.
Also Read Political assassinations: have we learnt any lessons?
The National Highways and Motorway Police said that PTI workers staged protests by burning tyres in Rawat, Gujar Khan, Suhawa, Wah Cantt and other places.
As soon as the news about the gun attack on Imran's convoy spread, PTI workers came out on roads in Peshawar. Some provincial ministers and assembly members also joined them.
The workers marched from Hashtnagari to the Assembly Chowk. Angry marchers also attacked a police armoured vehicle during the protest, however, traffic continued on GT Road and Khyber Road continued to ply.


Source link