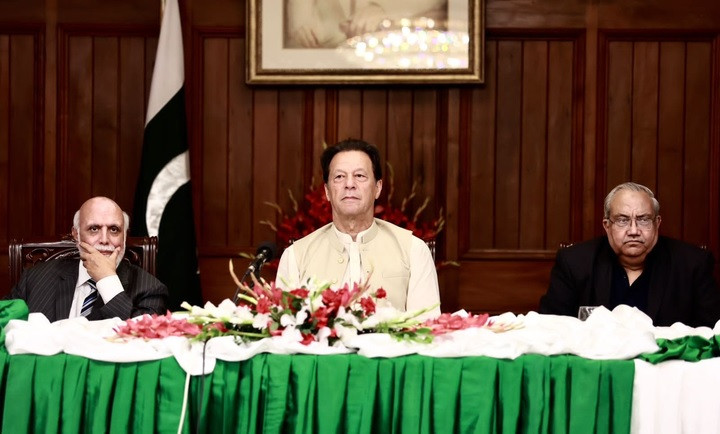 PTI chief Imran Khan on Wednesday said that his government was not at liberty to call all the shots as he was all but a figurehead and said the actual rule was of "someone else".
He lamented that the country was supposed to be his responsibility during his time in office but "someone else" held the reins of rule.
The former prime minister, in an interaction with journalists in Lahore, did not clarify who he was referring to.
He said that if "even half the power would have been given" to him in his three and a half years in power, his government would have competed with the performance of Sher Shah Suri — the founder of the Sur Empire.
Imran Khan's latest insinuation about "someone else pulling the strings of power" is a reiteration of his previous similar statements he has echoed during interviews. Imran, since his ouster, has on a number of occasions bemoaned that his powers as prime minister were "fettered".
Earlier this year, in an interview on a private TV channel, had admitted that he did not enjoy absolute power, indicating that the actual centres of power in the country lay elsewhere and "everyone knows where that is."
He had said his government had been "weak" and was compelled to seek coalition partners.
"Our hands were tied. We were blackmailed from everywhere. Power wasn't with us. Everyone knows where the power lies in Pakistan so we had to rely on them," he had said.
Speaking to a select group of journalists on Wednesday, Imran also lamented that when his government would nab billionaire tax defaulters they would approach others and directions would stand tweaked.Imran on surveillanceMeanwhile, separately, speaking to journalists outside the Islamabad High Court (IHC), the PTI chief said that there was surveillance when he was a prime minister as it was a matter of national security.
His remarks came in response to a question about whether or not he knew that his telephonic conversations were bugged when he was in the office.
He said that journalist Ansar Abbasi had already revealed three months ago about his audio recording with former principal secretary Azam Khan and added that it was the job of intelligence agencies to protect the prime minister.
However, later in an informal chat with the media in the courtroom, Imran said that surveillance was a worldwide practice, but "targeted" audio recordings were not.
When asked that the situation in Swat had deteriorated to the extent that even the Khyber-Pakhtunkhwa chief minister was not going to the province, the PTI chief blamed the federal government for it.
He added that the K-P government was warning the Centre about the worsening situation in Swat for quite some time.
To a query, the PTI chairman replied that his only party was collecting funds legally. He added that the other parties were receiving illegal funding. He regretted that the chief election commissioner (CEC) was not bringing to the fore the funding received by other parties.
Claiming that the CEC was a biased person, he maintained that the court had ordered that the funding case of all parties should be heard collectively.
Former prime minister and Pakistan Tehreek-e-Insaf (PTI) Chairman Imran Khan has said that he does not fear "disqualification as he only fears the Almighty"."They [rivals] are trying their best to prove that we [PTI] are also as dirty as they are [PML-N]. They are trying to disqualify me but I am going to court each day. I have no fear of disqualification. I don't fear these [court] hearings and I have no fear of prison. I don't fear anything because the one who says La Ilaha and it enters his heart, Allah makes him fearless," he said during a public gathering in Sharaqpur Sharif, a town of Sheikhupura District in Punjab.
'Incumbent rulers are security threat'
During his day-long visit to Lahore, the former prime minister also addressed the Insaf Doctors Forum, and Insaf Students Federation (ISF). Later, the PTI chairman addressed a public gathering in Sharkpur PP-319.
Speaking during the ISF convention, Imran said: "another criminal" has been appointed as Sindh's governor. "I am giving a call for the long march because I consider the incumbent rulers as a security threat to the country."
He strongly criticised the appointment of Kamran Tessori as Sindh governor and called him a 'criminal'. He maintained that his struggle for 'Haqeeqi Azadi' was not a political movement but a 'jihad' and the students should take a lead in this movement.
Imran asked students to spread his message among students and distribute his pamphlets about the 'Haqeeqi Azadi March' in all the universities and colleges.
"You remain prepared; I will give you a protest call soon. This time we will come with full preparation," he added.


Source link