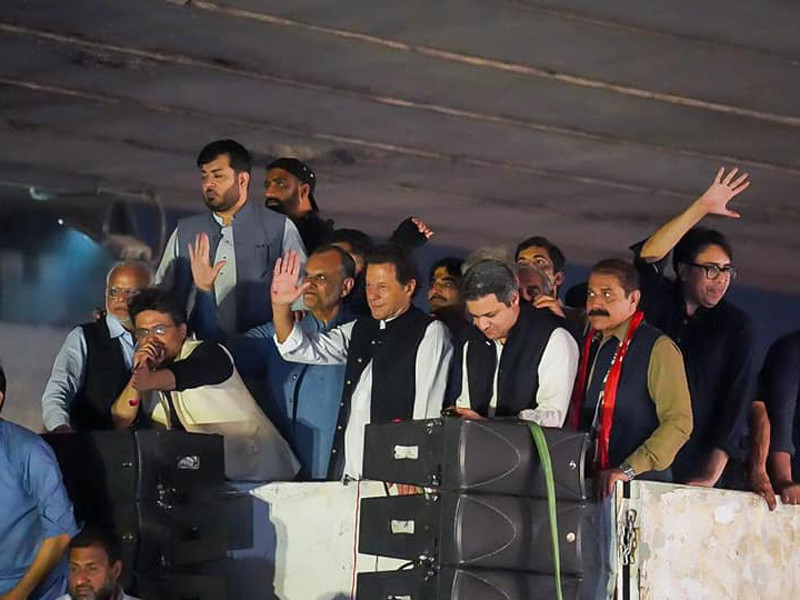 Amid Pakistan Tehreek-e-Insaf's (PTI) anti-government long march to Islamabad, reports of backdoor talks between the government and opposition party emerged on Sunday evening in which party chief Imran Khan reportedly will himself participate.
Even though both government and PTI were officially denying any talks but insiders in the opposition party told The Express Tribune that talks have begun between the two parties regarding the long march.
They said that Imran Khan left for Lahore from Kala Shah Kaku where the march had reached. If sources are to be believed, a big political breakthrough is expected during the crucial meeting tonight.
Read more: Third time lucky: Hammad seen 'snatching' mic from Faisal in PTI long march
Sources said that due to the importance of the meeting, Imran Khan will himself participate in it, adding that the PTI chief had informed the senior party leaders about the all-important meeting.
As per PTI's schedule, the long march would have culminated at Kamoke tonight but it abruptly ended when it reached some distance from Ferozwala.
Taking to Twitter, however, Imran Khan denied "rumours" about the meeting in Lahore. "The reason we returned was bec[ause] Lahore was closer & we had already decided not [to] move at night," he added.
For all those spreading rumours about my mtg in Lahore, the reason we returned was bec Lahore was closer & we had already decided not move at night. The only demand I have had for 6 mths is date for early fair & free elections. That will be the ONLY demand if talks are to be held
— Imran Khan (@ImranKhanPTI) October 29, 2022
"The only demand I have had for 6 m[on]ths is date for early fair & free elections. That will be the ONLY demand if talks are to be held," he clarified.
Earlier in the day, Minister for Information and Broadcasting Marriyum Aurangzeb had categorically ruled out any negotiations with those who were giving calls of a "bloody march".
In a statement, she said that Imran Khan "does not want transparent elections but chaos and bloodshed in the country". "Real face of Imran Khan, his politics of lies and fake character have been exposed," she added.
She said that the reality of "foreign-funded fitna" can no longer be hidden by "spreading the mental filth on the streets".
Defence Minister Khawaja Asif too turned down claims of talks with the PTI.
الیکشن انشاءاللہ آئینی وقت پہ ھونگے. سیاسی قوتوں کا قومی مسائل پہ مزاکرات اوراتفاق راۓ جمہوری مزاج کا حصہ ھے.جن مزاکرات کا PTI راگ الاپ رہی ھےانکاکوئی امکان نہیں.عمران خان سارے شوق پورے کر لیں. اسوقت بھارتی میڈیا انکو بھرپور سر پرستی اور air time دے رہا ھے اسکو انجوائے کریں.
— Khawaja M. Asif (@KhawajaMAsif) October 29, 2022
"Elections will be held at a constitutional time, God willing," he stated. "Negotiations and consensus amongst political forces are part of democracy. However, there is no possibility of the kind of negotiations that the PTI is creating a ruckus about," he stated.
"Let Imran Khan fulfil all of his desires. Right now, the Indian media is giving him full attention and air time… enjoy that," he concluded.
PTI leader Fawad Chaudhry had also said that the government was not serious about negotiations. He claimed that the Imran Khan-led march was still facing government-imposed restrictions.
حکومت کی مذاکرات کی دعوت کی خبریں غیر سنجیدہ ہیں،ایک طرف تحریک انصاف کے کارکنوں کو گرفتار کیا جا رہا ہے، #حقیقی_آزادی_مارچ کی کوریج پر پابندیاں ہیں دوسری طرف ایک غیر سنجیدہ کمیٹی کی تشکیل کی خبریں صرف آزادی مارچ کو انگیج کرنے کیلئے ہیں،یہ چالاکیاں نہیں چلنی انتخاب کی تاریخ دیں
— Ch Fawad Hussain (@fawadchaudhry) October 29, 2022
"On the one hand, PTI workers are being arrested and the Haqeeqi Azadi March's coverage is being restricted and, on the other hand, there is news of the formation of a frivolous committee," he said.
"These are tricks to only engage the Azadi March, and they won't work," Fawad added, demanding a date for the general election.


Source link