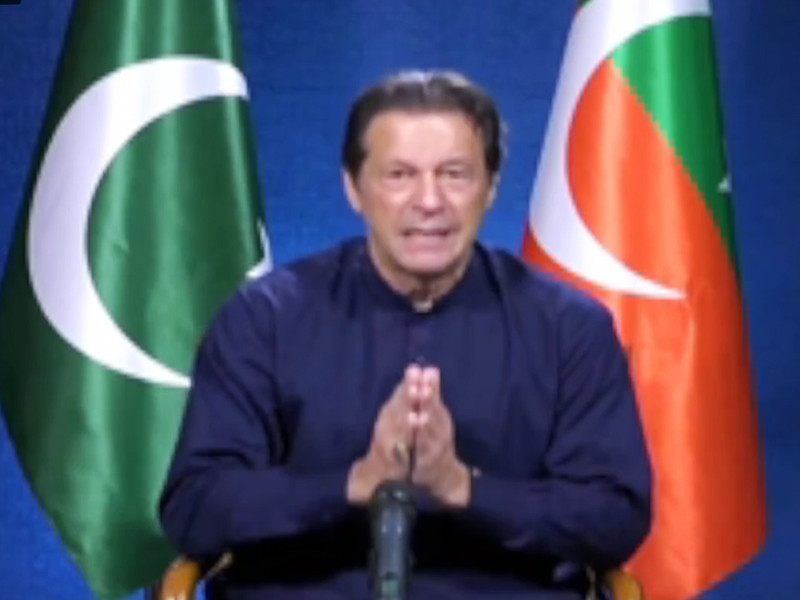 Former prime minister and PTI Chairman Imran Khan has urged the coalition government led by the PML-N to hold early and transparent polls as soon as possible "to avert the economic collapse".
"Early and transparent elections are the only way to protect the country from descending into chaos… If elections are not held I am worried that things would get out of control," he said in a video address on Thursday.
While responding to the allegations that his government left the economy in shambles, the deposited premier said despite unprecedented challenges including global inflation he reduced the fuel and electricity prices.
He said the economy can only be stabilised with political stability. "We have to steer the country out of this quagmire.. they [government] are rapidly pushing the country towards chaos," he remarked.
Imran said the country will receive as much as $8 billion after the International Monetary Fund (IMF) agreement which is not "sufficient" to bridge the external financing gap.
"We need at least $30 billion which is difficult to arrange as this government lacks credibility locally and internationally."
https://www.facebook.com/PTIOfficial/videos/499283502010500/
Imran said Pakistan's debt risk rating was at 4 per cent during his tenure while it jumped to 9 per cent after the opposition parties tabled a no-confidence motion.
"Today [debt risk rating] stands at 22.7 per cent… this means it will become difficult to borrow loans."
The PTI chief reiterated that he had informed the 'powers' that be economic repercussions if his government was toppled.
"Today the condition of the economy is in front of everyone. No one has ever witnessed inflation increasing by this level in such a short period of time," he added.
Despite the revival of the IMF programme, the currency is depreciating and inflation and unemployment are increasing, the former premier said.
"Dollar was at Rs186 and electricity was Rs16 per unit during my tenure… rise in energy prices is hitting all segments of the society."
Despite the drop in international crude prices, petroleum products have gone through the roof and prices of other imported commodities including palm oil have not been brought down despite a fall in global prices, Imran added.
"The economy is contracting as telecommunication, automobile and cement sectors have shut 50 per cent of their operations."
This will be updated…


Source link