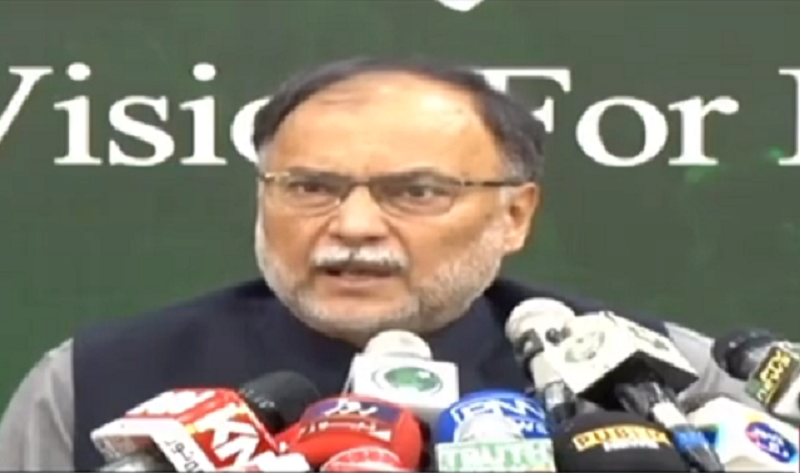 Federal Minister for Planning and Development Ahsan Iqbal has lashed out at former prime minister Imran Khan, accusing him of playing with national interests and damaging the country's foreign policy for political gains like a "reckless driver".
"No politician has ever stooped so low like Imran Khan and his minions are using childish tactics after losing power," Iqbal said while addressing a press conference in Lahore on Sunday.
LIVE #APPNews : Federal Minister for Planning, Development and Special Initiatives Ahsan lqbal addressing press conference #Lahore @betterpakistan https://t.co/zLrT9mDMmo
— APP 🇵🇰 (@appcsocialmedia) April 24, 2022
"Like a reckless and drunk driver Imran Niazi rams his political car into the country's Constitution, state institutions and Pakistan's national interests," he added.
The minister alleged that PTI chairman Imran Khan was damaging the country's foreign policy and other national interests "to keep his failed politics alive and satisfy his ego".
"Strong economy is strong Pakistan and that is only possible when we align ourselves with the global economy," Iqbal said, adding that the country's economy can never proposer by severing ties with other countries.
The minister also claimed that the PTI-led government also slowed the progress of the China Pakistan Economic Corridor (CPEC) and Pakistan's relations with the European Union, the United States and even brotherly Muslim countries came under strain.
"We do not want Pakistan to be like Cuba or North Korea. We have to put the country on the path of development, like Malaysia, Turkey, China and South Korea."
Also read: Get ready for 'Islamabad march'
Responding to the ousted PM allegations that a foreign conspiracy was hatched to topple his government, Iqbal said that the National Security Committee has twice stated that as per the probe carried out by the country's top intelligence agencies, no conspiracy has been found in the diplomatic cable.
Iqbal said aid that the top courts were opened at midnight to bar the ousted premier from violating the Constitution.
He said that Imran Khan is now making the Election Commission of Pakistan (ECP) controversial by demanding the resignation of its chief as "he knows the expected verdict in the "foreign funding case".
To question, the federal minister said that the new government will not make any baseless case against its opponents.
Speaking about other issues, Iqbal said that the new government is working tirelessly to solve the issues faced by the country.
He said that work is being done at a fast speed under Prime Minister Shahbaz Sharif's leadership. He said that Pakistan will keep moving forward and we will make the country's economy strong again.
He added that the PTI-led government did not launch work even on a single industrial zone under CPEC out of nine, which were supposed to be completed by 2020.
He said that the European Union granted Pakistan GSP Plus status. However, Imran started to challenge the EU to save his politics.
He said that US markets provide a huge platform for the progress of the country's businesses and Pakistan needed access to US markets as well as in several sectors.
(With input from Radio Pakistan)


Source link