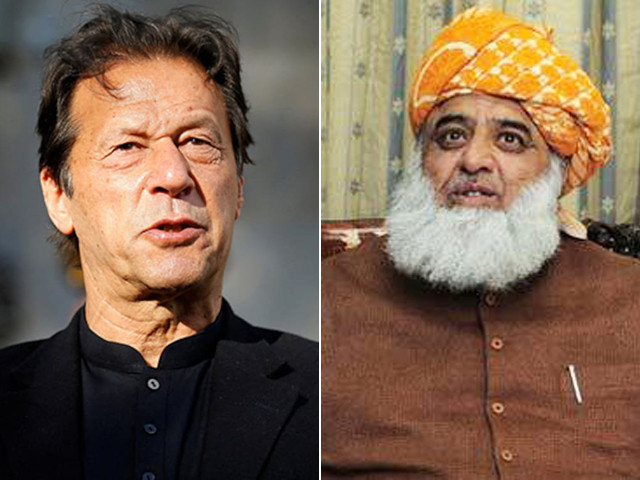 Casting doubts on PTI Chairman Imran Khan's bullet injuries, PDM and JUI-F chief Maulana Fazlur Rahman has said the former prime minister outshined Bollywood starts Shahrukh Khan and Salman Khan in acting skills.
Addressing a press conference in Islamabad on Sunday, Fazl while referring to the PTI chief's allegations said that Pakistan was being pushed towards difficulties by spreading anarchy and lies under the guise of an incident.
"Blind people have accepted Imran Khan's lies. We also condemned the [shooting incident] when we heard about the attack on Imran Khan… whether he was hit by one, two, four bullets or fragments. We have heard bomb fragments but heard of bullet fragments for the first time," the PDM chief remarked.
"Why he [Imran Khan] is being treated at a cancer hospital for bullet injuries," Fazl wondered.
The JUI-F chief while referring to a statement of PTI chief's physician said he heard for the first time that the "aorta is also present in the shin". "There are contradictions in the statements of the doctors," he added.
Fazlur said, Imran who would label others as 'thief', turned out to be a thief himself. "A JIT [joint investigation team] should be formed on his lies."
Also read: Imran escapes assassination at PTI long march
Former prime minister Imran Khan sustained bullet wounds to his leg after an armed attack on his container during the Pakistan Tehreek-e-Insaf's 'Haqeeqi Azadi March' in Wazirabad on Thursday.
One person died in the incident, while several members of the PTI chairman's close circle, including Senator Faisal Javaid, former Sindh governor Imran Ismail, Ahmad Chattha and Imran Yousaf, were injured.
Imran was shifted to the Shaukat Khanum Memorial Cancer Hospital (SKMCH), Lahore. Doctors at the hospital had said that Imran was "stable and talking".
Officials said that a citizen, who was later identified as Muazzam Nawaz, died in in the armed attack, while 14 others, including some top leaders of the PTI were injured.


Source link