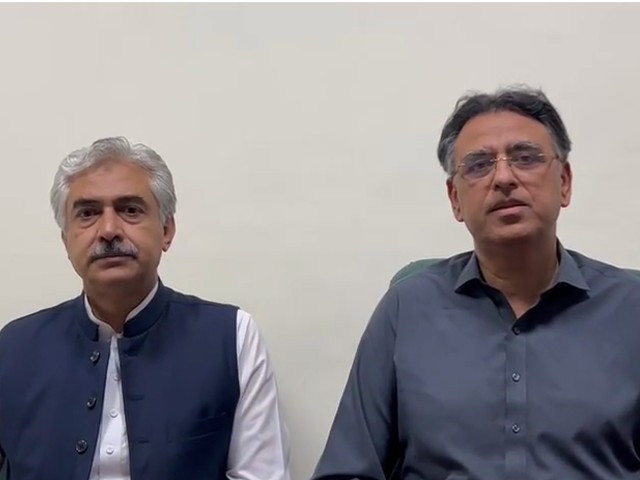 Pakistan Tehreek-e-Insaf (PTI) senior leader Asad Umar has said that former prime minister and party chief Imran Khan has named three people – the incumbent prime minister, interior minister and a military official – for the assassination attempt on him.
"A short while ago, Imran Khan called Mian Aslam and me and asked us to issue a statement on his behalf because he already had some information [about the attack]," Umar said in a short video statement.
The PTI leader also said that the former prime minister is convinced that three people were involved in the attack including Prime Minister Shehbaz Sharif and Interior Minister Rana Sanaullah.
سیکرٹری جنرل پاکستان تحریک انصاف اسد عمر اور میاں اسلم اقبال کا عمران خان پر بزدلانہ حملے کے حوالے سے اہم ترین بیان
َ#عمران_خان_ہماری_ریڈ_لاین_ہے pic.twitter.com/AMbSJiZFO2
— PTI (@PTIofficial) November 3, 2022
"Imran says he had prior information upon which he has concluded that these three people were involved in the attack," Umar added.
Also read: Punjab CM suspends police officials over 'video leak' of Imran's attacker
He said that Imran Khan has demanded that all three should be removed from their positions and if they are not removed then the PTI will stage protests across the country.
"All political workers and supporters are waiting for Imran Khan's call and as soon as it comes, protests will be staged across the country if the demand is not met," he added.
Talking about Imran Khan's condition following the attack, Umar said that the former premier is in stable condition.
"I just had a conversation with Dr Faisal Sultan who has apprised us about the kind of wounds Imran Khan received. His condition is stable and it will remain that way. There is no danger to his life. He has gunshot wounds but it is hard to say how many. Doctors have done a CT scan and he is in OR right now. Overall his condition is stable," he said.
The attack
The firing incident occurred on Day 7 of the party's long march towards the federal capital. According to media reports, the gunman has been arrested and Imran is out of danger.
The PTI chief has been hospitalised after he reportedly received multiple gunshot wounds in the leg. Chaotic scenes were seen as security personnel rushed to secure the premises after the incident occurred.
Read more: 'No one is behind me, only wanted to kill Imran Khan', attacker tells police
Many including PM Shehbaz Sharif condemned the incident. He said that the federal government will extend all support necessary to the Punjab government for security and investigation.
"Violence should have no place in our country's politics," Shehbaz further said.
The Pakistan Army has also condemned the incident. "Firing incident during Long March near Gujranwala is highly condemnable," the Inter-Services Public Relations (ISPR) said in a statement.
"Sincere prayers for precious life lost and speedy recovery and well-being of Chairman PTI Mr Imran Khan and all those injured in this unfortunate incident."
Many world leaders including Canadian Prime Minister Justin Trudeau condemned the assassination attempt on the former prime minister.
"The attack on Imran Khan and his supporters is completely unacceptable, and I strongly condemn this violence. It has no place in politics, in any democracy, or in our society. I'm wishing a speedy recovery to Imran and all who were injured today," Trudeau wrote on his official Twitter handle.
Britain's Minister of State Zac Goldsmith, terming the news of the incident appalling, said that Imran Khan is strong and will be back on his feet.
"Those forces in Pakistan who believe they can stifle democracy in that country through murder are wrong & will be seen to be wrong," he added.
Reuters quoted Indian foreign ministry spokesman Arindam Bagchi as saying: "It's a development that just took place. We're closely keeping an eye on and we'll continue to monitor ongoing developments."


Source link