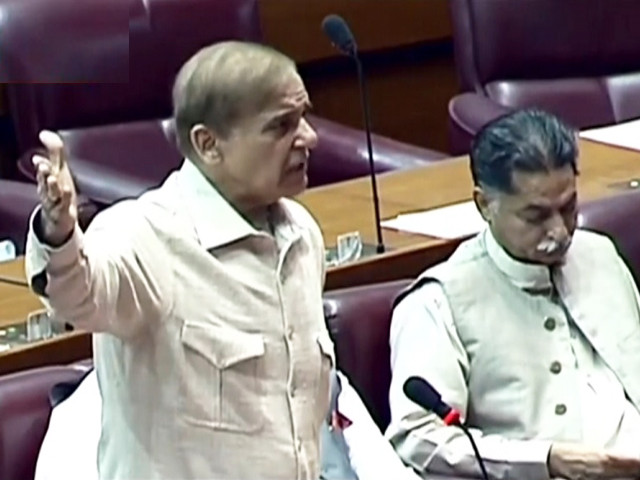 Following an "anti-state" speech by former prime minister Imran Khan a day earlier, Prime Minister Shehbaz Sharif on Monday said that the former premier must be reined in before he divides the country any further.
Read more: Zardari blasts Imran for 'attacking' institutions
"What Imran Khan said yesterday was horrible. He is poisoning the minds of country's masses. The country will be further divided and this language must be stopped according to the Constitution and law," he said while addressing the National Assembly.
LIVE #APPNews : Prime Minister Mian Muhammad Shehbaz Sharif expressing his views in National Assembly #Islamabad @PakPMO @CMShehbaz https://t.co/4krnwVJUPe
— APP 🇵🇰 (@appcsocialmedia) May 9, 2022
Addressing Abbottabad rally on Sunday, Imran had claimed that more than three million people will march on Islamabad when he will give the protest call to the nation after May 20.
The deposed premier once again said only animals were neutral in remarks apparently aimed at the military leadership, which didn't take a side when he was ousted from power in a no-trust move last month.
"If you are neutral, you are supporting falsehood," he had said.
PM Shehbaz, in today's speech, said that the example Imran Khan gave yesterday about the betrayal of Nawab Siraj-ud-Daulah in reference with our national institutions was horrible. "You were fine with this institute when it was feeding you like a baby… the support you got from it was unprecedented," he added.
Also read: Imran to face the music for 'anti-state speech', says Shehbaz
Saying that Imran Khan was making a mountain out of a molehill from the alleged threat he received from the US, Shehbaz said that former United States Secretary of State Henry Kissinger also threatened former prime minister Zulfikar Ali Bhutto whereas former president General (retd) Pervez Musharraf was also threatened by the US after 9/11.
"We have a long history of threats [from the US] but I am failing to understand where this conspiracy came from this threat [to Imran Khan]," he added.
The military on Sunday also took "strong exception" to what it called "unlawful and unethical practice" of dragging the armed forces into politics, warning that such unsubstantiated statements were "extremely damaging" for the country.
Read more: Don't drag military into politics, warns ISPR
The statement from the military's media wing came against the backdrop of ongoing political tensions where certain politicians, journalists and analysts directly and indirectly discussed the alleged role of the security establishment in politics.
The Inter-Services Public Relations (ISPR) did not specifically mention any politicians or party by name but the statement suggested that the military leadership was perturbed over remarks given by both the government and opposition parties.
This will be updated…


Source link