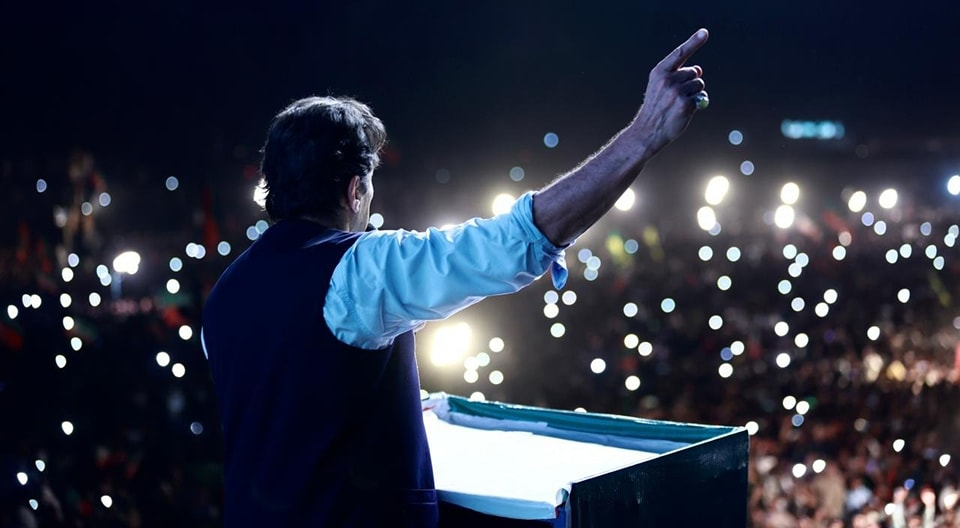 Former prime minister and PTI Chairman Imran Khan is all set to address his party's power show in Punjab's Rahim Yar Khan district on Saturday night, in which he is expected to launch a countrywide movement to force the coalition government to announce the early elections.
کپتان کی آمد سے پہلے ہی رحیم یار خان جلسہ گاہ میں عوام کا جم غفیر امڈ آیا۔ #RahimYarKhanJalsa #کپتان_ہم_تیار_ہیں pic.twitter.com/VcI7b6PkAD
— PTI (@PTIofficial) September 24, 2022
Imran, the deposed premier, on Wednesday announced that the final phase of his party's movement for "Haqeeqi Azaadi" – 'real freedom' – would begin from September 24.
Final Countdown begins۔۔۔ #کپتان_ہم_تیار_ہیں pic.twitter.com/5RyStjjmDQ
— Dr Arslan Khalid (@arslankhalid_m) September 24, 2022
ملک بھر میں امپورٹڈ حکومت اور بدترین مہنگائی کے خلاف عوام سڑکوں پر نکل آئی۔ #RahimYarKhanJalsa #کپتان_ہم_تیار_ہیں pic.twitter.com/fpFRflLGQc
— PTI (@PTIofficial) September 24, 2022
PTI leaders in major cities including Karachi, Islamabad, Lahore, Multan, Peshawar and others have set-up screens in their respective areas to telecast his live speech.
Since being ousted from power in April this year, Imran has been holding rallies across the country, demanding early and transparent polls.
A day earlier, he said that "thieves" have taken over the country and were now getting relief in corruption cases under "NRO-II".
Addressing the women's convention in Islamabad on Friday, the former prime minister said that he was not doing politics but waging a 'jihad' to achieve 'real freedom' for the country's better future.
Referring to the amendments to the NAB law, Imran said societies are destroyed without the rule of law. "Thieves have taken over the country. Every day their cases are being shut," he remarked.
Imran further said that the poor should be released from jails if the powerful cannot be brought under the law. "What is the fault of the poor? The likes of Zardaris and Sharifs are sitting everywhere in poor countries where there is no rule of law," he added.
This will be updated…


Source link