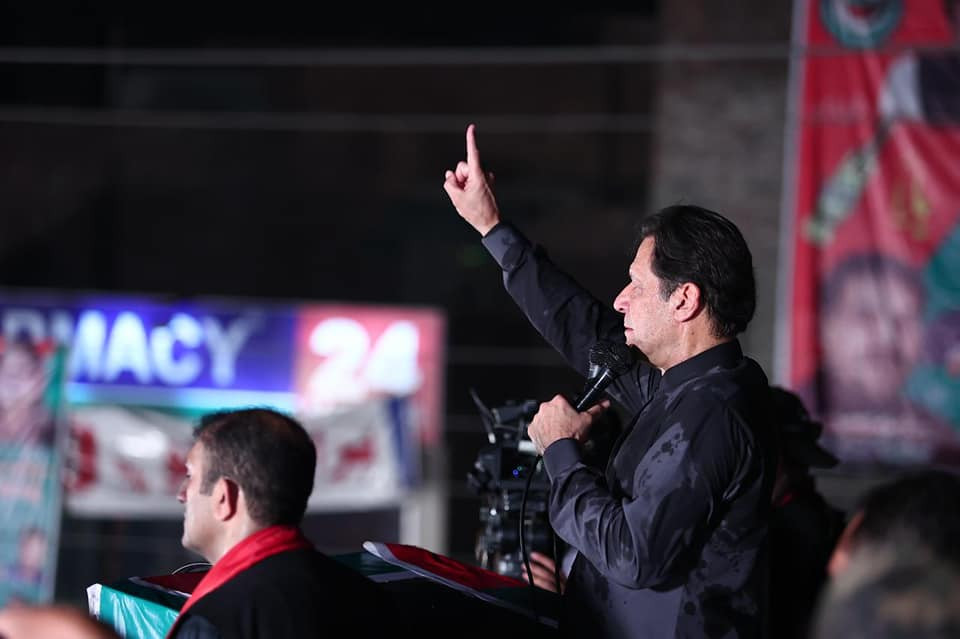 Pakistan Tehreek-e-Insaf (PTI) chief Imran Khan announced on Wednesday that he will address the nation tonight to give "them our way forward for a sovereign Pakistan".
The ousted former premier took to his official Twitter handle to thank the nation "for coming out last evening in support of the" apex court's decision, which he claimed upheld the Constitution and the law.
I want to thank the nation for coming out spontaneously last evening in support of the SC decision upholding Constitution & the Law. Tonight I will address our people at 10:00pm giving them our way forward for a sovereign Pakistan.
— Imran Khan (@ImranKhanPTI) July 27, 2022
Imran's speech is scheduled for 10 pm tonight.
His announcement came after the devastating blow to the nascent Shehbaz Sharif-led ruling coalition, as the Supreme Court struck down Punjab Assembly Deputy Speaker Dost Muhammad Mazari's ruling on the election of Punjab chief minister, paving the way for PTI's selected Chaudhry Pervaiz Elahi to ascend to the throne in the country's political heartland.
Read PTI gets more relief from SC
In the conclusion to a hearing that gripped the country for the past four days, a three-member bench, comprising Chief Justice Umar Ata Bandial, Justice Ijazul Ahsan and Justice Munib Akhtar, announced an unusually harsh verdict after over a three-hour delay.
"The governance of the province of Punjab in accordance with the Constitution has been subverted whereby the fundamental rights of the people have been seriously infringed," said the top court in its 11-page short order.
"As a result, the ruling dated 22.07.2022 issued by Respondent No1, Deputy Speaker, the Punjab Assembly is set aside and declared to be void, without lawful authority and of no legal effect," read the order.
By virtue of the order, PML-N's Hamza Shehbaz lost his status of the "trustee" chief minister.


Source link