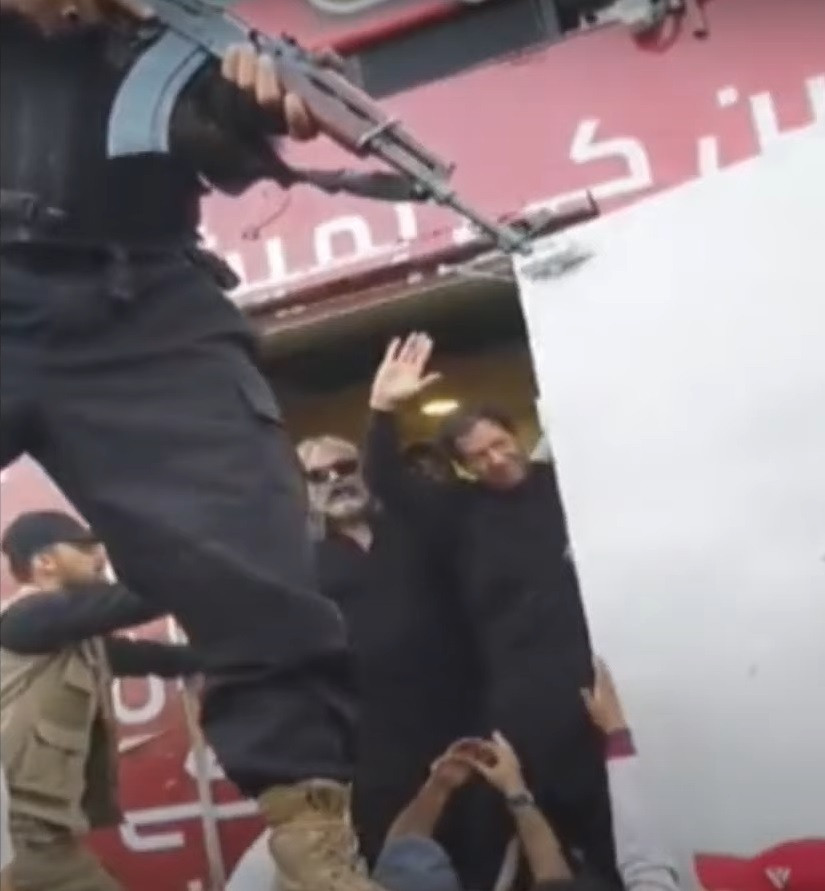 Pakistan Tehreek-e-Insaf (PTI) Chairperson Imran Khan survived an assassination attempt on Day 7 of the party's 'Haqeeqi Long March' as his container moved through Punjab's Wazirabad town.
Imran sustained a bullet wound to the leg while other party leaders and supporters were also injured in the attack – reportedly carried out by a lone gunman.
اللہ سب کی حفاظت فرمائے pic.twitter.com/4k6ylYcgQa
— Pervaiz Sandhila (@chsandhilaa) November 3, 2022
Party leader Fawad Chaudhry also confirmed the 'targeted attack' and said Imran had been shot in the leg. Speaking to a private news channel, he said three people were injured in the attack, including Ahmad Chattha and Faisal Javed.
Senator and party leader Faisal Javed was also injured with a bullet reportedly grazing his cheek.
بزدلوں نے اپنی اوقات دکھا دی ہے
عمران خان صاحب زخمی ہے اللہ تعالی انکو محفوظ رکھے پوری قوم عمران خان کی زندگی کے لئے دعا کرے۔
— Farrukh Habib (@FarrukhHabibISF) November 3, 2022
Faisal, speaking from the hospital, said that a PTI worker was killed during the attack, while another was severely injured. He prayed for the well-being and protection of Imran and everyone else.
Injured in the assassination attempt on Imran Khan, Senator @FaisalJavedKhan speaks exclusively. #عمران_خان_ہماری_ریڈ_لائن_ہے pic.twitter.com/PyrgQoeTs7
— PTI (@PTIofficial) November 3, 2022
'Cowards tried to martyr him'
PTI leader Asad Umar, reacting to the assassination attack, said those who want to stop Imran were unable to do so, hence, the "cowards tried to martyr him".
"Khan is under the shadow of Allah and He is yet to task the people's Kaptaan."
اس کو روک نہیں سکتے تو بزدلوں نے شہید کروانے کی کوشش کی. خان پر اللہ کا سایہ ہے اور انشاءاللہ بہت کام لینے ہیں قوم کے کپتان سے اللہ تعالیٰ نے ابھی
— Asad Umar (@Asad_Umar) November 3, 2022
Ahmed Chattha out of danger, says Hammad
Party leader Hammad Azhar said PTI's Ahmed Chattha was shot twice and is not "out of danger".
Hammad said the PTI leader suffered two gunshot wounds, one in each thigh, and is being operated upon. He added that wounds "are not deep".
I am with Ahmed Chattha. He is out of danger. He has 2 gunshot wounds, one in each thigh. The wounds are not deep and he is being operated upon to remove the bullets.
— Hammad Azhar (@Hammad_Azhar) November 3, 2022
Imran waves at supporters after attack
The PTI chief, seemingly in good spirits after the attack on his life, was seen waving to party supporters soon after the attack.
Imran Khan was shot in the leg but was stable while being taken to hospital. He waived at supporters too. #عمران_خان_ہماری_ریڈ_لائن_ہے pic.twitter.com/XizoAQzPax
— PTI (@PTIofficial) November 3, 2022
Interior minister demands 'high-level' JIT
Minister interior Rana Sanaullah has demanded Punjab government constitute a high-level joint-investigation team (JIT) to probe the attack on the PTI chairperson.
Punjab CM takes notice of attack
Punjab Chief Minister Pervez Elahi has taken notice of the attack on PTI Chairperson Imran Khan's container and instructed the province's top cop to submit a report after investigation.
Elahi said that those "behind the incident will be brought to justice". He also instructed local authorities to provide the best possible medical care to the injured.
PM Shehbaz condemns attack on Imran
Prime Minister Shehbaz Sharif took notice of the attack on Imran and condemned the incident. He instructed Interior Minister Rana Sanaullah to get an immediate report from the chief secretary of Punjab and the IGP.
The premier further said that the federal government will extend "all support necessary" to the provincial government for security and investigation of the incident.
Federal government will extend all support necessary to Punjab govt for security & investigation. Violence should have no place in our country's politics. 2/2 https://t.co/LWMUW03kQb
— Shehbaz Sharif (@CMShehbaz) November 3, 2022
Earlier, PTI leader Azhar Mashwani confirmed via Twitter that the former premier was safe and the on-ground team arrested the culprits. He later deleted the tweet.
Imran Khan sahb is safe Alhamdulillah
According to ground teams culprit is arrested.
Incident happened near Allah hoo chowk Wazirabad
— Azhar Mashwani (@MashwaniAzhar) November 3, 2022
He added that the incident happened near Allah hoo chowk in Wazirabad.
PTI leader Farrukh Habib said that "cowards had shown their true worth", and that "Imran Khan is injured".
Praying for the protection of the PTI chief, Habib asked "the whole nation" to pray for his life.
بزدلوں نے اپنی اوقات دکھا دی ہے
عمران خان صاحب زخمی ہے اللہ تعالی انکو محفوظ رکھے پوری قوم عمران خان کی زندگی کے لئے دعا کرے۔
— Farrukh Habib (@FarrukhHabibISF) November 3, 2022
PTI to set up tent village after reaching Islamabad
The Pakistan Tehreek-e-Insaf (PTI) on Thursday announced that it will construct a tent village to accommodate its supporters and workers after the Haqeeqi Azadi march reaches its final destination.
In a high-level meeting presided by party Secretary-General Asad Umar, the PTI decided to set up the "largest tent village in history" to accommodate "hundreds of thousands" of participants in the long march.
Moreover, a "completely safe and well-equipped separate accommodation for women is also complete", a statement from the PTI's central media department detailed. Parking for thousands of vehicles will also be arranged.
According to the statement, separate sections will be allocated for food preparation in the tent settlement, with large stores will be built for the storage of food and bedding. Additionally, hundreds of toilets will also be constructed.
"Special medical camps will be set up at various places in the tent settlement," it detailed.
The party's official Twitter handle stated that "a comprehensive plan has been prepared for the accommodation and food for hundreds of thousands of people".
پاکستان تحریک انصاف نے حقیقی آزادی مارچ کی اسلام آباد آمد کے بعد کی پوری حکمت عملی تیار کرلی
لاکھوں لوگوں کے اسلام آباد میں قیام و طعام اور رہائش کا جامع منصوبہ تیار کرلیا گیا
مرکزی سیکرٹری جنرل اسد عمر کی زیرِ صدارت اہم ترین اعلیٰ سطحی اجلاس #پاکستان_مارچ pic.twitter.com/SMl4G6xI08
— PTI (@PTIofficial) November 3, 2022
Day 7 kicks off from Wazirabad
The PTI resumed its Haqeeqi Azadi March to the federal capital from Wazirabad on Thursday, the seventh day of the long march.
The party's official Twitter handle announced that party chief and deposed premier Imran Khan will spend the day in Wazirabad.
Wazirabad starts the day in a brilliant way! Massive crowd present! #پاکستان_مارچ pic.twitter.com/FaTfOZV00v
— PTI (@PTIofficial) November 3, 2022
According to PTI leader Hammad Azhar, the rally will continue from Kot Khizri in Wazirabad from 1 pm today.
Chairman PTI @ImranKhanPTI will spend the day 7 of Haqeeqi Azadi March in Wazirabad today.#پاکستان_بچاؤ_مارچ pic.twitter.com/KXfRaEgG5Y
— PTI (@PTIofficial) November 3, 2022
The PTI detailed the seventh day's route, maintaining that the march would begin at Kot Khizri, move to Maulana Zafar Ali Chowk, and conclude the day at Kacchari Chowk in Wazirabad.
PTI's Twitter stated that the march would pass through various points of Wazirabad city GT Road and mobilise citizens.
'Govt conditions ridiculous'
Former information minister and party member Fawad Chaudhry stated that the conditions presented by the federal government for the PTI's rally in Islamabad were "ridiculous".
Addressing a presser, Fawad advised the advocate general of Punjab to immediately "diagnose the mental capacity" of Interior Minister Rana Sanaullah and the advocate general of Islamabad.
"This procession is not of the PML-N or PPP where a few people sit and talk to each other. We have hundreds of thousands of people in attendance who will not be able to hear without a speaker," he said.
Fawad Chaudhry (@fawadchaudhry ) addressing the media before the important day 7 of Haqeeqi Azadi March. #پاکستان_مارچ pic.twitter.com/Vh5pwAFNeB
— PTI (@PTIofficial) November 3, 2022
He hoped that the court would take notice and allow them their "right to protest under Article 17".
Fawad further said that Imran and his supporters would march to Islamabad after reaching Rawat. He added that the march would have 1-1.5 million people in the federal capital fighting for Haqeeqi Azadi.
The former minister also explained Imran's comment that the march would last 10 months, clarifying that the PTI leader's stamina was enough to last the duration but the incumbent government could not last that long.
"The complete context of his statement was missing," he said.
He claimed that the government's days in power were numbered and that they would not last longer than 10-15 days.
He maintained that PTI personnel and supporters were not carrying any weapons, adding that women and children were present at the march.
PTI leader Farrukh Habib took to his Twitter handle to claim that the federal capital of the country had been "turned into a city of containers by the imported government".
پاکستان کے دارالحکومت کو امپورٹڈ حکومت نے کنٹینروں کا شہر بنا دیا ہے۔ امپورٹڈ حکومت کی عوام میں کوئی ساکھ نہیں ہے یہ ہائبرڈ نظام حکومت ملک کا نقصان کررہا ہے۔ عوام کی خواہش کا احترام کرے فوری انتخابات کروائے pic.twitter.com/L3FJNZZl0R
— Farrukh Habib (@FarrukhHabibISF) November 3, 2022
"The imported government has no credibility among the people, this hybrid system of government is harming the country," he said, asking the government to respect the will of the people and hold early elections.
PTI leader Asad Umar stated that he had reviewed long march preparations by the Khyber Pakhtunkhwa, Rawalpindi, Faisalabad and Sargodha divisions.
"After observing the people's passion, and the preparations of organisations and parliamentary members, there is no doubt that November 11 will be a historic gathering in Islamabad," he said.
پچھلے 3 دن میں خیبر پختون خواہ اور پنڈی، سرگودھا اور فیصل آباد ڈویژن کے لانگ مارچ کی تیاری کا جائزہ لیا. الحمد اللہ عوام کا جذبہ اور تنظیموں اور پارلیمانی ممبران کی تیاری دیکھ کر کوئی شک نہیں کہ 11 نومبر اسلام آباد میں تاریخی اجتماع ہونے جا رہا ہے #حقیقی_آزادی_لانگ_مارچ
— Asad Umar (@Asad_Umar) November 3, 2022
The party's caravan from Sindh, led by PTI Sindh President Ali Haider Zaidi, reached Gujrat last night, and will be joining the long march in Wazirabad.
حقیقی آزادی لانگ مارچ میں شرکت کیلئے صدر پی ٹی آئی سندھ @AliHZaidiPTI کی قیادت میں کراچی سے روانہ ہونے والا سندھ کارواں کل رات گجرات پہنچا۔
قافلہ آج وزیر آباد میں لانگ مارچ میں شامل ہوگا۔ #پاکستان_مارچ pic.twitter.com/luMWghFrK8
— PTI (@PTIofficial) November 3, 2022
Zaidi thanked Pakistan Muslim League-Quaid (PML-Q) leader Moonis Elahi for the "warm welcome" and for "making comfortable arrangements" for the convoy.
سندھ کا قافلہ کل رات گجرات پہنچ گیا اور انشاء اللہ ہم آج وزیرآباد سے حقیقی آزادی لانگ مارچ میں شامل ہوں گے۔
مونس الٰہی، حسین الٰہی اور ان کی ٹیم کا دل کی گہرائ سے شکریہ ادا کرتا ہوں کہ ہمارا پرتپاک استقبال کیا اور ہم سب کے لیے انتہائی آرام دہ انتظامات کیے۔#حقیقی_آزادی_لانگ_مارچ pic.twitter.com/04ssm4Uwa4
— Ali Haider Zaidi (@AliHZaidiPTI) November 3, 2022
IHC reserves verdict
The Islamabad High Court (IHC) on Thursday reserved its judgement on a PTI plea against the government's delay in issuing a no objection certificate (NOC) to the party for a sit-in and protest in the federal capital.
During the hearing presided over by Justice Aamer Farooq, Advocate General Islamabad Jahangir Khan Jadoon started his arguments by reading the Supreme Court judgment of May 25.
Justice Farooq reserved the verdict after hearing arguments from both sides.
The Islamabad administration also prepared an affidavit to be signed by the PTI chief which outlined conditions for the march.
'Let the public decide'
A day earlier, PTI chief Imran Khan said that his 'Haqeeqi Azadi Movement' would continue till the announcement of free and fair elections in the country.
Addressing a large number of participants on day 6 of the long march, Imran said one should not think that this march would conclude after reaching Islamabad, adding that his movement would continue for even 10 months.
Imran again referred to the recent presser of the ISI chief, saying: "If you have decided to remain neutral then what is stopping you from holding free and fair elections."
He said: "Let the public decide who will govern Pakistan."
Violation of May 25 verdict irks SC
A day earlier, Supreme Court majority judges expressed that they were "disappointed" with the PTI leadership for breaching the court's trust by violating its May 25, 2022 order, wherein the party's "Azadi March" was restricted from reaching Islamabad's D-Chowk.
Even during the hearing of the presidential reference on Wednesday, Chief Justice of Pakistan Umar Ata Bandial said the judges were "deeply disturbed" that the court's trust was breached.
Senior lawyers, who witnessed the court proceedings, said the PTI leadership had "embarrassed" the judges, who were so generous and protected the party's activists from coercive actions taken by the PML-N-led federal and Punjab governments on May 25.


Source link