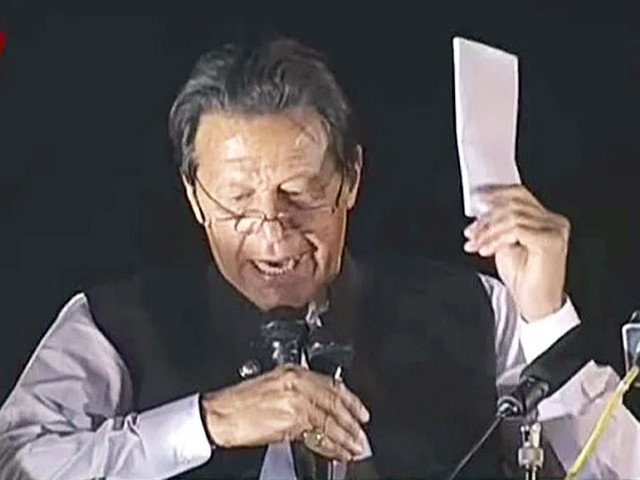 Despite serious concern from the legal wing, former prime minister Imran Khan has sent the Foreign Office cypher to Chief Justice of Pakistan Umar Ata Bandial, claiming that a foreign country has sent a threatening message through Pakistan's envoy.
Sources told The Express Tribune that there is a possibility that the CJP may not read the diplomatic cypher.
It is already being reported that a US official had warned that there could be implications if Premier Imran survived the opposition's no-confidence motion in the National Assembly.
Later, the National Security Committee (NSC) had expressed "grave concern" over the US meddling in Pakistan's internal affairs and decided to lodge a strong protest.
Earlier, the legal wing in its advice held that diplomatic cypher comes under the purview of the Official Secrets Act, 1923.
It is stated that neither the sender could share it with anyone nor the receiver (PM) could make it public.
Also read: Struggle against 'foreign conspiracy' begins today: Imran Khan
In case the prime minister shares the diplomatic cypher, it would be considered a violation of his oath which, he was administered under Article 91(5).
It is further stated that in case of violation of oath, he may be disqualified for life under Article 62(1)(f) of the Constitution.
The relevant portion of oath stated, "That, as Prime Minister of Pakistan, I will discharge my duties, and perform my functions, honestly, to the best of my ability, faithfully in accordance with the Constitution of the Islamic Republic of Pakistan and the law, and always in the interest of the sovereignty, integrity, solidarity, well-being and prosperity of Pakistan.
"And that I will not directly or indirectly communicate or reveal to any person any matter which shall be brought under my consideration or shall become known to me as Prime Minister, except as may be required for the due discharge of my duties as prime minister."
Senior lawyers believe that sharing of diplomatic cypher may cause trouble for the former PM. A petition may be filed in the superior courts regarding his disqualification under Article 62 (1) (f) of Constitution.


Source link