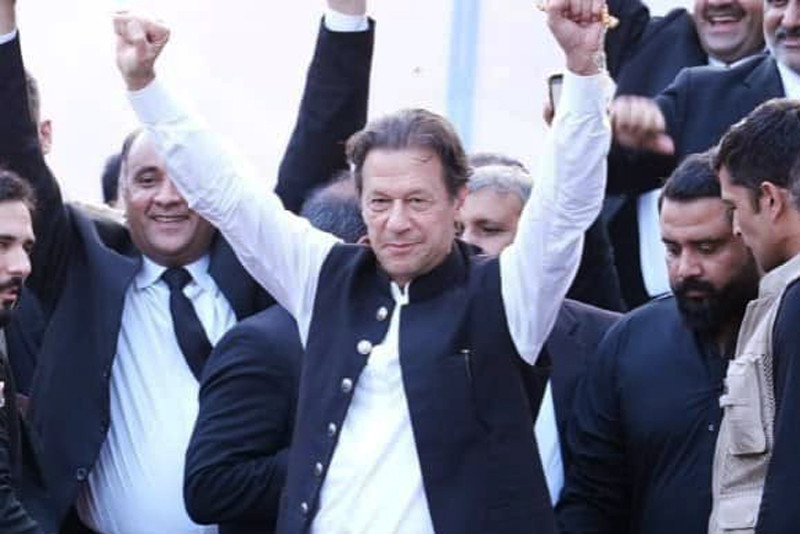 Pakistan Tehreek-e-Insaf (PTI) chief Imran Khan has been granted permanent bail by an Islamabad district and sessions court on Thursday in the latest twist of events surrounding the former premier's threatening speech against Judge Zeba Chauhdry.
Sessions Judge Kamran Basharat Mufti granted Imran permanent bail in two cases against a bond of Rs 50,000, including in the case registered at the Kohsar police station against his threatening remarks.
During the arguments, the public prosecutor contended that Imran had threatened public servants.
Imran's lawyer Babar Awan maintained that the PTI had taken permission to hold their rally in the park where the remarks were made.
The initial case against the former prime minister was registered on August 20 with the Margala Police Station in the federal capital over his remarks at a rally in F9 Park where he warned Additional District and Sessions Judge Zeba Chaudhry and police high-ups of dire consequence, as well as the judiciary for what he had called its "biased" attitude towards his party.
Read PTI goes against the tide of judicial history
Talking to media personnel in the courtroom, Imran was asked about his reaction regarding the arrest of PTI Senator Azam Swati after he made "controversial" remarks against the army chief.
چیئرمین عمران خان ڈسٹرکٹ اینڈ سیشن عدالت پہنچ گئے۔
pic.twitter.com/iGyn0qvqdd
— PTI (@PTIofficial) October 13, 2022
Imran maintained that his party will go to court against the Federal Investigation Agency (FIA) for the arrest.
Swati was taken into custody early Thursday morning by the FIA's cybercrime unit for allegedly making 'controversial tweets' against state institutions, including the army chief.
A First Information Report (FIR) was registered against Swati by the FIA for "using false information" through his official Twitter handle, "which is likely to incite any Officer, Soldier, Sailor, or Airman in the Army, Navy or Air Force to mutiny".
In a series of tweets last night, following the acquittal of Prime Minister Shehbaz Sharif and his son Hamza Shehbaz in the high-profile money laundering case, the PTI leader implicated the army for abetting acquittals of the Sharif family.


Source link