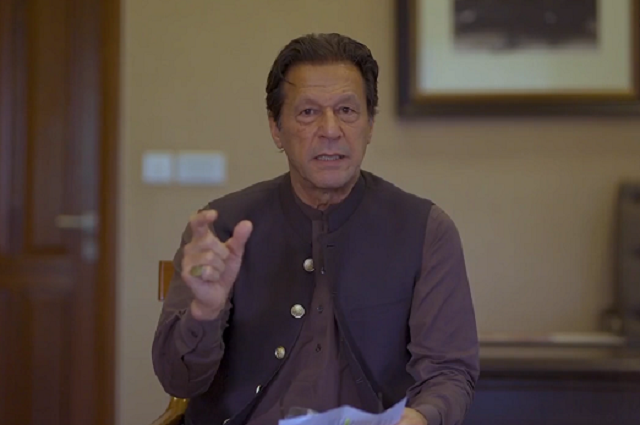 Former prime minister and PTI Chairman Imran Khan has given a call for a countrywide protest against the exorbitant hike in fuel prices.
The protest call was given a day after the federal government announced a massive increase in prices of all petroleum products – especially petrol by Rs24 per litre and high-speed diesel (HSD) by Rs59.16 per litre – the third such raise within the last 20 days.
In a video message on Thursday, he called upon the people belonging to all walks of life to stage peaceful protest at 9pm on Sunday across the country against the "imported government".
"I will address you at 10pm via video link," he added.
https://www.facebook.com/ImranKhanOfficial/videos/2840886372873372/
Announcing his party's course of action against the "imported government" Imran said raising his voice against the price hike has become inevitable as the prices of all essential commodities including petroleum products, electricity and others will go up further.
He said the objective of the protest is to send a message to the incumbent rulers "why did you come into power when you could not handle it [economic crisis."
The ousted premier said despite the IMF pressure and global inflation, he managed to keep the prices of fuel and electricity unchanged by providing billions of rupees in subsidies.
Also read: Imran invites lawyers to join 'real freedom movement'
"They [government] don't care about people because their billions of dollars are stashed abroad."
The PTI chief said all those political parties including his party dissidents ousted him from power on the pretext of inflation "but inflation has now reached to historic high".
Speaking about the performance of his government, Imran said the incumbent rulers have now realised that the major cause of the price hike was global inflation.
The ousted premier also asked the PML-N-led government why it hatched a "conspiracy" and derail the country which was moving in the right direction.
"I am also inviting political parties and women to join the protest against the imported government which is our democratic and constitutional right."


Source link