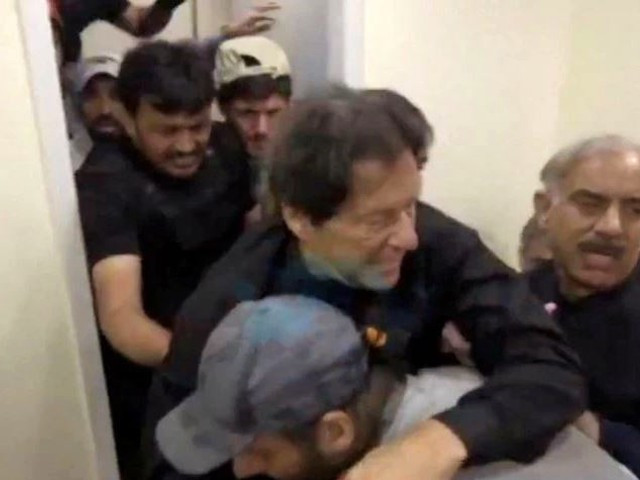 Former prime minister Imran Khan sustained bullet wound to his leg after an armed attack on his container, as he led the Pakistan Tehreek-e-Insaf's (PTI) 'Haqeeqi Azadi March' in Wazirabad on Thursday.
One person died in the incident, while several members of the PTI chairman's close circle, including Senator Faisal Javaid, former Sindh governor Imran Ismail, Ahmad Chattha and Imran Yousaf, were injured, PTI sources said.
According to PTI Secretary General Asad Umar, Imran was hit by a bullet to his leg and was shifted to the Shaukat Khanum Memorial Cancer Hospital (SKMCH), Lahore. Doctors at the hospital said that Imran was "stable and talking".
Officials said that a citizen, who was later identified as Muazzam Nawaz, died in in the armed attack, while 14 others, including some top leaders of the PTI were injured.
According to an official list, the injured are: Imran Khan; Ahmad Nasir Chatha, Faisal Javed; Ali Zaidi; Imran Ismail; SA Hameed; Yousaf Khan; Zahid Khan Muhammad Liaqat Umar Dar; Areeb; Imran Yousaf; Hamza and Umar.
The list showed that besides Imran, Chatha sustained bullet wounds to his both legs; Faisal Javed to his face; Zahid Khan was hit by bullets in right arm and right leg; Liaqat and Areeb had bullet injuries to their abdomens.
SKMCH Chief Executive Officer (CEO) Dr Faisal Sultan said in Lahore that Imran was "stable and talking and his blood pressure and other vitals are normal", adding that the PTI chief had been given pain control medicines.
Talking to reporters outside the hospital, Dr Sultan said that initial examination revealed multiple bullet fragments in Imran's right leg and a small chipping in the lower bone [tibia].
Responding to the media queries, Dr Sultan said that initial evaluation and scans had been done and Imran had been shifted to operation theatre for detailed evaluation and surgical procedure.
He added that a team of relevant surgical and orthopaedic specialists was available at the hospital and taking care of the PTI chairman. "It would be difficult to say anything more since medical evaluation is under way," he added.
Dr Sultan said that the hospital would issue a detailed report about the medical examination and treatment of Imran Khan once this emergency situation was over".
Speaking to the media, senior PTI leader Senator Faisal Javed, who also got bullet injuries to his face and other parts of the body, said that at least one person was killed in the attack.
"Please pray for Imran Khan and other party workers who were severely injured and the one who was martyred in the attack", Senator Faisal Javed appealed, while sitting in a chair with a bandage on his face.
PTI Vice Chairman Shah Mahmood Qureshi confirmed in a tweet that Chairman Imran Khan was out of danger now. "This attack was not just on Imran Khan but on the Pakistani nation," he said.
In a video message on a microblogging website, PTI leader Iftikhar Durrani said Imran Khan was safe but several members of his party were injured. Durrani said that the attackers were more than one.
"Initially, a cracker exploded after which diversion was created with pistol fires. Meanwhile, a snipper attacked the PTI chairman with an automatic weapon," the PTI leader could be heard as saying in his video message.
Durrani held Federal Interior Minister Rana Sanaullah, Pakistan Muslim League-Nawaz (PML-N) leader Maryam Nawaz and Hina Butt responsible for the assassination attempt on Imran Khan.
"All these goons were responsible for the incident. The incident had freshened the memory of the assassination of the late Benazir Bhutto," he said. "The incident has put a big question mark on the security situation."
Punjab Chief Minister Chaudhry Pervaiz Elahi visited the Shaukat Khanum Hospital to enquire after the health of the PTI chairman and prayed for his quick recovery.
Later, the chief minister said that Imran was in good health and high spirits. "Imran Khan has told me that he is alright". He added that he told Imran that the "entire Pakistani nation is standing with you".
Elahi said that the attacker would face the wrath of law. "The firing incident is not acceptable. The culprits responsible for this attack will be dealt with iron hands," he added.
The chief minister assured that the injured would be provide the best medical treatment. He directed the inspector general of the Punjab police to submit a report of the incident after investigation.


Source link