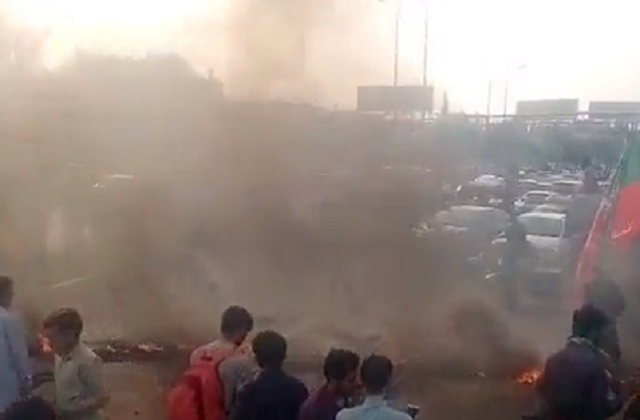 The main highway between Rawalpindi and Islamabad was blocked on Monday due to the ongoing protests held by PTI workers and supporters against the failed assassination attempt on former premier Imran Khan.
PTI Protest near old airport Rawalpindi
#Rawalpindi @PTIofficial pic.twitter.com/kquotl2VGj
— Akhtar Khan (@akhtarkhanviews) November 7, 2022
The PTI supporters are holding protests at five different places in the twin cities which have badly affected the traffic flow on GT Road, Taxila, Rawat, Airport Road and Murree Road.
مظاہرین نے لاہور اور پشاور موٹروے سے اسلام آباد آمد و رفت کے راستے بند کردئیے ہیں۔
اسلام آباد کیپیٹل پولیس اور پاکستان رینجرز کے دستے روانہ کردئیے گئے ہیں۔ وفاقی حکومت کو درخواست بھیجی گئی ہے کہ آئین کے آرٹیکل 3 اور 4 کے تحت صوبائی حکومتوں کو ہدایات جاری کی جائیں کہ موٹروے 1/2
— Islamabad Police (@ICT_Police) November 7, 2022
PTI workers burned tyres and raised slogans against the government on the main Shamsabad Murree Road of Rawalpindi.
According to sources, the ambulance service between the twin cities was also suspended and several vehicles transporting patients to the hospital got stuck in the logjams.
چیئرمین عمران خان پر قاتلانہ حملے اور ایف آئی آر درج نہ ہونے کیخلاف راولپنڈی میں احتجاج کے دوران ریسکیو 1122 کی گاڑی کو فوری رستہ دیا گیا۔
#رُکنانہیں_جھُکنانہیں pic.twitter.com/36WOcJiUAP
— PTI (@PTIofficial) November 7, 2022
PTI workers also blocked GT Road Rata Shah Chowk Margalla from both sides due to which commuters and local residents of the area including shopkeepers faced hardship.
Apart from this, a handful of PTI activists also staged a protest in Pirwadhai area and the highway connecting Pirwadhai with IJP Road was closed for traffic as they set tyres on fire.
Also read: Imran Khan leaves hospital after attack
During the protests, PTI leader Fayyazul Hasan Chauhan and workers also reportedly engaged in a quarrel.
Protest on IJP Road By #PTI #Faizabad #ImranKhan #Rawalpindi #Islamabad pic.twitter.com/C1RLwKTQOP
— Muhammad Aqeel haideri (@aqeel_haideri) November 7, 2022
A PTI worker alleged that a fight broke out between the protesters and Chauhan after the latter slapped one of his party workers. However, Chauhan denied the allegation, saying he only slapped the worker considering him as his own son.
Earlier today, the police in the federal capital warned of action against those protesting without permission in Islamabad without the permission of the local administration.
The announcement comes a day after the Pakistan Tehreek-e-Insaf (PTI) Chairman Imran Khan said the party will be returning to the streets to resume its long march on Islamabad, which was disrupted after an attempt on his life, from Tuesday (tomorrow) — exactly from the point he brushed with death three days ago. He earlier today revised the decision, saying the march would now begin from Wednesday.
In a series of tweets, the capital police also said that they are taking action to arrest political workers who have been identified and cases have been registered against them.


Source link