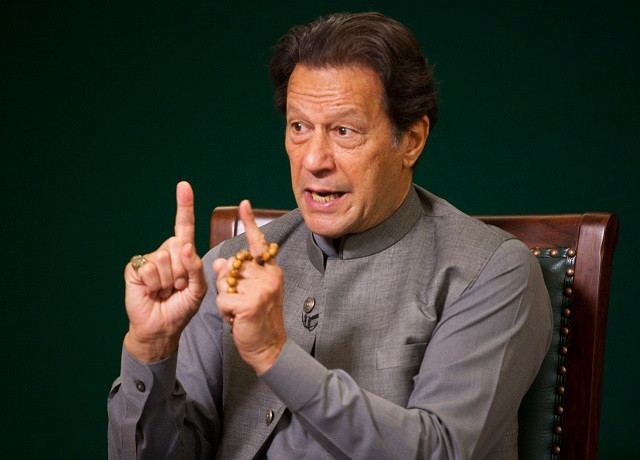 Former prime minister and PTI Chairman Imran Khan has admitted that he had offered an extension in the tenure of Army Chief General Qamar Javed Bajwa when the then opposition was "conspiring" to topple his government.
"I repeatedly warned Gen Bajwa that if this no-confidence motion succeeds it will have a direct impact on the economy and no one would be able to control it as the economy will go into a tailspin," the former premier said in an interview with a local TV channel on Thursday.
"I had warned the institutions that Pakistan will face instability, especially on economic front, after VONC"-@ImranKhanPTI #حقیقی_آزادی_مارچ pic.twitter.com/jJIXnix4rE
— PTI (@PTIofficial) October 27, 2022
Imran said he told the army chief that if the then opposition was offering him an extension then he could do the same.
His statement came after DG ISI Lt Gen Nadeem Najum revealed at the unprecedented press conference that the army chief was offered an indefinite extension for his tenure in front of him earlier in March this year.
In the same interview, Imran also asked the top leaders "as to why did they hold a press conference to discuss political matters if they were apolitical".
Commenting on PTI leader Faisal Vawda's press conference, Imran expressed regret saying he was not expecting such statements which left his part leaders bewildered and shocked.
Imran Khan on Faisal Wavda. pic.twitter.com/t8JvgK6Y38
— Ihtisham Ul Haq (@iihtishamm) October 27, 2022
On Wednesday, Vawda appeared on state-owned broadcaster PTV and placed himself at the forefront and "tried to damage" the party's upcoming long march to Islamabad and denounced his claims that the protests would witness "bloodshed".
Vawda claimed during his hurriedly-called presser that the establishment had no role in the killing of senior journalist Arshad Sharif, adding that the name of the conspirators would be revealed soon.
He said that the killing of the senior journalist was not an accident and his murder was planned in Pakistan. "I've made a video and named people… If I'm killed the personalities involved will also be killed in three to five hours," he said.
Imran said Vawda gave such controversial statements at the request of dirt harry.
'Mir Jafar and Mir Sadiq toppled my govt'
Separately, Imran Khan reiterated that "Mir Jafar and Mir Sadiq" hatched a foreign conspiracy to topple his government.
Addressing the PTI social media team and a video statement on the eve of his long march towards the federal capital, Imran invited the masses to join his movement for real freedom of the country.
"Mir Jafar and Mir Sadiq hatched a foreign conspiracy to topple my government," Imran told the party's social media team. "Through social media, show every citizen what they did with the PTI government."
"Pakistan has changed. This march will be historic"-@ImranKhanPTI #حقیقی_آزادی_مارچ pic.twitter.com/ReyKDbmKiA
— PTI (@PTIofficial) October 27, 2022
In his video statement, Imran said he was going to launch his "Haqeeqi Azadi" movement from Liberty Chowk, Lahore, on Friday (today), inviting all the people to participate in it.
"This movement is not for political point-scoring or gaining personal benefits or for that matter dismantling a government. This is meant to get the country free in true sense," he said.
"Since the inception of Pakistan, after the Tehreek-e-Pakistan, through which we gained freedom from English, the PTI's movement is also of the same magnitude in essence," he added.
Imran underscored that the purpose of his movement was to decide the country's fate. "No puppet from abroad should decide for us," the PTI chairman said.
"The PTI will continue to fight for real freedom until the doors of foreign conspiracies to get power are shut. Second, there should be justice. Everyone should be equal before the law," he said.
Exposing the West's hypocrisy on the Kashmir issue, he said that no one could speak against Israel in America, because it was against their national interest, adding that millions of Kashmiris had been martyred, but the West was unable to speak out on this issue.


Source link