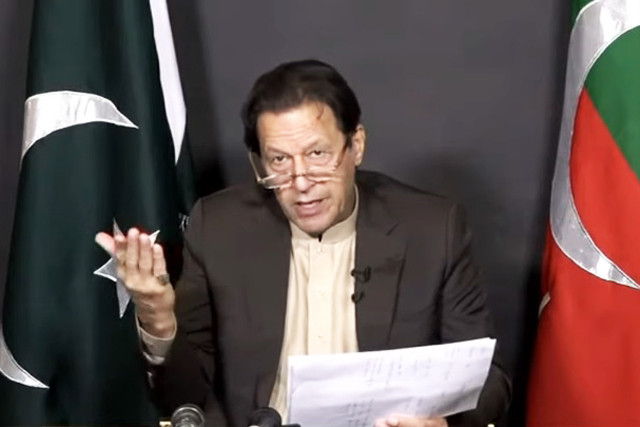 Former prime minister and PTI Chairman Imran Khan on Sunday accused former army chief General (retd) Qamar Javed Bajwa of giving "NRO-2" — a reference to amnesty granted by former military ruler Gen (retd) Pervez Musharraf – to incumbent rulers.
"The first NRO was granted by General Musharraf and the second one was given by the one who was in power," he said while addressing a press conference in Lahore.
https://www.facebook.com/ImranKhanOfficial/videos/905557090606065/
Speaking about the detained PTI leader, Senator Azam Swati, Imran condemned the treatment being meted out to him over his controversial tweets against the state institutions and military officials.
"He [Azam Swati] was arrested just for saying General Bajwa gave NRO to thieves… the entire Pakistan knows that he [Gen Bajwa] gave NRO-2," he remarked.
Imran said in civilised societies a sitting senator cannot be "tortured or stripped naked" just for sharing his opinion. "You can deny his [Swati's] claim," he added.
More to follow…


Source link