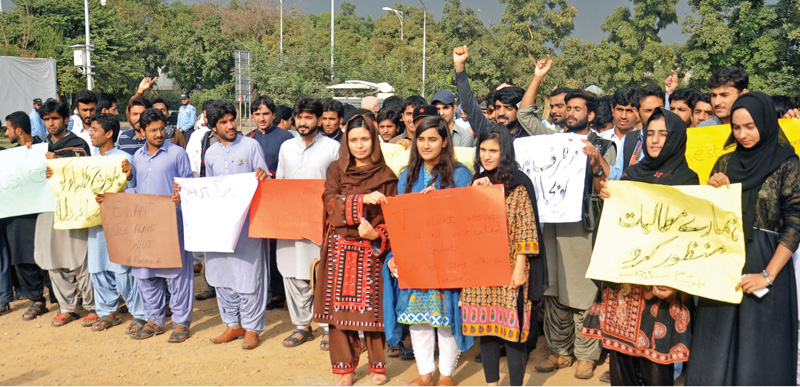 The Islamabad High Court (IHC) on Wednesday directed the government to address the grievances of Baloch students of Quaid-e-Azam University who have been protesting outside the National Press Club in the federal capital.
The court also directed Interior Minister Sheikh Rashid Ahmed to meet the protesting students and submit a report by Friday. IHC Chief Justice Athar Minallah heard the petition filed for the recovery of missing student Hafeez Baloch. Advocate Imaan Zainab Hazar-Mazari appeared before the court on behalf of the petitioners.
The court expressed anger over the matter, pointing out that the students had been protesting for so many days, but the government was not paying heed to their demands.
"Why are the students under the impression that a social profiling of them was being conducted," CJ Minallah asked. He also said that nobody was concerned about the duration of their protest, and the state should have taken care of them.
READ IHC expects PM will not make content of 'threat letter' public
Representing the Baloch students, Muhammad Abdullah, himself a student of QAU, told the court that harassment was going on even before Hafeez's disappearance. He said that nobody visited them except Human Rights Minister Shireen Mazari. He also questioned whether they should be on guard for their lives or focus on their studies.
He told the court that a man named Major Murtaza comes to QAU and he had been meeting Hafeez as well. Hafeez got a call from Khuzdar to meet Major Murtaza, he added. He further said Major Murtaza took their pictures and kept texting them on WhatsApp, and harassment even continued despite their protest outside the press club.
The student also said that some people visit the university's hostel at 3am and harass Baloch students.
The deputy attorney general adopted the stance that the federal government was taking serious measures to address the matter. Many ministers visited the students and heard their grievances, he added.
Advocate Imaan Zainab Mazari-Hazir said that the students themselves wanted to place their issues before the court. The court directed the interior minister to meet the students on Thursday.
To this, the deputy attorney general requested time for looking into the minister's availability to arrange a meeting.
The CJ sternly said that the interior minister would meet the students on Thursday, and if he does not, the court would then summon him. The top judge said that the court does not want to summon him, but if anyone harassed Baloch students, then the interior minister is directly responsible. The court then adjourned the hearing till Friday.


Source link