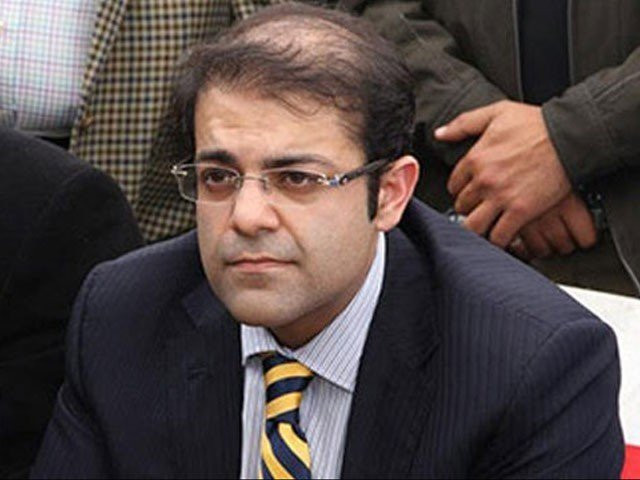 The Islamabad High Court (IHC) on Thursday barred authorities from arresting Suleman Shehbaz, the son of Prime Minister Shehbaz Sharif, from being arrested upon his arrival in Pakistan.
According to Express News, IHC Chief Justice Aamer Farooq presided over the hearing of Suleman's protective bail plea in the money laundering case registered against him, in which his lawyer Amjad Pervaiz appeared before the court.
While giving arguments in the court during the hearing today, the lawyer said Suleman is abroad since October 2018. He furthered that a first information report (FIR) was registered against Suleman, adding that the court held that protective bail cannot be granted in the absence of the petitioner.
The counsel further requested the court to bar the arrest of Suleman upon his arrival at the airport until he reaches the court. Pervaiz informed the court that the premier's son is expected to arrive on December 11 via a Saudi Airlines flight.
Read FIA exceeded its domain by filing FIR for tweet: IHC
The court then adjourned the hearing of the case and ordered Suleman to surrender himself before the authorities by December 13.
Suleman decided to return to the country after ending his four-year self-imposed exile and informed the IHC through his lawyer that he will reach Islamabad on December 11.
In a petition to the IHC, filed by Pervaiz, two weeks' protective bail was sought in a money laundering case registered against him.
Suleman had stated in a petition that he is a "businessman" and has "never been a public office-holder". He also maintained that a "baseless" and "false case of money laundering" has been filed against him.
The case
The FIA had registered a case against then-opposition leader Shehbaz Sharif and his sons Hamza and Suleman in November 2020 under Sections 419, 420, 468, 471, 34 and 109 of the Prevention of Corruption Act and r/w 3/4 of the Anti-Money Laundering Act.
In December 2021, the agency submitted a challan against Shehbaz and Hamza over their alleged involvement in a Rs16 billion money laundering case.
Also read: Economic meltdown shows Sharifs only expertise is 'money laundering': Imran
The FIA's report alleged that the Shehbaz family had 28 benami accounts, which were detected by an investigation team.
They claimed that money laundering of R16.3 billion was committed during 2008-18 through these accounts. The FIA examined the money trail of 17,000 credit transactions.
The report added up that the amount was kept in hidden accounts and given to Shehbaz in a personal capacity.
The FIA had alleged that the money received from the accounts of low-wage employees by Shehbaz had been transferred outside Pakistan to his family through the illegal practice of hundi.
At least 11 low-paid employees of the Sharif family were said to have been 'guilty' of facilitating this alleged money laundering.
However, in October a special central court acquitted Prime Minister Shehbaz and his son Hamza Shehbaz in the Rs16 billion money laundering case.


Source link