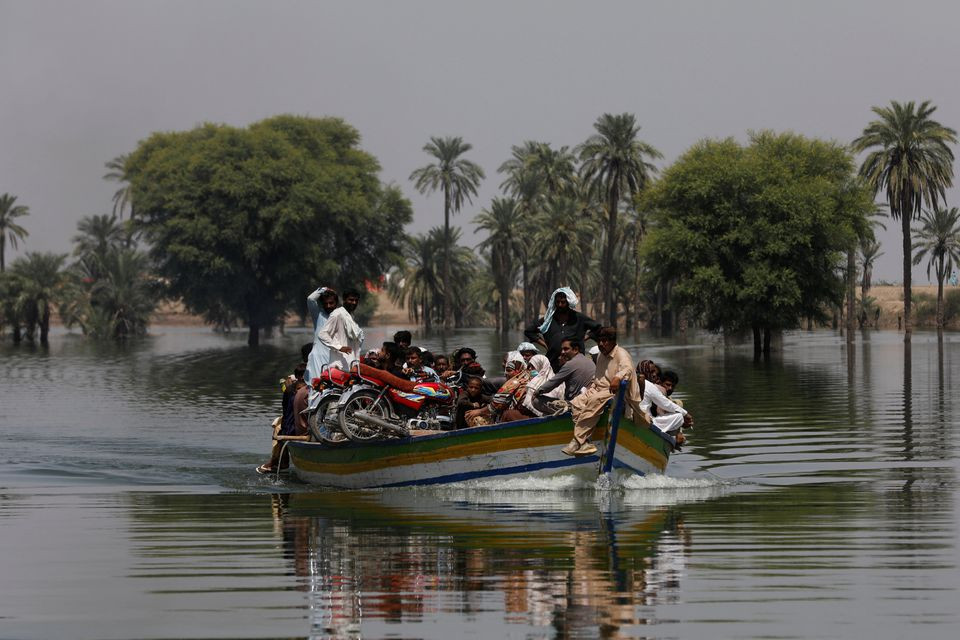 The floodwater in Manchhar Lake further subsided on Monday as the water continued to flow into the River Indus without any disruption.
Sindh Irrigation Minister Jam Khan Shoro confirmed the report, saying the situation on the right bank of the river was expected to be normal as soon as the water level goes down in the lake. He said the flow of water in to the Indus River was fast.
Some internally displaced persons (IDPs) were also reported to have begun moving back to their villages.
"A few families have left for their homes," a volunteer at a girls' college in Qasimabad, Hyderabad told The Express Tribune.
"Others feel they can go back very soon, but I don't know how and when," he added.
However, roads in several area remain inundated, with families using boats to return to their homes, especially in areas near Mehar and Khairpur Nathan Shah in the Dadu district.
Read Water level begins receding in parts of Sindh
Receding water level
As recorded at 12 pm today, the water level at the Manchhar Lake had dropped, and was now at 120 feet.
The inflow of water at Guddu Barrage was calculated at 127,823 cusecs, whereas the outflow was recorded at 121,186. The inflow at Sukkur Barrage was 144, 990 cusecs, and the outflow was 137,780.
Similarly, the inflow at Kotri Barrage was 259,517 cusecs, and the outflow was recorded at 229, 722 cusecs.
'Families separated'
The unprecedented flooding in Pakistan has left families separated and distressed by climate-induced displacements.
Thousands of panicked citizens had left the densely-populated district of Dadu, following a fresh spell of floods, adding to the growing number of displaced people.
The recent downpours – 500% higher than average – and massive floods have left 125 million people homeless in Sindh alone, aside from causing a colossal loss of Rs350 billion ($1.5 billion) to agriculture and another Rs50 billion ($221 million) to the livestock.


Source link