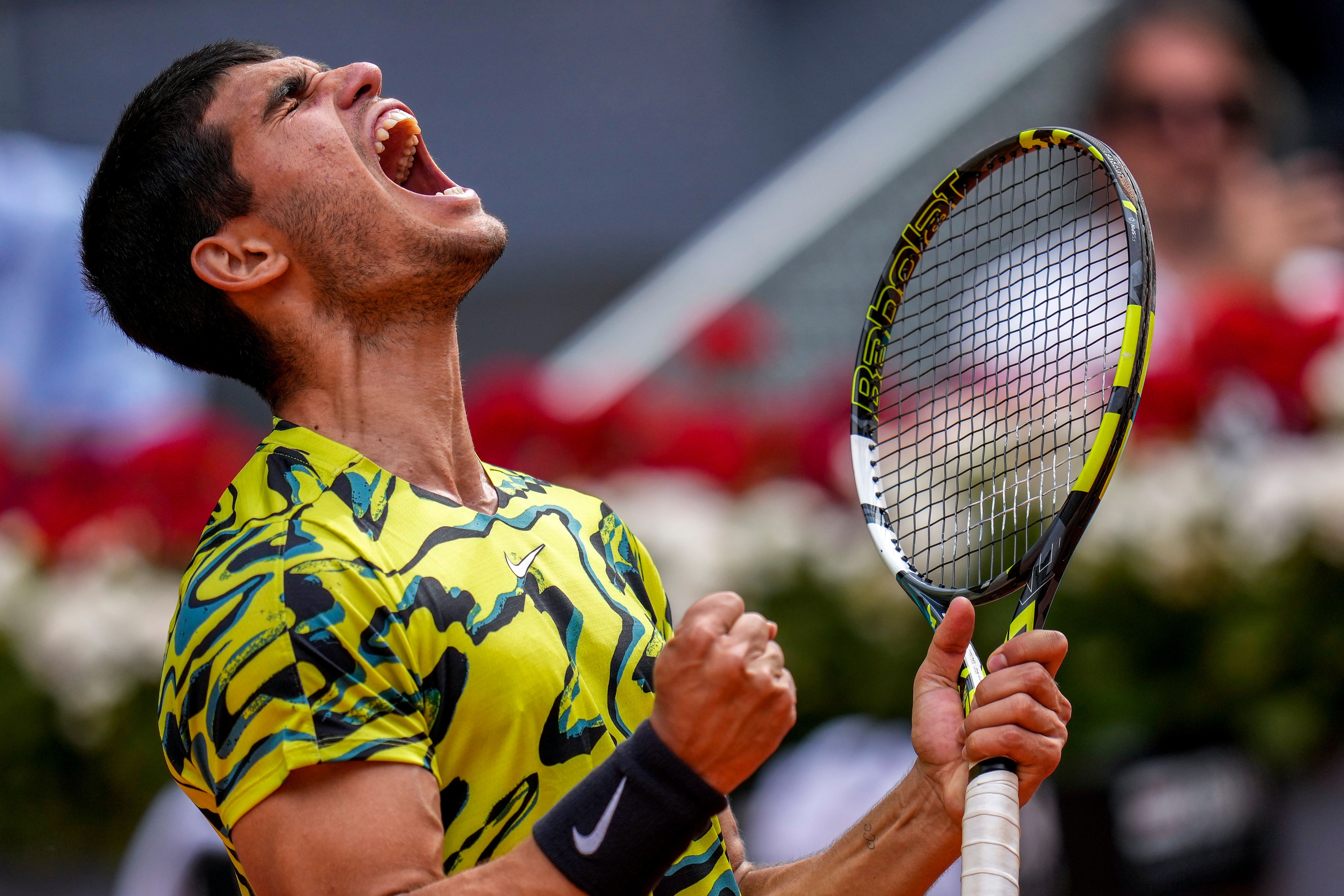 Carlos Alcaraz said on Wednesday that his competitive fires burn so intensely that he not only wants to become the world's greatest tennis player, he also plans to reign supreme at marbles.
World number two and US Open champion Alcaraz made the Madrid Open semi-finals by beating Karen Khachanov 6-4, 7-5 for his 27th win in 29 matches in 2023.
"I want to be one of the best tennis players in history," said Alcaraz who turns 20 on Friday when the semi-finals in the Spanish capital take place.
"I'm ambitious. I don't want to lose — even at marbles. I'm not going to get tired of winning, I live from day to day, I love playing tennis so I'm not afraid that I'll get tired of winning because that's not going to happen."
Alcaraz has already played 150 ATP Tour matches, winning 117 times.
That run has included nine career titles while his 2022 US Open triumph saw him become the sport's youngest ever world number one.
"I am proud that in such a short time I have established myself on the circuit with incredible moments, which have made me learn and grow very quickly," said Alcaraz.
"My dream in tennis right now is to become one of the best players in history. I know it's a big dream — probably too big. But you have to dream and think big."
On Wednesday, the top seed fought his way back from 4-1 and 5-2 down in the second set to triumph in one hour 52 minutes over 12th-ranked Khachanov.
Alcaraz blew away Alexander Zverev on Tuesday in a repeat of last year's final in the Spanish capital, but Khachanov put up stiffer opposition.
"Winning this match will give me a lot of confidence, Karen was at a great level and took me to the limit," said Alcaraz who unleashed 31 winners.
"It was decided by small details and I am very, very happy to be able to get through this round."
The Russian, who knocked out compatriot Andrey Rublev this week and also reached the Australian Open semi-finals, showed no fear in the first set despite his opponent's form.
Eventually Alcaraz found a decisive break to take a 4-3 lead with a strong forehand which Khachanov could not return successfully.
The Spaniard consolidated and served it out.
In the second set Khachanov broke for a 3-1 lead when Alcaraz went long after saving a first break point.
The world number 12 forced two more in the sixth game but could not convert either as Alcaraz fought hard to hold.
Alcaraz's perseverence paid off as he broke with a volley to get back on serve at 4-5.
The US Open champion consolidated his break and then earned another when Khachanov hit the net with an attempted forehand winner.
Aiming for his 10th tour level title the crowd-pleasing home favourite sealed his progress with a powerful forehand drive.
Alcaraz will face Daniel Altmaier or Borna Coric in Friday's semi-finals.


Source link