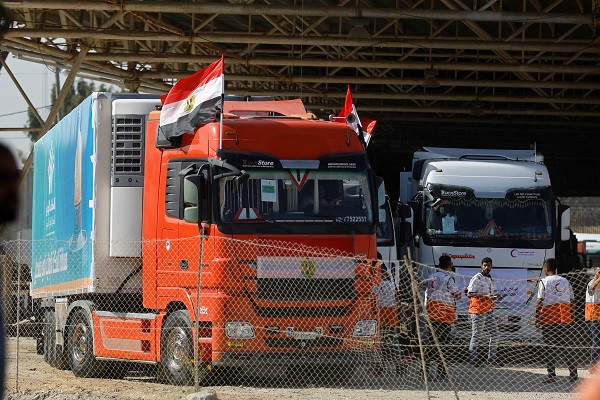 Humanitarian aid starts entering besieged Gaza from Egypt

CAIRO/GAZA:

The first trucks bearing emergency humanitarian aid since Israel began a devastating siege of Gaza 12 days ago entered the enclave from Egypt on Saturday after further heavy Israeli bombardment overnight that killed dozens of Palestinians.
Gaza's Health Ministry says Israel's brutal retaliatory air and missile strikes have killed at least 4,137 Palestinians, including hundreds of children, while over a million of the besieged territory's 2.3 million people have been displaced.
The United Nations said the convoy included life-saving supplies that would be received and distributed by the Palestinian Red Crescent. Palestinian group Hamas said the delivery included medicine and limited amounts of food but not fuel.
Palestinian health officials said the lack of fuel was jeopardising the lives of patients including people injured by air strikes. Fourteen medical centres have already suspended operations for want of fuel.
UN officials say at least 100 trucks daily are needed to cover urgent, life-saving needs and that any aid operation must be sustainable at scale – a tall order now with Israel carrying out devastating bombardments of the enclave day and night.
Israel kept up heavy bombardment of 'targets' throughout Gaza overnight on Saturday after Prime Minister Benjamin Netanyahu vowed to "fight until victory" following the release of the first two hostages by the enclave's ruling Hamas group.
A picture taken from the Israeli side of the border with the Gaza Strip shows smoke rising over the norther-western part of the Palestinian enclave during an Israeli bombing attack. PHOTO: AFP
After Netanyahu signalled no pause in Israel's aerial onslaught and expected ground invasion, its military claimed fighter jets had struck a "large number of Hamas terror targets throughout the Gaza Strip" including command centres and combat positions inside multi-story buildings.
Local media said Israeli aircraft had struck six homes in the north of Gaza, a coastal enclave that is one of the world's most densely populated places, killing at least 19 people and injuring dozens.
The Israeli military reported a fresh salvo of rockets from Gaza against southern Israeli border communities before dawn, then a lull until sirens sounded in the port city of Ashdod some 40 km north of the Palestinian enclave. There was no immediate word of casualties in either incident.
Hamas on Friday freed Americans Judith Tai Raanan, 59, and her daughter Natalie, 17, who were among around 200 kidnapped in its Oct. 7 cross-border attack on southern Israel by militants of the Islamist movement.
An image obtained by Reuters after their release showed the two women flanked by three Israeli soldiers and holding hands with Gal Hirsch, Israel's coordinator for the captives and missing.
They were the first hostages confirmed by both sides in the conflict to be freed.
Israel has amassed tanks and troops near the fenced border around the small coastal enclave for a planned ground invasion with the objective of annihilating Hamas, after several inconclusive wars dating to its 2007 seizure of power in Gaza.
"Two of our abductees are at home. We are not giving up on the effort to return all abducted and missing people," Netanyahu said in a statement released late Friday night.
"At the same time, we'll continue to fight until victory."
Abu Ubaida, a spokesperson for Hamas' armed wing, said the hostages were released in part "for humanitarian reasons" in response to Qatari mediation efforts.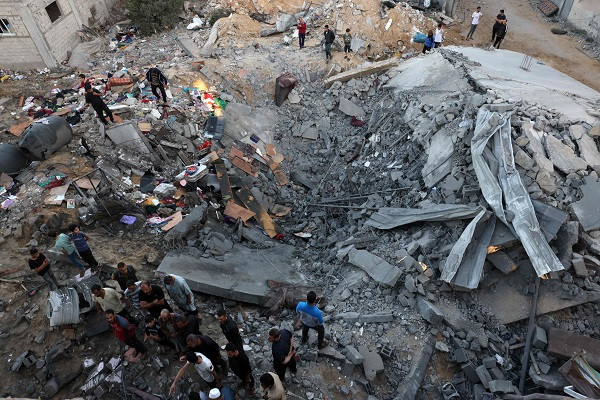 Palistinians check the rubble of a building destroyed in an Israeli bombardment in Rafah in the southern Gaza Strip. PHOTO: AFP
Israeli Defence Minister Yoav Gallant said achieving Israel's objectives would not be quick or easy.
"We will topple the Hamas organisation. We will destroy its military and governing infrastructure. It's a phase that will not be easy. It will have a price," Gallant told a parliamentary committee.He added that the subsequent phase would be more drawn out, but was aimed at achieving "a completely different security situation" with no threat to Israel from Gaza. "It's not a day, it's not a week, and unfortunately it's not a month," he said.
Heavy bombardment
The Orthodox Patriarchate of Jerusalem, the main Palestinian Christian denomination, said that Israeli forces had struck the Church of Saint Porphyrius in Gaza City, where hundreds of Christians and Muslims had sought refuge.
The Israeli military said part of the church was damaged in a strike on a nearby "militant command centre".
Israel has already told all civilians to evacuate the northern half of the Gaza Strip, which includes Gaza City. Many people have yet to leave saying they fear losing everything and have nowhere safe to go with southern areas also under attack.
Asked if Israel had so far followed the laws of war in its response, US Secretary of State Antony Blinken reiterated on Friday that Israel had the right to defend itself and make sure Iran-backed Hamas was not able to launch attacks again.
"It's important that operations be conducted in accordance with international law, humanitarian law, the law of war," he said.
The United Nations humanitarian affairs office said more than 140,000 homes – nearly a third of all homes in Gaza – had been damaged, with nearly 13,000 completely destroyed.
The United Nations agency for Palestinian refugees said Saturday that at least 17 of its staff had been killed in the Gaza war, warning that the death toll would likely rise.
"To date, 17 of our colleagues have been confirmed killed in this vicious war. Very sadly, the actual numbers are likely to be higher," UNRWA said in a statement.
International attention has focused on getting aid to Gaza through the one access point not controlled by Israel, the Rafah crossing to Egypt.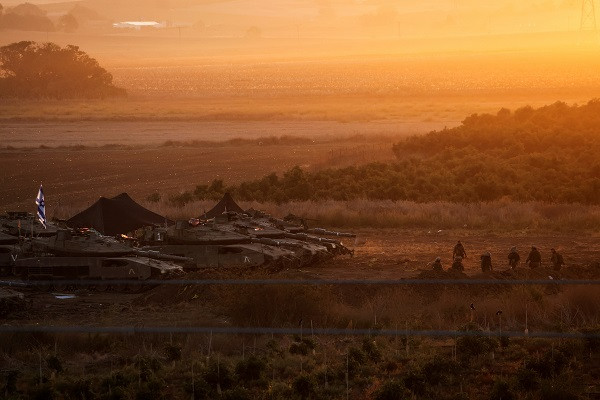 A formation of Israeli tanks is positioned near Israel's border with the Gaza Strip. PHOTO: Reuters
Biden, who visited Israel on Wednesday, said he believed trucks carrying aid would get through in the next 24-48 hours.
UN Secretary-General Antonio Guterres toured the checkpoint on Egypt's side on Friday and called for a meaningful number of trucks to enter Gaza daily, and checks – which Israel insists on to stop aid reaching Hamas – to be quick and pragmatic.
Western leaders have so far mostly offered support to Israel's campaign against Palestinians, although there is mounting unease about the plight of civilians in Gaza.
Many Muslim states, however, have called for an immediate ceasefire, and protests demanding an end to the bombardment were held in cities across the Islamic world on Friday.
In the Israeli-occupied West Bank, where violence has escalated since Israel began bombarding Gaza, Israeli troops shot dead a Palestinian teenager during clashes near the city of Jericho.
Since the Israel-Hamas war erupted, the borderlands between south Lebanon and northern Israel have also seen constant but so far limited clashes between the Israeli military and fighters from the Lebanese group Hezbollah.
The Israeli military said on Saturday a soldier had been killed by a missile attack on the Lebanese border, in a statement that did not elaborate on the exact time or location.
Israel urges citizens to leave Egypt, Jordan
Israel urged its citizens to immediately leave Egypt and Jordan, the national security council said on Saturday as regional tensions flared over the war in Gaza.
"Israel's National Security Council raises its travel warnings for Egypt (including Sinai) and Jordan to level 4 (high threat): recommendation not to travel to these countries and for those staying there to leave… as soon as possible," it said in a statement.
The notice comes just days after Israel recalled its diplomats from Turkey as a security precaution following an earlier request for its citizens to leave as well.
The evacuation calls came after days of protests across the Middle East over Israel's brutal bombardment of the Gaza Strip.