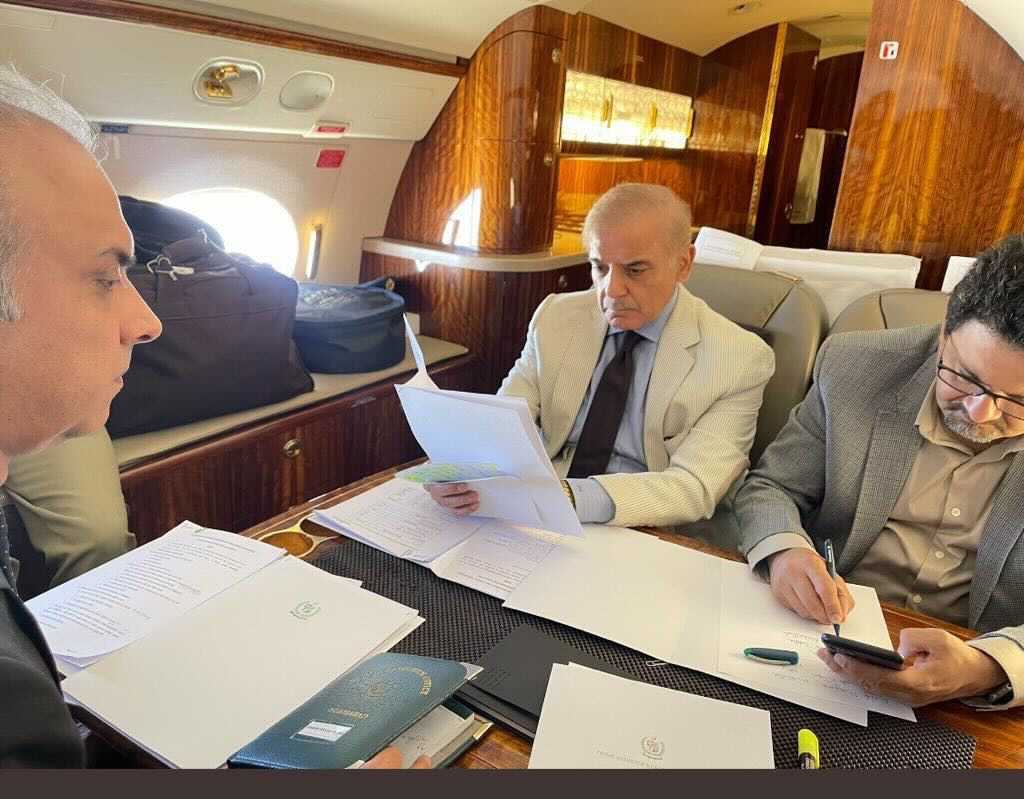 Netizens and observers are terming the newly-elected Prime Minister Shehbaz Sharif's much-hyped meeting to discuss the economy "up in the air" a "mere optics" to cultivate his "can-do" image in his initial days.
According to sources, the newly elected PM also issued instructions to relevant authorities during an official meeting chaired on the premier's plane.
In a statement, Pakistan Muslim League Nawaz (PML-N) Maryam Aurangzeb confirmed that the incumbent prime minister held a meeting pertaining to problems in Karachi and the prevailing state of the economy during the flight.
Read more: PM Shehbaz warns against vilifying state institutions
She also shared photos of the meeting, saying, "Pakistan will move forward so fast Insha-Allah that it will be called 'Pakistan Speed'."
On the other hand, PML-N Vice President Maryam Nawaz also shared photos and released a statement. "This is how it is done when the country is in pain and anxiety. Not a single moment is wasted because this time is the trust of the nation! Well done Shehbaz Sharif."
ملک کی خدمت اس طرح کی جاتی ہے! pic.twitter.com/Bh27wpWy1M
— Maryam Nawaz Sharif (@MaryamNSharif) April 13, 2022
Meanwhile, netizens began analyzing the aforementioned pictures that showed PM Shehbaz going through some official documents, former finance minister Miftah Ismail taking down some notes as a bureaucrat whose identity could not be confirmed and the premier's military secretary looked.
The conclusions made by the self-turned online detectives concluded that Ismail was writing down names of local bank CEOs and industrialists probably in a bid to arrange a joint meeting between them and the prime minister.


Source link