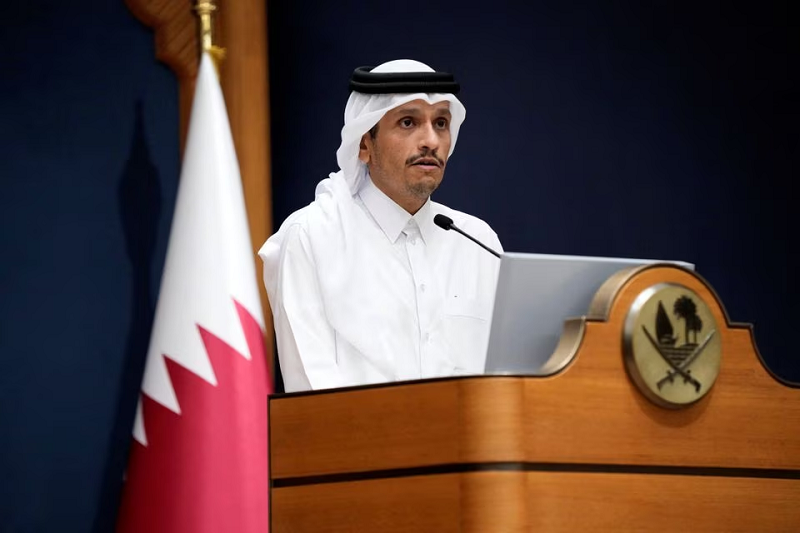 Hopeful for breakthrough in hostage release 'soon'

DOHA:

Qatar's prime minister said on Wednesday that negotiations the Gulf Arab state is leading to secure the release of hostages held by Hamas in Gaza are progressing and he is hopeful there will soon be a breakthrough.
Qatar's foreign ministry urged de-escalation and warned that an Israeli ground assault on the densely populated enclave would make freeing hostages "much more difficult."
"There is some progress and some breakthrough and we remain hopeful," said Sheikh Mohammed Bin Abdulrahman al-Thani at a press conference in the Qatari capital.
Wealthy gas-producer Qatar has had an open dialogue with both Israel and Hamas, which has brought about the release of four hostages captured in the Oct. 7 rampage Hamas led into southern Israel, including two Israeli women on Monday.
"If they are able to get along between the two parties I think we will see some breakthroughs hopefully soon," said Sheikh Mohammed, who is also the minister of foreign affairs and who was speaking alongside his Turkish counterpart.
Qatar foreign ministry officials said an Israeli ground invasion of Gaza would complicate efforts to free the hostages.
Read also: Hamas releases two Israeli captives as conflict escalates
"Obviously, a land incursion into Gaza would make it difficult to maintain the safety of the hostages, and in our efforts at mediation with both sides, we urge all parties in this conflict to de-escalate immediately," said Majed Al Ansari, the foreign ministry's spokesperson.
Also speaking in Doha, Turkish Foreign Minister Hakan Fidan said an Israeli ground operation into Gaza would turn the fighting there into a massacre.
Fidan said that those supporting Israel's actions under the pretence of solidarity were "accomplices to its crimes".
Some 222 people aged from 9 months to 85 years were seized on Oct. 7 when Hamas and other fighters went on a killing spree through southern Israel, shooting motorists, hunting down civilians, including children in their own homes, and burning and stabbing people to death, according to survivors' accounts.
Israel has responded with a bombing campaign and a siege of Gaza.
The Palestinian health ministry said on Wednesday at least 6,546 Palestinians had been killed by Israeli bombardments since Oct. 7, including 2,704 children. Some 756 were killed in the previous 24 hours alone.
"The number of children being killed since the start of this war is exceeding the number of children killed in the other war between Ukraine and Russia and yet we didn't see the same reaction (in the international community)," he said, stressing that the only way to reach a peaceful solution in Gaza was to keep communication channels open.