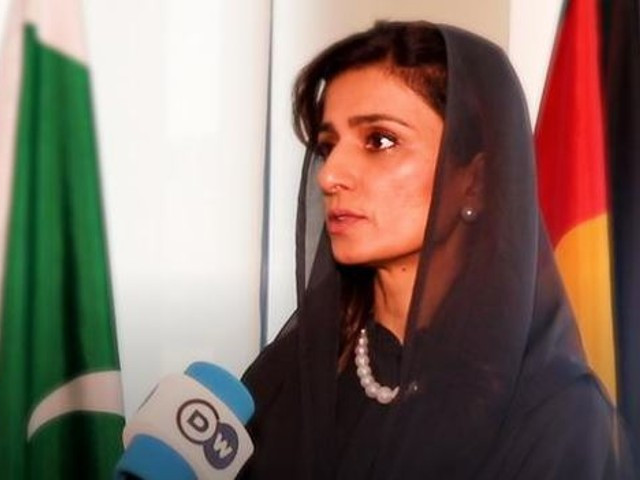 Minister of State for Foreign Affairs Hina Rabbani Khar has said that exiting the Financial Action Task Force's (FATF) grey list was critical for Pakistan's economy.
"It is always critical. No country would want to be in the grey list because it has its challenges, it has repercussions, it takes away investor confidence, it puts a country under the bracket that it is work under progress," she said during an interview with DW Hotspot Asia on the sidelines of the meeting in Berlin.
Hina is currently the chair of Pakistan's National FATF Coordination Committee and leading the country's delegation in the German capital.
"We would obviously want to continue to remain engaged even more intensively with the international regulatory system, be part of it and be frontrunners in some ways. It will always be very important for us to try and manage to get out as quickly as possible," she added.
To a question about Pakistan's ties to European Union, Hina said that she would never hope that the state of Pakistan had any ties that required a repair.
Read more: FATF 'kick-starts' process to remove Pakistan from grey list
"A state's ties are states ties. I would never want Pakistan to be in a position where it would damage in any way its ties with European Union or any country," the Pakistani official added.
"We have the European Union agenda with Germany and we have the Germany agenda with Germany. I believe we have a lot in alignment with what our interests are in the region and the world. Also, on the economic side, we are completely aligned with Germany's core competence and policy focus on clean energy and Pakistan's core need to move towards clean energy. So whether it's solar, it's wind… we have a list of items on which we can work … so our message to them is we want our economic engagement to be around that area because you can have 20 engagements but you need to have one specific one to concentrate on. We feel that we have better places to go with Germany."
Hina Rabbani Khar @HinaRKhar, Pakistan's minister of state for foreign affairs, told DW that exiting the global money laundering and terrorist financing watchdog's 'grey list' is crucial for the country's economy.
Interview by @IrfanAftaab pic.twitter.com/FhBhm2sMmS
— DW Hotspot Asia (@dw_hotspotasia) June 17, 2022
About former prime minister Imran Khan's alleged pro-Russian stance, the minister said that her government conducts diplomacy "very differently, adding that there is an "absolute understanding" to it.
"I have not found anyone to question us on it. My answer to everyone is we conduct diplomacy very differently than the West. We have some eastern values. We conduct our diplomacy quietly and behind closed doors and when it comes to our stances [on different issues] our stance is the UN charter. Our stance is respect of sovereignty and territorial integrity. Our stance is also to let diplomacy and negotiations solve the matter before you let more people die. That is the lesson we have learnt from Afghanistan when everything has to be settled at the negotiating table, why give so much blood, why give so many years of taking lives, having a cost and no amount of assistance will undo the damage that you do."
'Absolutely keen to have good relations with both US and China'
Regarding a question about Pakistan's wish to have good relations with both US and China, Hina responded by saying that Pakistan was "absolutely keen to do that".
"Why should we not? because we are a country which should have the choice to have good ties with everyone. Nobody should be allowed to make that choice for us. We refuse to allow the world to go in this direction of us versus them and two world orders. It is a dangerous trend. We want to resist that trend or wave as much as possible, she said.
Also read: Khar cautions against 'speculative reporting' as Pakistan awaits FATF decision
Referring to her visit, she said that there was a general understanding of Pakistan's position as well. "We have geography. You have to respect that geography. We have very good strategic ties with China and that does not mean that we cannot have very good ties with the US and Europe and everyone else," she added.
"To be honest, we are at a very decent place as we are able to talk to everyone, listen to everyone and engage with everyone. We are willing to take infrastructural financing from China and we are willing to take infrastructural financing from the Europeans. We will take it from where ever it is available and everybody has to respect that."
About the human rights situation in Afghanistan, Hina said that Afghanistan was a different country and the Pakistani government deals with matters within its territorial boundaries.
"Our government is our government. It can have pressure and policy tactics within our own territorial boundaries. Afghanistan is a different country. It has an interim government over there. Pakistan government deals with states whichever government comes and goes," she added.
"We are a country which reflects our own values and how we conduct ourselves. We are a country where the constitution values women's rights in education, their place in parliament, and their place in normal walk of life. It guarantees them against domestic violence, against harassment. It makes sure that women remain an active part of life. We are obviously not a country which is happy to see the opposite on the other side of the border," she further said.


Source link