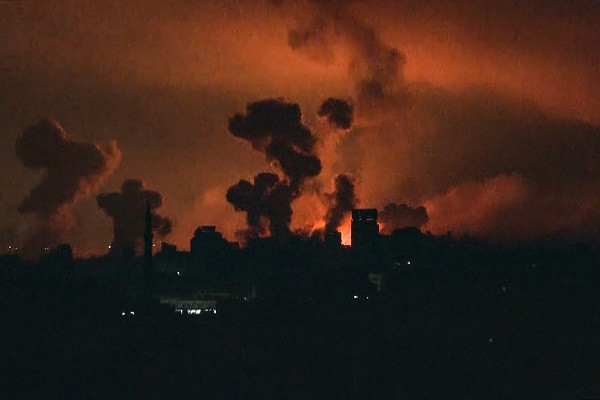 Hamas offers prisoners swap as war 'entered new phase'

RIYADH/
GAZA:

Hamas's leader in the Gaza Strip, Yahya Sinwar, said on Saturday that the group was ready for an "immediate" prisoner swap as Israel said its war had "entered a new phase" with a massive bombardment of Gaza.
"We are ready to conduct an immediate prisoner exchange deal that includes the release of all Palestinian prisoners from Israeli jails in exchange for all prisoners held by the Palestinian resistance," Sinwar said in a statement.
The United Nations warned thousands more civilians could die as Israel said its forces were still operating inside Gaza more than 24 hours after entering the Hamas-run territory.
Israel unleashed its bombing campaign after Hamas fighters stormed across the Gaza border on October 7, killing 1,400 people, and seizing more than 220 hostages, according to Israeli officials.
The Hamas-controlled health ministry in Gaza said Israeli strikes had since killed 7,703 people, mainly civilians, with more than 3,500 of them children.
The conflict is the fifth and deadliest in Gaza since Israel unilaterally withdrew troops and settlers from the Palestinian territory in 2005.
Read Ground battles rage in Gaza after Israel escalates bombing, cuts communications
UN human rights chief Volker Turk warned of "the possibly catastrophic consequences of large-scale ground operations in Gaza", saying "thousands more civilians" could die.
The intense strikes against Hamas provided cover for Israeli ground forces to step up operations inside Gaza. "Since early Friday evening, combined combat forces of armour, combat engineers and infantry have been operating on the ground in the northern Gaza Strip," the army said late Saturday.
"We've entered a new phase in the war," Defence Minister Yoav Gallant said on Saturday. "Last night, the ground in Gaza shook. We attacked above the ground and below the ground," he said, alluding to the network of tunnels Hamas has built under Gaza.
Hamas's armed wing said it was ready to release the hostages it abducted if Israel freed all the Palestinian prisoners it was holding.
"The price to pay for the large number of enemy hostages in our hands is to empty the (Israeli) prisons of all Palestinian prisoners," Ezzedine al-Qassam Brigades spokesman Abu Obeida said.
"If the enemy wants to close this file of detainees in one go, we are ready for it. If it wants to do it step-by-step, we are ready for that too," he added.
Some 229 hostages are being held in the Gaza Strip, many of them foreigners or dual nationals, the Israeli army says.
Earlier this week, the Brigades said "almost 50" of the hostages had been killed in Israeli air strikes.
Facing increasing anger over the fate of the captives as Israel steps up its war on Hamas, Prime Minister Benjamin Netanyahu agreed to meet representatives of hostage relatives who demanded to know how the government would handle the crisis.
Netanyahu made no commitment to any exchange deal but assured them Israel would "exhaust every option to bring them home".
Overnight, hundreds of buildings and houses were completely destroyed and thousands damaged, Gaza officials said.
Also, Arab Gulf states on Saturday warned Israel against further ground operations in the Gaza Strip, with Saudi Arabia denouncing land incursions as "unjustified" and Oman condemning possible "war crimes".
Read more UN overwhelmingly calls for aid truce between Israel and Hamas
Saudi Arabia "condemns and denounces any ground operations carried out by Israel due to the threat they pose to the lives of Palestinian civilians", the kingdom's foreign ministry said in a statement.
It cautioned against "the danger of continuing to carry out these blatant and unjustified violations of international law against the brotherly Palestinian people", warning of "serious repercussions for the stability of the region".
Qatar's Foreign Minister Mohammed bin Abdulrahman Al-Thani said on X, formerly Twitter, that an "Israeli ground escalation would have dire consequences for civilians and devastating humanitarian and economic impacts."
Oman accused Israel of committing "war crimes" in Gaza and warned against any further ground manuevers.
The escalation in Israel's "brutal war on the Gaza Strip constitutes war crimes and crimes against humanity," said a foreign ministry statement carried by the official Oman News Agency.
Oman too warned of the destabilising effects of a large-scale land invasion, while Qatar said "a ground escalation" would risk "the safety of civilians and hostages in Gaza".
A Qatari foreign ministry statement expressed "complete rejection of the indiscriminate bombing of the Gaza Strip and the attempts to forcibly displace its people".
Qatar's top diplomat said "mediation efforts to release civilian hostages" and to "end the war" were ongoing.
The United Arab Emirates, which established diplomatic ties with Israel in 2020 as part of the US-brokered Abraham Accords, "condemned the ground operations by Israel", said a foreign ministry statement. Abu Dhabi demanded "an immediate ceasefire to ensure that civilians and civilian institutions are not targeted", it added.
"The urgent priority is to end the escalation of military operations and protect civilians."
Kuwait charged that "any ground invasion of Gaza… will prove that the Israeli occupation is determined to continue committing crimes against the brotherly Palestinian people", according to a foreign ministry statement.
The six-member Gulf Cooperation Council condemned the military escalation in Gaza as a "violation of international law," urging an immediate end to hostilities.