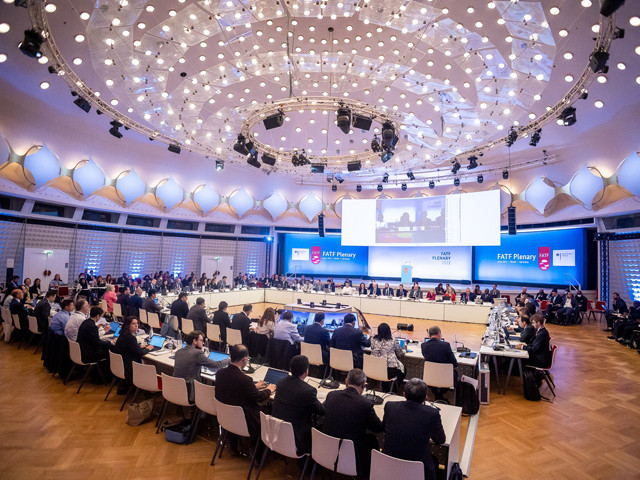 Pakistan is not out of the woods yet, despite the Financial Action Task Force (FATF) announcing an on-site visit to verify the country's progress on tackling terrorism financing, a senior official privy to the development told The Express Tribune on Friday.
"We should be cautious. We are still at quite a distance," the official warned as many people, including government officials, sent congratulatory messages over the FATF decision.
The official, who spoke on the condition of anonymity, said the 'on-site' visit was indeed a step in the right direction but Pakistan will have to satisfy the FATF team that its actions and steps were sustainable and irreversible.
The major issue that could jeopardise Pakistan's case is the successful prosecution of terror suspects and those who involved in terror financing. Pakistan in order to comply with the FATF action plan in recent months convicted key individuals, handing them down multiple sentences.
Those sentences have actually helped Pakistan's case prompting the on-site visit.
"The FATF team is going to audit the steps we have taken. They can ask for anything under the sun. They may seek access to specific individuals convicted in terror financing cases," the official revealed.
Read FATF 'kick-starts' process to remove Pakistan from grey list
The definition of successful prosecution of FATF may differ from Pakistan. For FATF, the successful prosecution means all legal options are exhausted. The visiting team will assess whether individuals convicted in terror financing cases will not get any reprieve from the Supreme Court or a presidential pardon.
"The FATF visiting team will be technical but the ultimate decision will be political," the official explained, suggesting that it would depend on the United States and other western powers.
The official cautioned that the neighbouring country would use all available means to create a spanner in "our work". "That is why we need to avoid premature celebrations."
Although the FATF statement did not give any time frame, official sources said the decision to remove Pakistan from the grey list provided the positive assessment of the FATF team would be taken in October.
The decision will take its effect in February next year, as per the officials.
Meanwhile, the Foreign Office in a statement said the FATF had acknowledged the completion of Pakistan's both action plans (2018 and 2021) and authorised an onsite visit to Pakistan, as a final step to exit from the FATF's grey list.
The FATF members while participating in the discussion on Pakistan's progress congratulated Pakistan for completing both Action Plans covering 34 items, and especially on the early completion of the 2021 Action Plan in a record timeframe.
"Pakistan continued its relentless efforts towards successful completion of these Action Plans despite many challenges including the COVID 19 pandemic," the statement added.
It said Pakistan had covered a lot of ground in the AML/CFT domain during the implementation of the FATF Action Plans. The engagement with FATF has led to the development of a strong AML/CFT framework in Pakistan and resulted in improving of our systems to cope with future challenges.


Source link