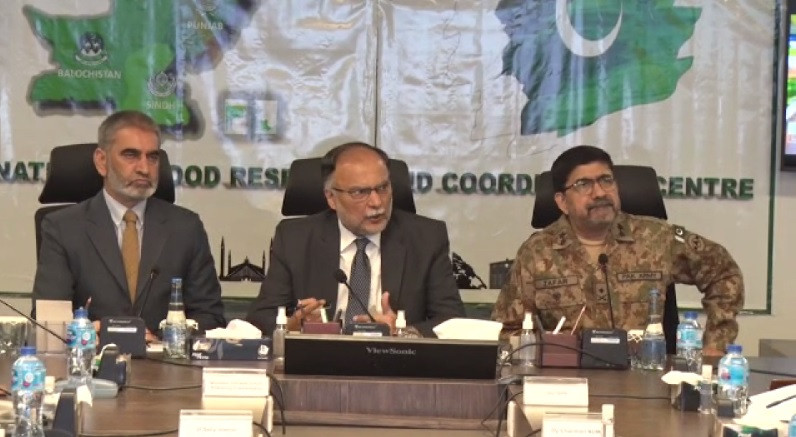 The first formal session of the National Flood Response Coordination Centre (NFRCC), the government's newly-established nerve centre to manage the ongoing floods took place in the federal capital on Saturday.
Federal Minister for Planning and Development Ahsan Iqbal, Director General of the Inter-Services Public Relations Major General Babar Iftikhar chairman flood commission, National Disaster Management Authority (NDMA) Chairperson Lieutenant General Akhtar Nawaz, deputy chairperson and national coordinator of the NFRCC, and a representative of the metrological department attended the session.
The forum was apprised of the latest flood situation in the country and the response measures taken to rescue and provide relief to the affected people. The attendees were also informed of the rehabilitation plan for the affected areas, communication, and infrastructure.
Earlier this week, the incumbent coalition government decided to establish the NFRCC to cope with the flood situation and rehabilitate the impacted people.
Read Flood relief fails to reach remote areas
The decision was made at a meeting of the allied parties chaired by Prime Minister Shehbaz Sharif. The NDMA chief briefed the meeting about the situation of floods in the country and relief activities.
PM Shehbaz said that the centre would "serve as a bridge between disaster management authorities, donors and government institutions".
According to the premier, the NFRCC would collect and analyse the latest information and pass it on to relevant government agencies, as well as oversee rescue and relief work, including the restoration of infrastructure.