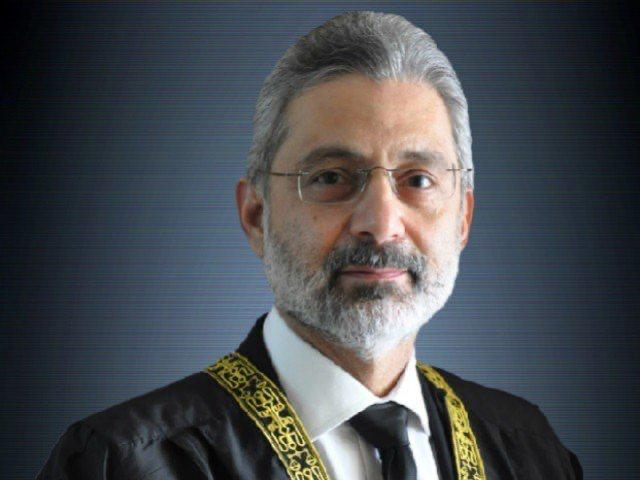 The federal government on Wednesday decided to withdraw the review petition filed against Justice Qazi Faiz Isa during former prime minister Imran Khan's tenure, Express News reported.
The federal cabinet has constituted a sub-committee to look after the matter. It was said during the cabinet meeting that Justice Isa and his family were mistreated.
According to sources, the petition was filed by the previous government but it was not discussed by the government during a cabinet meeting. The prime minister's advice was also not available on the matter.
They said that the then law minister Farogh Naseem took the appeal "by hand" to President Arif Alvi and he filed the appeal in Supreme Court after getting direct approval.
Sources revealed that the appeal was filed on the instructions of Imran Khan who was the prime minister at that time. At that time, the decision was in favour of Justice Isa, against whom a revision appeal was filed in the top court. The appeal is currently pending in the apex court.
Read more: CJP constitutes bench to hear Justice Isa's review petition
On June 19, 2020, seven judges of a 10-judge bench quashed a presidential reference against Justice Isa but also ordered the Federal Board of Revenue (FBR) to conduct an inquiry into the judge's family members' foreign assets and submit a report to the Supreme Judicial Council (SJC).
The three judges – Justice Maqbool Baqar, Justice Syed Mansoor Ali Shah and Justice Yahya Afridi – had opposed the majority order to refer the matter to the FBR.
When Justice Isa and a number of other petitioners filed review petitions against the SC's June 19 order, the CJP formed a six-member bench comprising judges who wrote the majority order. One of the majority judges, Faisal Arab, has already retired.
The petitioners later challenged the constitution of the review bench and requested the court to also include in the bench the three judges who had written the minority judgment.
Also read: Justice Isa pens letter against CJP Bandial's summoning of JCP meeting
The six-judge bench, headed by Justice Umar Ata Bandial, on December 11, 2020, reserved judgment on the pleas. This judgment was unveiled on February 22, 2021.
Announcing a 28-page order, the bench noted that as a matter of law and settled practise, it is for the CJP – as the master of the roster – to determine the composition of a bench "and he may, for like reason, constitute a larger bench for hearing the review petition".
The court, however, also gave certain guidelines for the CJP's consideration.
"The minimum numerical strength of the bench that delivered the judgment or order under review is the numerical strength of the bench which heard and decided the original matter, regardless of whether the judgment under review was passed unanimously or by majority," it said.
The order said the review bench should comprise the author judge, if still on the court, as its member, and in case he is unavailable any other judge who agrees with the author judge.


Source link