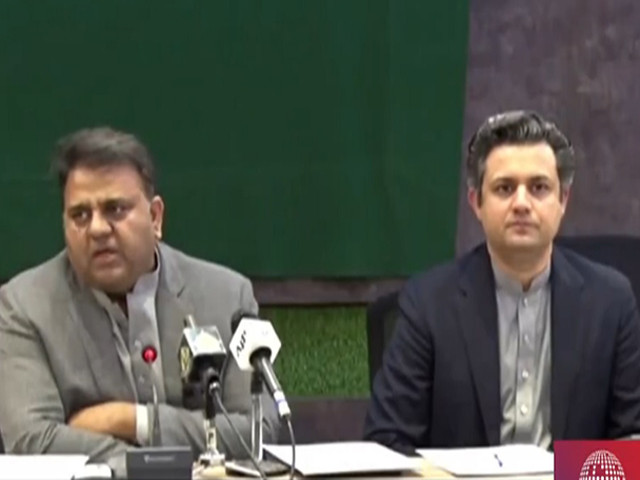 Responding to PML-N leader Maryam Nawaz's "confession" of controlling the advertisements of news channels, Information Minister Fawad Chaudhry on Wednesday said that the government has decided to initiate a "serious inquiry" into the operations of the party's media cell, being run by the former.
While responding to a question regarding her audio tape about media advertisements during a presser earlier today, Maryam had admitted that, "I was operating the media cell then, and I haven't said that it is a fabricated audio clip". Channel 24, 92, SAMAA and ARY will not be aired at all … Alleged audiolays of orders given during Maryam Nawaz's PML-N regime pic.twitter.com/Mmx1jnEAB5 – Ammad Yousaf (mAmmadYousaf) November 21, 2021 She said that the "leak audio clip "of former chief justice Saqib Nisar was proof of ex-top judge's involvement in influencing the case against former premier Nawaz Sharif. The PML-N leader further said that Nisar had "murdered justice" and this alleged audio of his proved it beyond a reasonable doubt. The information minister, while addressing a presser in Islamabad flanked by Minister for Energy Hammad Azhar later in the day, said: "The [PML-N] media cell was responsible for selling advertisements worth Rs15 to Rs18 billion to certain news channels, and different journalists and media groups".
LIVE #APPNews : Federal Minister for Information and Broadcasting @fawadchaudhry and Minister for Energy @Hammad_Azhar addressing press conference #Islamabad https://t.co/SIMmRwZd2M
— APP 🇵🇰 (@appcsocialmedia) November 24, 2021
"We will share updates of the inquiry with media in the next few days, as well as updates on the action taken [in this connection]," he added.
Also read: Fawad accuses Maryam of creating fake clips
According to Fawad, Maryam's statement was a "confession of running the notorious cell and using public funds for this purpose, which was both unethical and illegal".
According to him, "the cell was used to reward some channels and punish others, in form of awarding the ads". Earlier, the information minister had said in a tweet that this was another confession of serious financial irregularities from the Sharif family. "Maryam says that she was running the media cell of the party. After this confessional statement, I hope she and her family will also acknowledge owning the foreign properties … the nation is waiting," he wrote on his official Twitter handle. Maryam Nawaz has confessed to controlling the advertisements of big channels, this is another confession of serious financial irregularities, she says I was running the party's media cell, after this confessional statement, I hope she and her family will go abroad. Will also acknowledge the properties … The nation is blind – Ch Fawad Hussain (@fawadchaudhry) November 24, 2021 Minister of State for Information and Broadcasting Farrukh Habib also said in a statement on social networking site that Maryam Nawaz had admitted that she was the one who blocked the advertisements to control the Pakistani media. "In what capacity Maryam Nawaz was using taxpayers' money to protect her personal interest and theft. Her hypocrisy on media freedom has come to the fore," he tweeted. Maryam Safdar admitted that she had the audio to block advertisements to control Pakistani media. In what capacity was Maryam Safdar using public tax advertisements to protect her personal interests and theft? Pic.twitter.com/4cmRNGkQn2 – Farrukh Habib (arFarrukhHabibISF) November 24, 2021 PML-N's reaction Meanwhile, PML-N spokesperson Marriyum Aurangzeb has issued a clarification on the matter, saying that Maryam's statement was related to party advertisements. "It is an old audio in which Maryam Nawaz boldly told the truth," she explained. Also read: Contempt of court petition filed against Maryam, Abbasi Aurangzeb further said it was the party leadership that decides about the advertisement. "She [Maryam Nawaz] admitted it because there was nothing to hide. When something is not wrong, it is openly admitted."
She added that there was no need to create a storm on this audio clip and the focus should not be diverted from the "real issue".
The PML-N spokesperson urged the rulers to respond to the alleged leaked audio clip of former chief justice which she said pushed the 220 million people of this country into "the hell of inflation and unemployment".


Source link