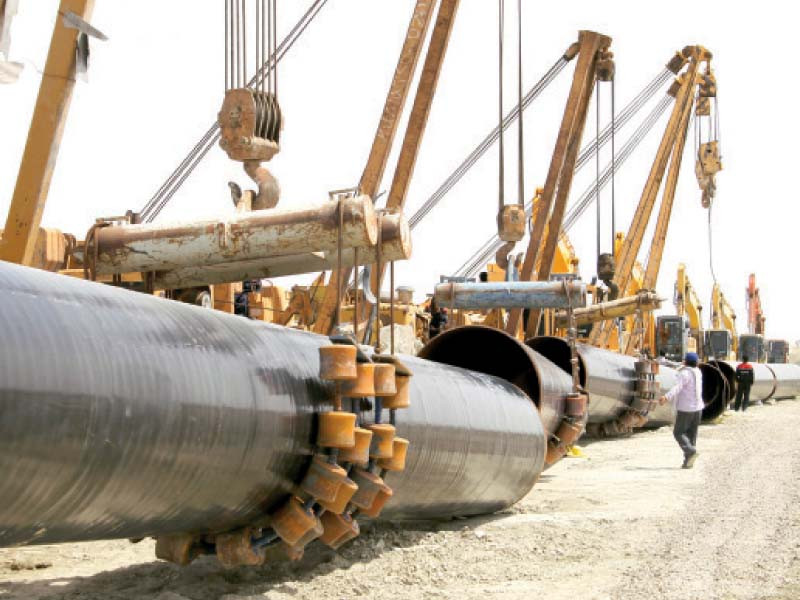 The government is reluctant to move ahead with buying gas from Iran, fearing international sanctions and ready to proceed forward with the TAPI Pipeline instead to overcome the energy crisis in the country.
State Minister for Petroleum Division Musadik Masood Malik said purchasing gas from Iran was a risk and the government would prefer to talk with Afghanistan to take it into confidence for the protection of the TAPI Pipeline as the only problem there was its security.
He added that all possible steps were being taken to tackle the energy crisis in the country and he would soon leave for Kazakhstan for this purpose.
The state minister said letters had been written to Russia as well as other countries to ease Pakistan's energy crisis and steps would be taken after receiving their response.
Sources said the state minister had been visiting different countries for the past one month to deal with the crippling gas shortage in Pakistan.
They added that Pakistan was willing to proceed with the Turkmenistan-Afghanistan-Pakistan-India Natural Gas Pipeline (TAPI) Pipeline project immediately.
The sources further said Afghanistan would be given a hefty amount of money as a transit fee for the protection of the TAPI Pipeline.
Turkmenistan has the fourth largest gas reserves in the world. A total of 1.4 billion cubic feet of gas would be taken from Turkmenistan.
The pipeline will be brought from Turkmenistan to Chaman, and from there to Multan, where it will be added to the system of Pakistan's Sui companies.
"We are sincerely going ahead with the TAPI project and it would cost $34 million," the state minister said.
The pipeline will transport natural gas from the Galkynysh Gas Field in Turkmenistan through Afghanistan into Pakistan and then to India. The construction of the project started in Turkmenistan on December 13, 2015.
Proponents of the project see it as a modern continuation of the Silk Road. A special-purpose consortium known as the TAPI Pipeline Company (TPCL) was incorporated in November 2014 by Turkmengaz (majority stakeholder with 85% interest), Afghan Gas Enterprise (5%), Inter State Gas Systems (5%), and GAIL (5%) to execute the project.
The investment agreement for the development of the TAPI project was signed by the four countries in February 2016. The ceremony marking the beginning of the construction of the Afghanistan-Pakistan section of the pipeline was held in February 2018.
Designed to serve for 30 years, the pipeline was expected to commence operations in 2021, but it was stalled. It is expected to transport 33 billion cubic metres of natural gas a year.(With input from agencies)


Source link