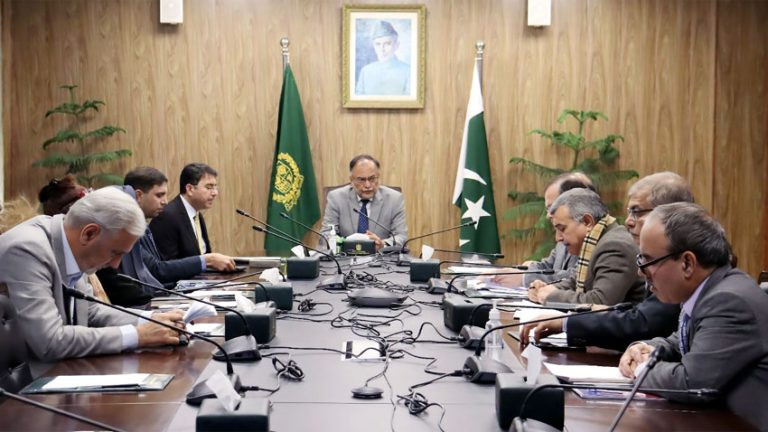 [ad_1]
Minister for Planning, Development and Special Initiatives Ahsan Iqbal on Thursday said that the government would meet the conditions set by the International Monetary Fund (IMF) to complete the programme, but the common man would not be affected by the decisions.
He said the IMF agreement was hanging over the government which it had to negotiate. The previous government, he said had recklessly agreed upon the programme, therefore, the current government has no option but to continue it.
"We have to do a lot of adjustments, but we will take decisions in the larger interests of the state," he said, adding that "we will try to put minimum burden on the poor and common people".
He was addressing an event here at the Pakistan Institute of Development Economics (PIDE).
The minister said that Pakistan's economy was "shattered" before the current government took over and, keeping in view the short available time, it decided to take short-term measures to turn around the economy.
Read more: US wants to see Pakistan 'economically sustainable'
Ahsan stressed the need for mobilising all available resources to increase productivity and exports of the country so as to get rid of foreign loans on a permanent basis.
"Pakistan's productivity capacity is very low as compared to the standard average", he said, adding that in agriculture sector alone, the country could earn billions of dollars by taking measures to increase the crops' yield per acre.
For instance, he said the per acre wheat production in Pakistan can be increased by up to 80 per cent by improving on-farm management. Similarly, he said, "our industrial production possesses numerous inefficiencies due to which we are not competitive with the world".
The biggest challenge in 75 years, he said is that Pakistan's productivity capacity could not be integrated with the global markets.
Ahsan pointed out that export-led growth is important to resolve the balance of payment issues, therefore, he stressed the need to do all measures to earn maximum foreign exchange reserves.
"We have to do resource mobilisation and also have to increase tax to GDP ratio up to the global average of over 18 per cent which is only at nine per cent in Pakistan".
He said in the previous four years, the debt servicing burden had increased to Rs4500 billion, so if the resources are not mobilised, the country's all collected tax would be spent on debt repayment.
Furthermore, he said increasing investment was another important factor to ensure sustainable economic development.
"If the Pakistani investors only bring out their money and invest in the country, we will not need to go to the IMF or any other lender", he said adding that foreign direct investment would also have to be increased up to $25-30 billion per year.
He also asked the Ministry of Commerce to take urgent measures to increase the country's exports from the current $32 billion to over $100 billion in the shortest possible time.

[ad_2]
Source link