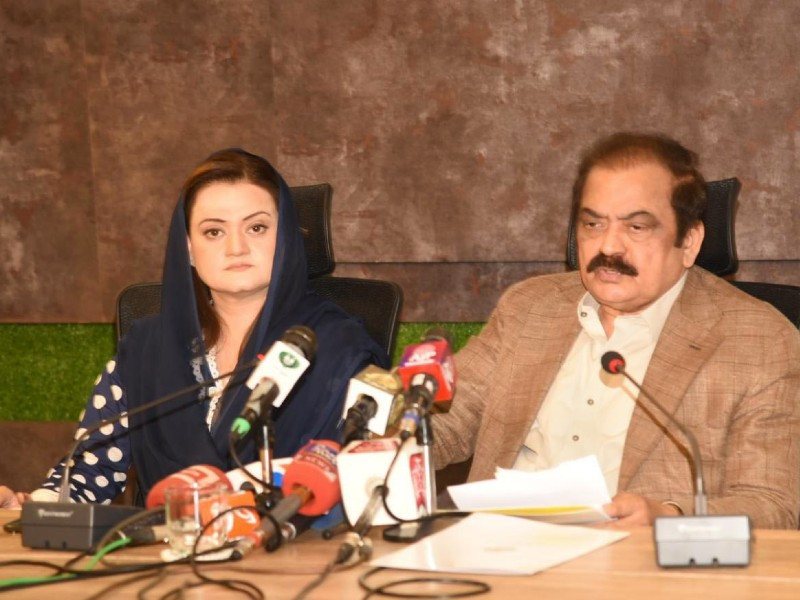 The federal government has confirmed that it has arrested Pakistan Tehreek-e-Insaf (PTI) leader Shahbaz Gill for sedition and inciting the public against state institutions.
Addressing a press conference on Tuesday following the arrest Interior Minister Rana Sanaullah along with Information Minister Marriyum Aurangzeb said that Shahbaz was arrested by the Islamabad Police after lodging an FIR.
"If we had wished, we could've recovered 15kg of drugs from the car, but we will not indulge in any illegal act like Imran Khan," he said.
Rana said that a meeting was called by the PTI, chaired by former prime minister Imran Khan, to spread negative propaganda following the helicopter crash of the Pakistan Army in Balochistan.
https://www.facebook.com/pml.n.official/videos/1729057567474103/?__cft__[0]=AZUT2rfHmhCLAjPx1C6YoTbCyILHok8GFdYF5XHC5NRfhm2W5ii81Omj9sGftCpmxx5V0d9kuhwzmeeyWHfR2aLjLTUApmB90xmw9y3S6nYC9CA5slf4XwTksZj9BEeJGKuAn1ePykgb7dnl9wliB1k_0_C1f7oWWjDbD70sp_PoskGAfoUMDv2C2eaB65Ke56c&__tn__=%2CO%2CP-R
He said a "conspiratorial role" of a private TV channel has also come to the fore, adding that Shahbaz Gill, former information minister Fawad Chaudhry and the channel's administration played the role on the instruction of Imran Khan.
He said that negative propaganda was spread against the martyr of the helicopter crash on social media.
"An attempt was made to incite mutiny and sedition in the Pakistan Army ranks and files. This whole conspiracy is being investigated and the conspiratorial characters are being determined. The entire nation is proud of the services and martyrs of the Pakistani forces," he added.
Earlier, PTI Vice-President Fawad Chaudhry, through his official Twitter handle, announced that Gill was kidnapped from near Bani Gala Chowk in the federal capital by unidentified individuals in unmarked vehicles.
شہباز گل کو بنی گالا چوک سے بغیر نمبر پلیٹ گاڑیوں میں آئے لوگوں نے اغواء کر لیا ہے
— Ch Fawad Hussain (@fawadchaudhry) August 9, 2022
PTI chief Imran Khan said the incident "is an abduction [and] not an arrest".
He questioned if such "shameful acts" could take place in a democracy where political workers are being "treated as enemies".
Imran maintained that such acts are being committed to making "us accept a foreign backed government of crooks".
This is an abduction not an arrest. Can such shameful acts take place in any democracy? Political workers treated as enemies. And all to make us accept a foreign backed government of crooks. pic.twitter.com/3NYS1BCjtf
— Imran Khan (@ImranKhanPTI) August 9, 2022
PTI leader Murad Saeed also took to Twitter to state that Gill was 'abducted' after his car was attacked and his assistant assaulted by unknown individuals.
شہباز گل کی گاڑی پر حملہ آور ہوئے،اسٹنٹ پر تشدد کیا، شہباز گل کو اغوا کر لیا گیا۔ pic.twitter.com/9KBdkAsXGI
— Murad Saeed (@MuradSaeedPTI) August 9, 2022
He further claimed that the abductors broke the windows on Gill's vehicle with Kalashnikovs.
Murad questioned how many people would the government arrest and how many journalists would it "ban".
کس کس کو گرفتار کروگے؟ کتنے صحافیوں پر پابندی لگاؤ گے؟ شہباز گل کی گاڑی کے شیشے بھی توڑ دئے۔ کل رات ایک خوفناک پلان تھا لیکن عمران خان کے جانثاروں نے واضح پیغام دیا عمران خان ریڈ لائن ہے
— Murad Saeed (@MuradSaeedPTI) August 9, 2022
He claimed a "terrible plan" was initiated, but PTI supporters had sent a "clear message" that any action against PTI chief Imran Khan would be overstepping the "red line".
The PTI's official Twitter handle posted a video of Gill's assistant following the abduction, stating that the PTI leader was "arrested" and he was "tortured". The assistant also showed his neck which had scratch marks.
Absolutely shameful how @SHABAZGIL and his staff were treated. Dr Gill's kidnap is absolutely against all sort of laws, we strongly demand the immediate release! #ReleaseShahbazGill pic.twitter.com/iPyfdwJR15
— PTI (@PTIofficial) August 9, 2022
The assistant, elaborating on the incident, said the windows of the car were broken with rifle stocks and Gill was handcuffed "as if he were a terrorist". He also alleged that eight to ten cars were present for Gill's "arrest" and that the PTI leader was "dragged" away.
Former human rights minister Shireen Mazari highlighted that first, a local news channel was taken off-screen by the "civilian dictatorship imported government" and then Gill was "arrested or abducted".
ARY off screen by this civilian dictatorship Imported govt and now Shahbaz Gill "arrested" or abducted from Bani Gala chowk. So it is clear a critical word and no arrest warrant u will be taken away! This is the grand design of US regime change conspiracy & its abettors.
— Shireen Mazari (@ShireenMazari1) August 9, 2022
She maintained that if any "critical word" against the government would mean "no arrest warrant [and] you will be taken away".
Mazari alleged that this was the "grand design of [the] US regime change conspiracy and its abettors".
PTI leader Babar Awan also took to Twitter and claimed that Gill's arrest in the manner of an "abduction was condemnable" and showed how "scared" the government was. He urged the government to show some modesty and release Gill.
شہباز گل کی اغوا کے انداز میں گرفتاری انتہائی قابلِ مذمت ہے، اِس بات کا ثبوت بھی کہ لوگوں کو ڈرانے والے خود کس قدر خوف زدہ ہیں۔ امپورٹڈ حکومت، اب تو حیا کرو، شہباز گل کو رہا کرو۔
— Babar Awan (@BabarAwanPK) August 9, 2022
PTI decides to approach court
Meanwhile, the PTI has decided to approach the Islamabad High Court over the arrest of Shahbaz and also formed a legal team to pursue the matter.
Sources told Express News that this was decided during an emergency meeting chaired by Imran Khan following the arrest. The meeting mulled over the situation after the incident.
Power of people is with us: Imran
Addressing the participants, Imran Khan said that the government had come down to fascism and undemocratic moves are being taken against political workers.
He said that the fascist behaviour of the government will not be tolerated in any way. "The power of the people is with us… We have to fear no one as the days of imported government are numbered."