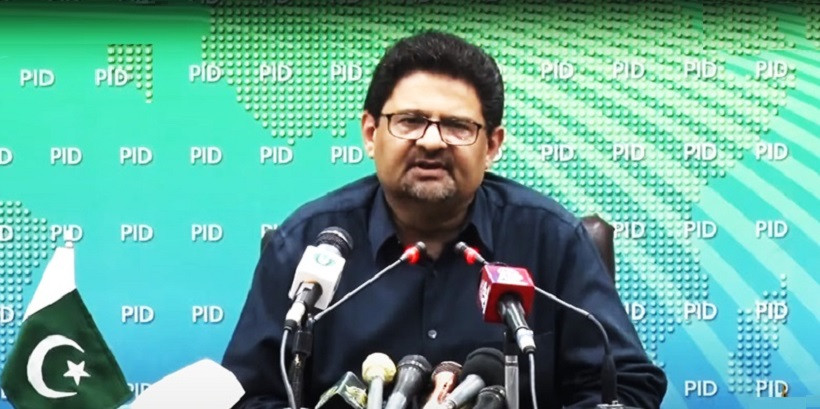 Finance Minister Miftah Ismail on Sunday dismissed speculations regarding an increase in the prices of petroleum products, saying the government led by Prime Minister Shehbaz Sharif has no immediate plans to hike the fuel prices.
Addressing a press conference in Islamabad, the finance minister admitted that the government was in a 'doomed if you do, doomed if you don't' situation'.
"I will talk to the International Monetary Fund [IMF] to find a middle ground," he told reporters.
LIVE #APPNews : Finance Minister @MiftahIsmail addressing press conference #Islamabad https://t.co/bTpMGC9mSE
— APP 🇵🇰 (@appcsocialmedia) May 15, 2022
He added that PM Shehbaz firmly believes that increasing petroleum prices is not an option considering the difficult position the people of Pakistan already find themselves in.
However, taking to his official Twitter handle post the press conference, Miftah clarified that the government may revisit its decision of not increasing petrol prices "due to changing circumstances and international oil prices."
Let me amplify what I just said in my presser. The government will not raise POL prices today. But due to changing circumstances and international oil prices, we may have to revisit our decision soon.
— Miftah Ismail (@MiftahIsmail) May 15, 2022
Referring to Imran Khan's criticisms of the current government over the plummeting value of the rupee, Miftah took a dig at the former premier calling him the 'king of rupee devaluation'.
Read: Dollar to fall only after coming out of clutches of 'PTI-IMF' deal: Miftah
The minister also said that while the Pakistan Tehreek-e-Insaf (PTI) chief boasts of having increased the country's reserves, there was no evidence to support his claims. "Where have you put the money you speak of?", he added.
He blamed the PTI government for being unable to curb the smuggling of wheat and petroleum, and 'wrecking' the economic stability of Pakistan.
Battle of words
The verbal duel between Pakistan Muslim League-Nawaz (PML-N) and PTI leaders over the deteriorating economy continued as Miftah Ismail dismissed Asad Umar's comments as 'lies'.
"I wish he wouldn't lie despite his company", he added.
Earlier today, the minister also responded to Asad Umar's tweet accusing the previous government of taking over '"80% of all debt" in Pakistan's history.
When we left govt in 2018 we were exporting wheat and sugar. You ended up importing sugar & wheat, produced the lowest cotton since 1983/84, took 80% of all debt taken in the previous 71 years. Had the highest imports. But Allah ki shaan you are talking about the economy. https://t.co/wiIveAEN7p
— Miftah Ismail (@MiftahIsmail) May 15, 2022
He was responding to a tweet by the PTI leader Asad Umar who had stated in a tweet that the country's growth forecast this year had been over 5% before a vote of no-confidence had left the PTI government packing.
Our growth forecast for this year had been above 5%. Great crops numbers coming in particularly sugar cane, maize, rice and potato. Plus the double digit growth of large scale manufacturing recently released means growth for this year should be even higher than the 5.6% last year
— Asad Umar (@Asad_Umar) May 14, 2022
In a press conference earlier today, Asad Umar had also claimed that ex-prime minister Imran Khan tried his best to "save the masses from inflation" as he called for early elections to save the economy from further deterioration.
Read: Snap polls only solution to fix crumbling economy, says Umar
It may be noted here that talks between the International Monetary Fund (IMF) for the revival of the bailout programme signed by the PTI government in 2019 will resume in Doha on May 18.
As the prior conditions for the restoration of the bailout package, the IMF has asked to remove the subsidies, particularly the one on petroleum products announced by Imran in Feb 2022. The PML-N-led coalition government, however, has refused to withdraw the subsidy fearing the political fallout of the decision.


Source link