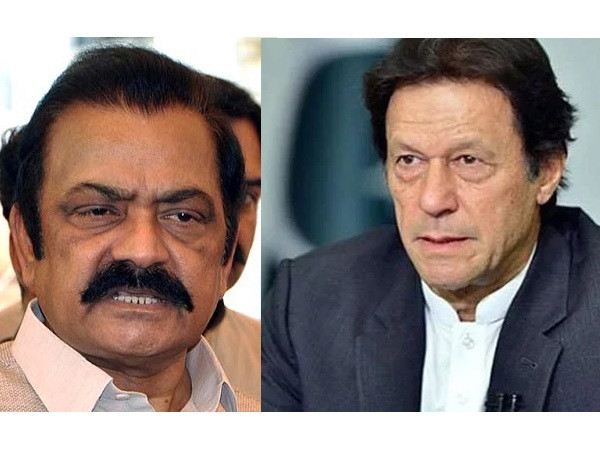 Interior Minister Rana Sanaullah on Tuesday has asked former prime minister and PTI Chairman Imran Khan to shun politics of 'agitation' and sit down with the political parties to resolve disputes through dialogue "for the sake of Pakistan".
"Imran Khan needs to give up his agenda of riots as the country needs consensus at this time and not hypocrisy," he said while addressing a press conference in Islamabad on Tuesday.
The security czar said that Imran Khan kicked off his long march started with seven to eight thousand people. "Today there are only five to seven thousand people in the march but a shameless person says a 'sea of people' is present in the caravan."
Sanaullah said that it is the responsibility of the government to maintain law and order and protect the lives of the people.
"PTI workers are planning to attack Islamabad with armed groups. Ali Amin Gandapur is bringing weapons to march. We will not allow the rioters and those who spread chaos to enter Islamabad," he added.
Last week, Sanaullah cast a shadow on the PTI's long march when he claimed that the former ruling party was busy gathering men and weapons at the borders of the twin cities, planning bloodshed by pitting the people against the law enforcement agencies (LEAs) as he based his assertion on a latest leaked audio recording allegedly featuring its leader Gandapur.
Also read: Will beat Nawaz in his own constituency, says Imran on Day 5 of long march
The federal interior minister also presented an audio clip — purportedly carrying the conversation of PTI's former federal minister for Kashmir Affairs and Gilgit-Baltistan Gandapur with an unidentified man discussing about the availability of arms, licences and men near the capital's border — as evidence of his claim that the party was bringing weapons and troublemakers to the federal capital to create chaos.
He further said the identity of the unknown person had been ascertained but not being disclosed. In the audio recording, a voice, allegedly that of Gandapur, asked the unidentified man about how many guns were there.
The other man responded: "There are many."
Gandapur purportedly further asked: "And licence?" The man replied that there were several licences. He added that there would be as many men as needed.
The ex-minister allegedly told the man that "we are camping here in a nearby colony", but asked which area was closer to the border of Islamabad-Rawalpindi.


Source link