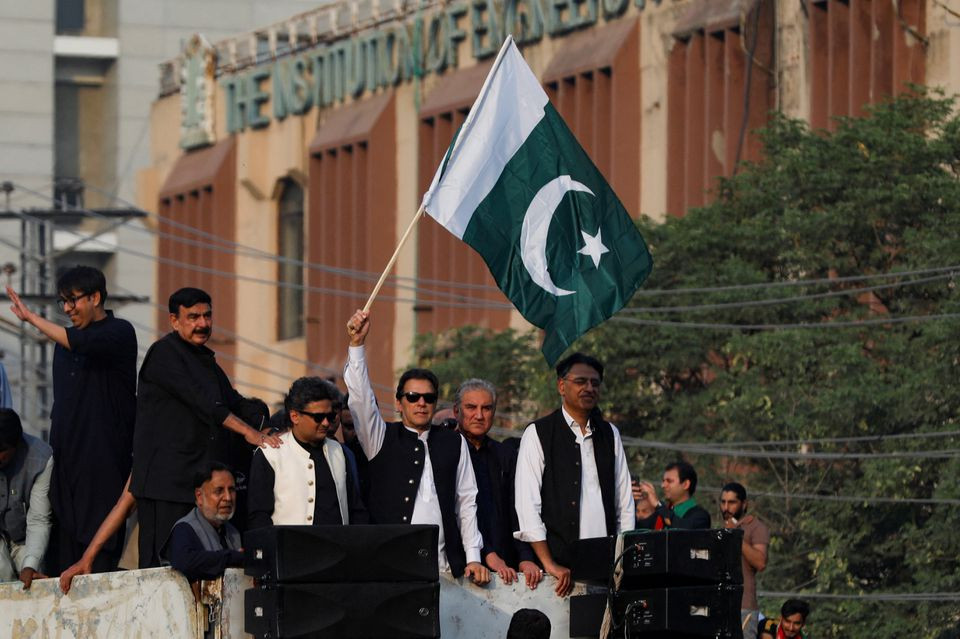 Prime Minister Shehbaz Sharif on Saturday decided to initiate legal action against Pakistan Tehreek-e-Insaf (PTI) Chairman Imran Khan and his party leadership over their alleged anti-state and anti-institution statements in line with a statement of the Inter-Services Public Relations (ISPR).
Subsequently, the premier constituted a committee comprising legal and constitutional experts to suggest the future course of action.
The decision comes after the prime minister decided that the federal government would use its powers over the former premier's "baseless allegations" against the institutions.
Separately, PM Shehbaz gave a go-ahead for initiating legal action against PTI supporters blocking roads, clashing with security officials, burning and damaging public or private properties and trespassing Punjab Governor House, saying that legal action would also be taken against PTI leaders and workers for damaging private properties.
"Strict action will be taken against all those involved in activities contrary to the law and the constitution," PM Shehbaz said while presiding over a meeting in Lahore, following a press conference, wherein he urged the chief justice to constitute a full-court commission to probe Imran's allegations.
A key cabinet minister confirmed to The Express Tribune that the federal government had sought legal opinion from the law ministry, saying that the PTI chief and some of his associates could be arrested in the coming days or weeks. The minister said that the government, through the interior ministry, has also sought input from the Federal Investigation Agency (FIA) regarding legal action over the allegations against senior army officers.
Read more: PTI supporters clash with LEAs as protests against Imran attack continue
Though PM Shehbaz has decided to take action against Imran, this is not the first time the government has swung into action against him. PM Shehbaz had announced in May that legal action would be taken against him for delivering an "anti-state speech" in a public gathering in Abbottabad, saying that his speech was "a grand conspiracy against Pakistan" and its institutions.
Back in May, the premier had said that the PTI chief was pushing the country towards a "civil war" and warned that all his "nefarious designs" would be crushed at all costs.
The PM's statement had come on the heels of the military spokesperson's statement, warning politicians, journalists and analysts against the "extremely damaging" practice of dragging the Pakistan Army and its leadership in the country's political affairs.
However, PM, after announcing that Imran would face the music, had shown indecisiveness on his part as he did not do anything afterwards. When the information minister was asked if any action was taken after PM's statement in May, she said that she would get back but did not till the filing of the story.
On Saturday, PM Shehbaz once again announced that legal action would be initiated against Imran and his associates following their allegations that PM, interior minister Rana Sanaullah and a senior military officer were allegedly involved in a gun attack on him at Wazirabad during PTI's long march on November 3.
Pakistan Army had also demanded that legal action should be initiated against those responsible for defamation and false accusations against the institution and its officials without any evidence whatsoever.
In his statement from hospital, Imran had alleged that he knew beforehand about the botched assassination plan in Wazirabad or Gujrat, saying that PM Shehbaz, interior minister Rana Sanaullah and the army officer were behind the attack. He had demanded that they should be removed from their positions.
Hours after Imran's statement, the army said that the allegations leveled by the PTI chief against the institution and a senior army officer were absolutely unacceptable and uncalled for terming them "baseless and irresponsible".
An official statement issued by the Inter-Services Public Relations (ISPR) said that the "institution will jealousy safeguard its officers and soldiers no matter what" if the honour, safety and prestige of its rank and file is tarnished by vested interests through frivolous allegations.
"The baseless allegations hurled at the institution/officials today are highly regrettable and strongly condemned. No one will be allowed to defame the institution or its soldiers with impunity," the statement read. Subsequently, ISPR requested the government to initiate legal action.


Source link