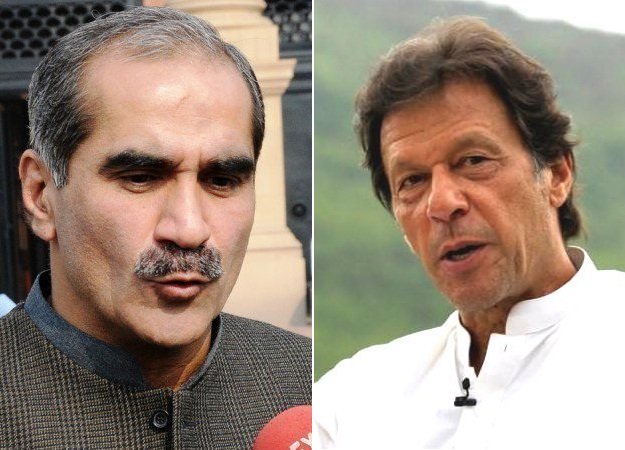 [ad_1]
As PTI chief Imran Khan remains adamant about playing hardball to force early polls, the government has again advised the former prime minister to return to the National Assembly to put forth his demands and lead a "healthy opposition" against the ruling coalition for negotiations.
This was stated by Railways Minister Khwaja Saad Rafique who was talking to the media on Sunday after a meeting with Prime Minister Shehbaz Sharif.
The minister pointed out that since the PTI was at the helm of affairs in Punjab, Khyber-Pakhtunkhwa, Azad Kashmir and Gilgit-Baltistan, the party should wield power to serve the people rather than breaking the elected houses.
"You [Imran Khan] have four governments, run the governments and serve the people," the minister stressed and maintained that the assembly will continue to function and carry out its duty against the PTI chief's desire to cut its tenure short prematurely.
"Come back to the National Assembly … come and express your differences," he advised. "Is it now our job to teach you politics?" he asked while taking a jibe at Imran.
He further said that the assemblies are made to run the state, not to be broken over such "petty issues" and shall not be dissolved.
"Imran Khan should focus on serving the public instead of lying, the chief minister of Punjab should seek the vote of confidence in order to maintain order."
The minister lamented the culture of hurling abuses at political rivals during public speeches with PTI's entrée into the political scene. He said it was very unfortunate that resorting to foul language in oratory has become a common practice in the country's politics.
Rafique blamed the former ruling party for polluting the political discourse and recalled that in sharp contrast, "we did not protest even when we were thrown away into jail cells".
The ruling party's insistence on returning to the parliament as a condition for negotiation comes at a time PTI-PML-Q alliance in the political capital and PDM are at loggerheads over the future of the Punjab Assembly.
Following the Lahore High Court's (LHC) decision to reinstate Pervaiz Elahi as chief minister and the PDM's efforts to recapture the lost citadel, the provincial chief – who rules with the help of PTI – has asserted that the plan to scuttle the provincial legislature will be implemented after securing a vote of confidence from the assembly.

[ad_2]
Source link