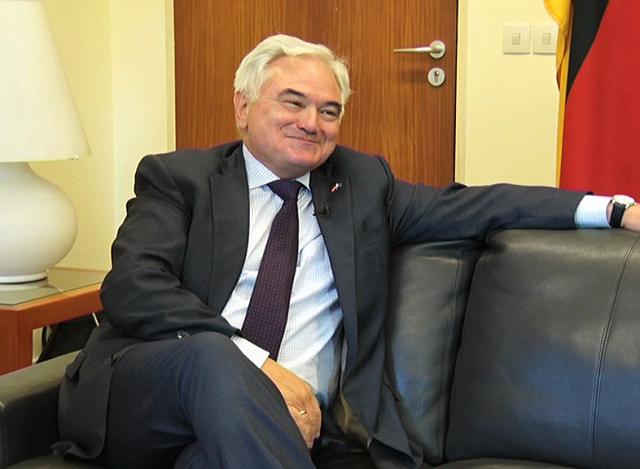 German Ambassador to Pakistan Alfred Grannas has said that Berlin is extending all possible support to the flood victims, saying the country has donated 28 million euros in flood aid so far.
"We have various small and big projects going on to help the flood victims directly," he said while speaking on Express News' programme Expresso.
The envoy said the German flag was not visible in the flood-affected areas because the country is giving most of its aid to large charity organisations such as the UN and the Red Cross.
📺: It was wonderful having a light conversation with @ExpressNewsPK! We talked about my first impressions of 🇵🇰 and some matters of interest to our both countries. You can watch the complete interview on our Facebook page:https://t.co/blJdROKT5f pic.twitter.com/L937LpPCxQ
— Alfred Grannas (@GermanyinPAK) September 26, 2022
Regarding global climate change and its impact on Pakistan, the German ambassador emphasised the need for adapting to climate change "because it is a fact that climate change cannot be completely stopped. We have to adapt to climate change".
"We have to try not to increase the temperature by more than two degrees. There is only one solution, and that is renewable energy sources. We will always need energy but we have to develop renewable energy sources," the envoy added.
Expressing his views on women's role in Pakistani society, the envoy encouraged the participation of women in the workforce saying that it can bring positive change to society.
"There are very few women working in the offices. All these educated women are wasting their quality education. If all these women contribute to the workforce, it will bring positive changes to Pakistani society. This can further improve the relations between Germany and Pakistan," he added.
Also read: Germany to provide another €1m of relief supplies for flood victims
While speaking about the student exchange programme and Pakistani students, who are willing to study in Germany, the envoy said: "The German Academic Exchange Service offers a number of scholarship programmes. But these scholarship opportunities are only for students. There are also public universities, that do not charge fees. Every student should know this"
Expressing views on trade ties between the two countries, Grannas said: "I want to tell you here that the German Chamber of Commerce has recently inaugurated the Pakistan Desk. The businessmen of both countries will benefit. This is a great opportunity for German companies who want to do business in Pakistan, as well as Pakistani companies who want to invest in Germany. With the establishment of this desk, not only the commercial volume will increase but also the product quality will increase."
Speaking about cultural exchange initiatives, he said Germany has two official cultural institutes in Pakistan – one in Karachi and another in Lahore. Apart from this, the envoy said the German embassy in Islamabad also hosts various cultural activities.
"The German development campaign has one goal which is to spread awareness in any country or society to take care of its inhabitants. Such as health care management, renewable energy sources, Generation, management, vocational training, human rights, etc. The German Development Cooperation works on these things. Our goal is not to teach anyone anything, but to tell you from our own experience how you can improve these things. "
Sharing his thoughts on Pakistani food and the locals, the ambassador said: "I am very calm here in Islamabad. I have been here for a month. Now I am introducing myself to the people here. The weather of Pakistan and the people here welcomed me warmly. Pakistan is a very great country. Except biryani, I don't like anything else here.."


Source link