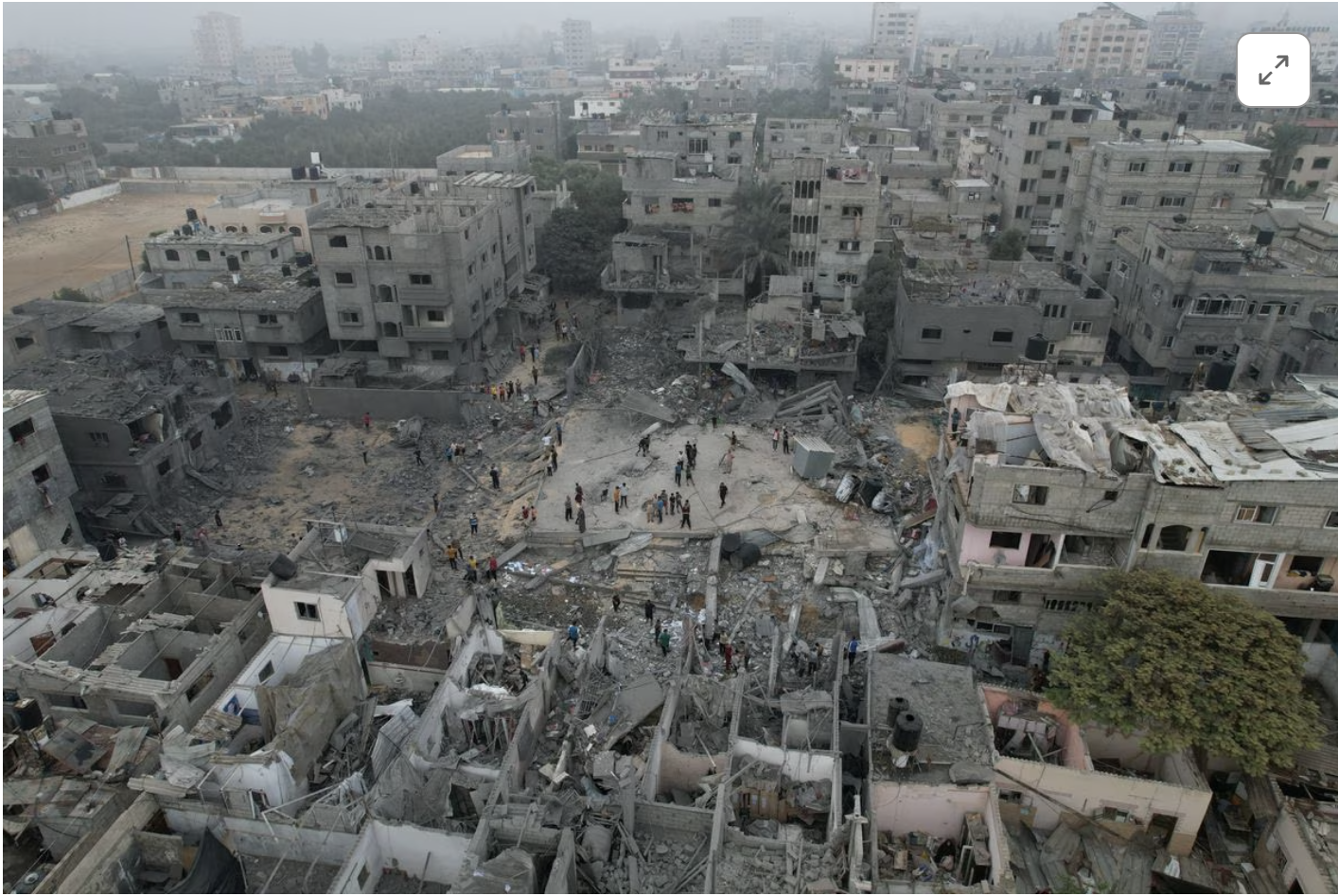 Gaza hospitals on 'verge of collapse'
The Palestinian Red Crescent (PRC) said on Sunday it has received warnings from Israeli authorities
to immediately evacuate al-Quds hospital in the Gaza Strip. "Since this morning, there has been raids 50 meters away from the hospital," it added in a statement on Facebook.
The statement comes amid continued bombardment by Israeli Defence Forces (IDF) killing at over 8,000 Palestinians, including at least 3,595 children, and injuring thousands in the narrow Gaza strip.
Israel has launched indiscriminate and relentless airstrikes besides an invasion on ground while blacking out communications and internet services in the Palestinian territory in retaliation to Hamas surprise raid that claimed around 1,400 lives on October 7.
Panic and fear have surged inside Gaza, where over one million people are displaced, and where communications went dark for days after Israel cut internet lines, although connectivity had reportedly gradually returned early Sunday.
Gaza's 2.3 million residents are also grappling with shortages of food, water and medicine due to Israel's blockade of the enclave. Only a few aid trucks have crossed into Gaza since the opening of the Rafah crossing point last weekend.
The International Committee of the Red Cross (ICRC) said Saturday that Gaza's "still functioning hospitals are on the verge of collapse" amid a lack of electricity and medical supplies.
"The immediate imperative must be to save lives and preserve humanity, including by ensuring hospitals can operate in safety," ICRC said in a statement.
It said its medical team that arrived Friday in Gaza is not enough to address the "tragedy unfolding."
"It is unacceptable that civilians have no safe place to go in Gaza amid the massive bombardments, and with a military siege in place there is also no adequate humanitarian response currently possible," said ICRC president. "This is a catastrophic failing that the world must not tolerate."
ICRC reiterated that it continues dialogue with relevant parties "to find solutions to the most pressing humanitarian issues, such as protecting civilians and helping the wounded."
The Palestinian health ministry had earlier said 12 hospitals and 32 health care centers were forced out of service due to Israeli bombing or lack of fuel and medical supplies.
End 'nightmare' of bloodshed
United Nations Secretary-General Antonio Guterres warned on Sunday that the situation in Gaza is declining rapidly as he repeated desperate appeals for a ceasefire to end the "nightmare" of bloodshed.
"The situation in Gaza is growing more desperate by the hour. I regret that instead of a critically needed humanitarian pause, supported by the international community, Israel has intensified its military operations," Guterres said during a visit to Nepal's capital Kathmandu.
"The number of civilians who have been killed and injured is totally unacceptable."
After weeks of heavy bombardment of Gaza, which the Palestinian health ministry said has claimed over 8,000 lives, the Israeli army said "stage two" of the war started with ground incursions since late Friday.
"The world is witnessing a humanitarian catastrophe taking place before our eyes," Guterres added.
"More than two million people, with nowhere safe to go, are being denied the essentials for life — food, water, shelter and medical care — while being subjected to relentless bombardment. I urge all those with responsibility to step back from the brink."
The UN's top diplomat arrived in Nepal on a four-day visit following talks in Qatar.
"I reiterate my appeal for an immediate humanitarian ceasefire, the unconditional release of all hostages and the delivery of sustained humanitarian relief at a scale that meets the needs of the people of Gaza, he said.
"We must join forces to end this nightmare for the people of Gaza, Israel and all those affected around the world, including here in Nepal."
Ten Nepali students were killed in Israel during the Hamas attack on October 7, and one Nepali citizen is missing.
A UN peacekeeper was injured Saturday by shelling in southern Lebanon, the mission's spokesman said, hours after reporting a hit at its headquarters as Israel-Lebanon border skirmishes intensify.
Lebanon's official National News Agency (NNA) said a Nepalese peacekeeper was "moderately injured in the stomach and arm after two Israeli shells" fell near the border village Hula.
Earlier on Saturday, Andrea Tenenti, spokesperson for the United Nations Interim Force in Lebanon (UNIFI), had told AFP that "a shell hit inside the base" in Naqura, where UNIFIL headquarters are located, indicating there were "no injuries but some damage".
The cross-border skirmishes have killed at least 58 people in Lebanon, according to an AFP tally, mostly Hezbollah combatants but also four civilians, including Reuters journalist Issam Abdallah. At least four people have been killed on the Israeli side, including one civilian.
The unrest has displaced nearly 29,000 people across Lebanon, according to the International Organization for Migration.
UN Human Rights chief Volker Turk meanwhile warned thousands more civilians could die if Israel presses a major ground offensive.
"Given the manner in which military operations have been conducted until now… I am raising alarm about the possibly catastrophic consequences of large-scale ground operations in Gaza and the potential for thousands more civilians to die," he said.
"There is no safe place in Gaza and there is no way out."
Turkey's Recep Tayyip Erdogan denounced the West as "the main culprit" behind the bloodshed. "The main culprit behind the massacre unfolding in Gaza is the West," he told a massive pro-Palestinian rally of several hundred thousand people in Istanbul.
His comments prompted Israel to announce it was recalling all of its diplomats from Turkey.
Three weeks of war, siege
Thousands of Gaza residents broke into warehouses and distribution centres of the United Nations Palestinian refugee agency (UNRWA) grabbing flour and "basic survival items", the organisation said on Sunday.
"This is a worrying sign that civil order is starting to break down after three weeks of war and a tight siege on Gaza," the United Nations Relief and Works Agency for Palestine Refugees in the Near East (UNRWA) said in a statement.
One of the warehouses, located in Deir al-Balah, is where UNRWA stores supplies from the humanitarian convoys crossing into Gaza from Egypt.
Aid supplies to Gaza have been choked since Israel began bombarding the densely-populated Palestinian enclave on October 7.
"Supplies on the market are running out while the humanitarian aid coming into the Gaza Strip on trucks from Egypt
is insufficient," UNRWA said, adding that the current system to get humanitarian convoys into Gaza was "geared to fail".
"The needs of the communities are immense, if only for basic survival, while the aid we receive is meagre and inconsistent."
UNRWA has said that its ability to help people in Gaza has been completely stretched by air strikes that have killed more than 50 of its staff and restricted the movement of supplies. Even before the conflict, the organisation had said its mandate was being jeopardised due to a lack of funding.
Established in 1949 following the first Arab-Israeli war, UNRWA provides public services including schools, primary
healthcare and humanitarian aid in Gaza, the West Bank, Jordan, Syria and Lebanon.
Evacuate south Israel tells Palestinians
"Since early Friday evening, combined combat forces of armour, combat engineers and infantry have been operating on the ground in the northern Gaza Strip," the Israeli military said.
It also warned Gaza City residents the area was now a "battlefield" saying "shelters in northern Gaza and Gaza (City) are not safe" in leaflets dropped by fighter jets that urged them to "immediately" evacuate south.
Hamas's armed wing said it was ready to release the captives if Israel freed all the Palestinians held in its prisons. "The price to pay for the large number of enemy hostages in our hands is to empty the (Israeli) prisons of all Palestinian prisoners," it said.
"If the enemy wants to close this file of detainees in one go, we are ready for it. If it wants to do it step-by-step, we are ready for that too."
Facing increasing anger over the fate of the captives as Israel steps up its war on Gaza, Israeli Prime Minister Benjamin Netanyahu agreed to meet representatives of captives' relatives.
He made no commitment to any exchange deal but told the families authorities would "exhaust every option to bring (the captives) home".
Spokesman Daniel Hagari said in a statement that the Israeli military was increasing the urgency of the calls it has been making for two weeks for Gaza civilians to move south.
There, he said, "they can receive water, food and medicine", vowing that on Sunday, "the humanitarian efforts to Gaza, led by Egypt and the United States, will be expanding".
'Connectivity returns'
On Sunday morning, global network monitor Netblocks said connectivity in Gaza was being restored, and Palestinian telecoms provider Jawwal said communication services were gradually resuming.
All communications and phone networks across Gaza were cut off by Israel late Friday, sparking alarm as the Palestinian Red Crescent warned emergency calls were not getting through.
Human Rights Watch had cautioned the blackout could provide "cover for mass atrocities".
Amid reports of gradual restoration of connectivity, an AFP staff member in Gaza City confirmed early Sunday that he could use the internet and telephone network, and said he had managed to contact people by phone in southern Gaza.
During the outage, billionaire Elon Musk said his Starlink satellite service would support internet access for "internationally recognised aid organisations in Gaza".
Starlink is a network of satellites in low Earth orbit that can provide internet to remote locations, or areas where normal communications infrastructure has been disabled.
The network has become a key battlefield tool for Kyiv since the Russian invasion.