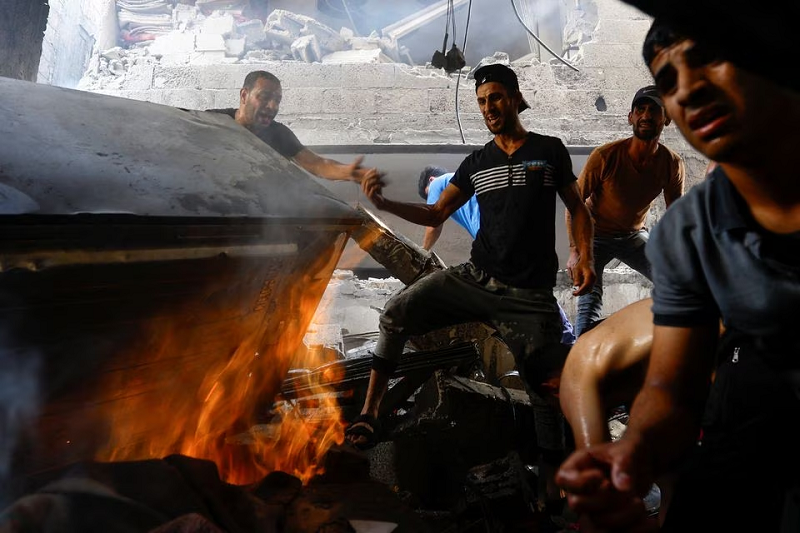 Gaza authorities say 700 Palestinians killed in overnight strikes

JERUSALEM/
GAZA:

More than 700 Palestinians were killed in overnight Israeli air strikes, Gaza's health ministry said on Tuesday, the highest 24-hour death toll since Israel began a bombing campaign to crush Hamas fighters who stunned the country with a deadly Oct. 7 attack.
Israel said it had killed dozens of Hamas fighters in the overnight strikes on the besieged enclave but said its war to destroy the Islamist group would take time.
As aid agencies warned that a humanitarian catastrophe was unfolding in Gaza, French President Emmanuel Macron flew to Israel to offer it support.
He told Prime Minister Benjamin Netanyahu that France stood "shoulder to shoulder" with Israel in its war with Hamas while also saying it must not fight "without rules".
The United Nations urged Israel to allow more aid into Gaza, saying the aid let in so far met a tiny fraction of the needs of the beleaguered population. Fuel, still blocked, was crucial.
"We are on our knees asking for that sustained, scaled up, protected humanitarian operation," said Dr Rick Brennan, WHO Regional Emergencies Director.
UN agencies say they have no assurances their aid workers will be safe to reach those in need. But there appeared to be little prospect of a ceasefire any time soon in the bloodiest episode in the Israeli-Palestinian conflict in decades.
Gaza's health ministry said at least 5,791 Palestinians have been killed in the strikes on the Hamas-ruled enclave since Oct. 7, including 2,360 children. A total of 704 were killed in the previous 24 hours alone, it said.
Ministry spokesman Ashraf Al-Qidra said it was the biggest number of deaths in a 24-hour period in the two weeks of Israeli strikes.
A Palestinian carries a child casualty at the site of an Israeli strike on a house, in Khan Younis, in the southern Gaza Strip, October 24. PHOTO: REUTERS
After his daughter was killed in an air strike in southern Gaza, Abdallah Tabash refused to let her go, holding her body in his arms. Blood stained her face and hair as people begged him to hand her over so they could bury her.
"This is my girl, I want to see her as much as I can," the shocked father said in the city of Khan Younis.
The bombardments were unleashed in response to a Hamas attack on southern Israel on Oct. 7 in which more than 1,400 people – mostly civilians – were killed in a single day.
Hamas on Monday freed two Israeli women who were among the more than 200 hostages taken during the assault. They were the third and fourth hostages to be released.
Yocheved Lifshitz, 85, said she was beaten by fighters as she was seized and had difficulty breathing. "I've been through hell," she said.
On the border
Israeli tanks and troops are massed on the border between Israel and the enclave awaiting orders for an expected ground invasion – an operation that will be complicated by concerns over the hostages.
The Israeli military said it had hit more than 400 targets in Gaza overnight and killed dozens of Hamas fighters, including three deputy commanders.
Among the targets was a tunnel that allowed Hamas to infiltrate Israel from the sea and Hamas command centres in mosques, it said. Reuters could not verify the report.
Israeli military spokesperson Rear Admiral Daniel Hagari said the military was "ready and determined" for the next stage in the war and was awaiting political instructions.
But how soon Israel might launch a full-scale invasion is not clear. The Middle East's most powerful military faces a group that has built up a powerful arsenal with Iran's help, fighting in a crowded urban setting and using a vast tunnel network.
Read also: Israel pledges 'unrelenting attacks' on Hamas as death toll in Gaza at 5,087
Wide areas of Gaza have been flattened by Israeli bombs with buildings reduced to piles of rubble and twisted metal, forcing more than one million residents to seek shelter elsewhere in the territory. Food, clean water and medicine and fuel are fast running out.
Residents said several people were killed or wounded when an Israeli missile hit a petrol station in Khan Younis, where people who fled the eastern side of the city were gathered to charge their devices and fill water cannisters.
"They bombed them in their sleep," said Abdallah Abu Al-Atta, who lives by the petrol station.
More than 40 medical centres stopped operations after they ran out of fuel or were damaged by Israeli bombing, the health ministry spokesman said.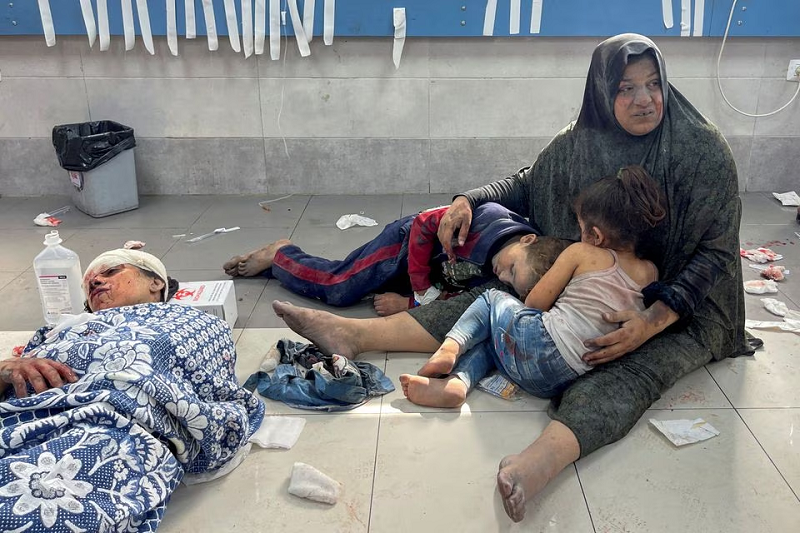 A Palestinian woman holds her children, who were wounded along with her in an Israeli strike, at Shifa hospital in Gaza City, October 23. PHOTO: REUTERS
No green light
Foreign governments have expressed concern the conflict could ignite the whole of the Middle East. Already clashes have taken place in the Israeli-occupied West Bank and along the Lebanon-Israel border.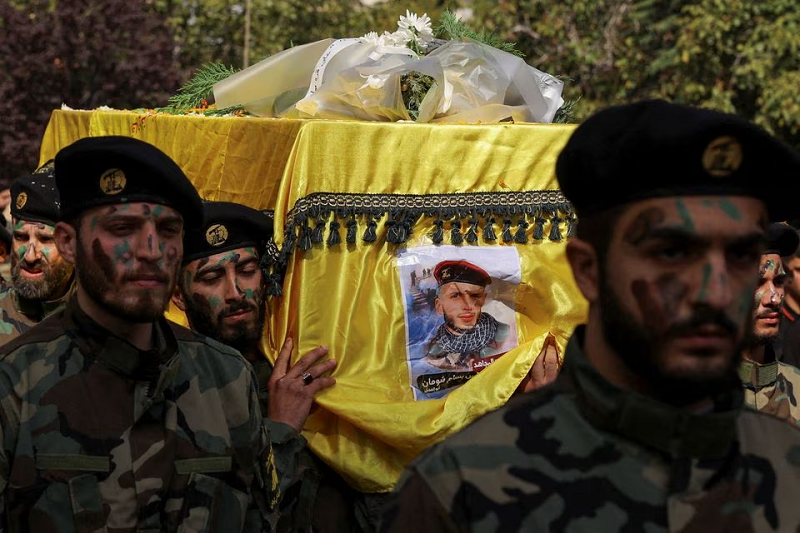 Members of Hezbollah carry the coffin of Hezbollah member Abbas Shuman, who was killed in southern Lebanon, during his funeral, in Baalbek, Lebanon, October 23. PHOTO: REUTERS
Fears of regional escalation have focused on Iran's network of proxies in Syria, Iraq and Yemen. Any wider conflagration poses risks to US interests and to security in a region crucial to global energy supply.
The ruling emir of Qatar, which has tried to mediate between Israel and Hamas, urged the international community to rein in Israel in its fight against Hamas.
"We say enough. Israel shouldn't be granted an unconditional green light and unrestricted authorisation to kill," Sheikh Tamim bin Hamad Al-Thani said in a speech to Gulf state's Shura council.
Read: Almost 20,000 displaced in Lebanon as clashes on Israel border escalate
Support for Israel came from France's Macron, who was meeting with Netanyahu and other officials in Jerusalem. He said France would not leave Israel isolated in its fight against Hamas but warned against the risks of a regional conflict.
Speaking alongside him, Netanyahu said that after the conflict no one would live "under Hamas tyranny" but warned the war would take time.
"We are linked to Israel through mourning," Macron said earlier on social media, saying that 30 French people were killed in the Oct. 7 attacks and nine were still missing or held hostage.