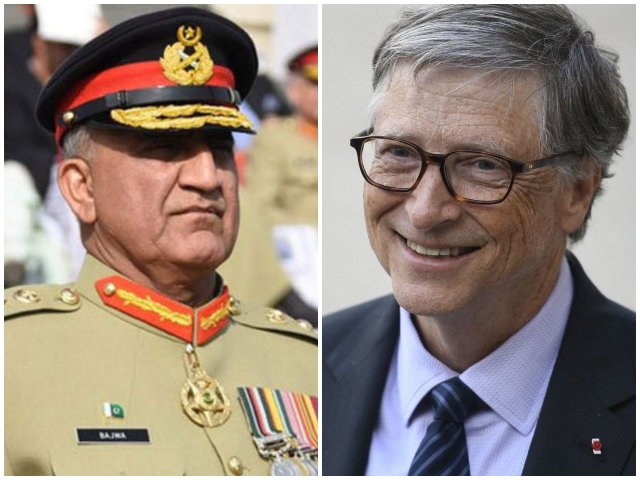 Billionaire philanthropist Bill Gates has lauded Pakistan Army for its effort in the polio eradication drive across the country, especially in ensuring proper reach and coverage of vaccines.
Gates held a telephonic conversation with Chief of Army Staff (COAS) General Qamar Javed Bajwa on Saturday.
According to the Inter-Services Public Relations (ISPR), the army chief, in turn, credited all those involved in the process. He said that eradicating the crippling disease is a national cause.
The Microsoft co-founder also recognised the country's success in containing the coronavirus pandemic despite being strapped for resources.
General Qamar said that Pakistan's anti-Covid efforts executed through the National Command and Operate Centre (NCOC) was a "true national response".
He lauded the efforts of the co-chair of the Bill & Melinda Gates Foundation (BMGF) for eradicating polio from the country and containing the coronavirus pandemic. He also assured him of continued cooperation.
Pakistan recorded two cases of polio in North Waziristan after a lull of 15 months. No new case of the disease was reported in 2021.
Earlier this week, the philanthropist held a telephonic conversation with newly elected Prime Minister Shehbaz Sharif, wherein they discussed the cooperation between BMGH and Pakistan.
During the conversation, the premier reiterated his government's commitment to polio eradication, highlighting how a special emergency plan was already being implemented to step up immunisation efforts.
Earlier this year, Gates also visited Pakistan for the first time and met with President Dr Arif Alvi and then Prime Minister Imran Khan. He also visited the NCOC to review Pakistan's Covid-19 response.
The philanthropist lauded Pakistan's efforts against coronavirus pandemic, polio and poverty, terming Ehsaas as a "state-of-the-art programme".
The then government also reiterated its conviction to eradicate polio from the country.
During the visit, the president also conferred Hilal-e-Pakistan on him for his meritorious services to the country.


Source link