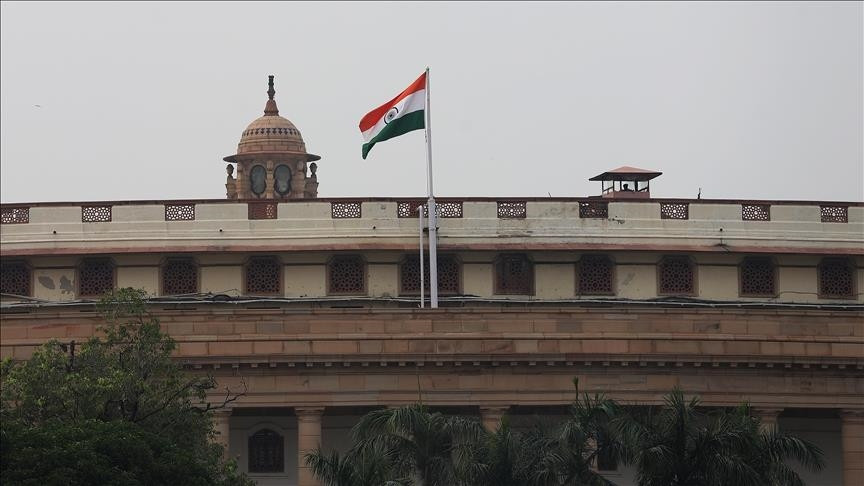 Millions of visitors are awestruck every year by the beauty of the iconic Taj Mahal, a 17th-century marble mausoleum in northern India built by Mughal emperor Shah Jahan in memory of his favorite wife.
Not only is the Taj Mahal considered the jewel of Muslim art in India but people across the globe, visiting historical monuments —mausoleums to forts to mosques — shower praise on the Mughals who gifted such monuments to the South Asian populous nation.
In Indian schools, however, not everyone would get to know in-depth details about the Mughals, as many textbooks, published by the autonomous National Council of Educational Research and Training (NCERT) have trimmed references to the Mughals, who ruled much of the Indian subcontinent for more than 300 years.
NCERT textbooks are widely accepted by various school boards across the country.
The Indian Express newspaper reported earlier this month that content on the Mughal era and Muslim rule suffered deep cuts in the textbooks from class sixth to 12 which was conducted last year. The reprinted books with the "rationalized content" hit the markets only recently.
Authorities removed a two-page table that detailed milestones and achievements of Mughal emperors such as Shah Jahan, Humayun and Akbar in a seventh-class textbook.
Interestingly, those emperors are credited with India's local arts, crafts and skill sets, besides, magnificent architecture.
Recently, nearly 250 academics and historians, however, issued a statement criticizing the changes in the textbooks and alleged that the move has been "guided by a divisive and partisan agenda" while demanding "the deletions be immediately withdrawn."
Opposition leaders have also criticized the move, with some calling it communal.
Not only the Mughals, the books which recently hit Indian markets, have also omitted references related to anger among Hindu extremists toward India's freedom icon Mahatma Gandhi which led to his assassination.
References related to India's first Muslim Education Minister Maulana Abul Kalam Azad; a year-long ban on the powerful Hindu group Rashtriya Swayamsevak Sangh which is also the ideological inspiration for the ruling Bharatiya Janata Party and Gujarat communal riots in 2002 have also been pruned, said several media reports.
Serious implication, worrying
Political experts in India fear such moves "will further strain inter-religious relations and tolerance in society."
Niranjan Sahoo, a senior fellow at New Delhi-based Observer Research Foundation (ORF) told Anadolu via email that moves to take out content should not come as a surprise since the Indian ruling party got a second term in 2019, it "has been making an aggressive push to change the school curriculum which not only erases the long Muslim rule but also sanitizes their own controversial history (Gandhi's assassination, Gujarat pogrom, etc)."
"Since the revisionist project faces major criticisms, the ruling party has been using the reduction of curriculum burden on students as an easy ploy. Such a move, however, will have serious implications for society," he said.
Sahoo noted that selective reading of history will "destroy the composite and diverse society that is India and it will further strain inter-religious relations and tolerance in society.
"Only saving grace is a small fraction of students read NCERT books," said the expert.
Eshan Sharma, the founder of Karwaan, an India-based student-led history and heritage promotion initiative, told Anadolu that trimming historical and political references from textbooks is worrying.
"As a student of history, it hurts to see this," he said. Sharma maintains that history is very contextual and should be "understood in totality and not in bits and pieces."
"Once the context is removed, now then you are making an uninformed generation, ignorance of history will lead to the misunderstanding of the present," he said. "History should be understood as a dynamic subject, which talks of the past, present, and the future.
Also read: Stress seen as major cause of Indian military fratricides, suicides
Rationalization
While the move of trimming is being criticized widely, officials said the cuts are part of a "rationalization process" triggered by the coronavirus.
"As we explained last year as well, there has been a lot of learning loss due to the Covid pandemic and the students underwent a lot of trauma," a local news broadcaster quoted NCERT Director Dinesh Prasad Saklani. "To help stressed students, and as a responsibility to society and the nation, it was felt that the content load in textbooks should be reduced."
The official rejected allegations that the changes were made to suit a particular ideology.
Bharatiya Janata Party spokesmen maintained there was no attempt to erase history but to "counter biases."
Experts said the revision of the text has been happening over the last few years. The Indian Express newspaper reported that the latest revision is the third round of alterations to NCERT textbooks in the past eight years — mainly in history, political science and sociology at the school level.
Ajay Gudavarthy, a Delhi-based political expert and faculty at the Center for Political Studies at New Delhi's Jawaharlal Nehru University, told Anadolu that "the Hindu right find it difficult to digest the idea of Muslims as rulers."
India's last census in 2011 revealed that Hindus make up nearly 80% of the population; Muslims are a little more than 14%. Since 2014, when BJP came to power, the Mughal era become an eyesore to right-wing Hindu nationalists. Right-wing elements filed back-to-back petitions in the courts claiming that UNESCO-protected monuments and Mughal-era mosques are temples.
"Alongside this, they are also erasing Muslim monuments and names of places. They are drawing a direct continuity between yesteryear's Muslim rulers and today's subaltern Muslim population," said Gudavarthy, referring to a change in the names of places in India by the BJP, to become more Hindu-centric.
Gudavarthy, however, said erasing historical details in the digital age is a near-impossibility. "There is information flowing all around," he said.
Sahoo, the senior fellow at ORF, on the other hand, said the altering of texts is a further push toward Hindu majoritarianism that believes in one religion, one nation.
"While this is part of the cultural project of RSS and may not be directly linked to electoral gains, in the longer horizon this would add to the political strength of Hindutva groups and BJP in particular," he said.


Source link