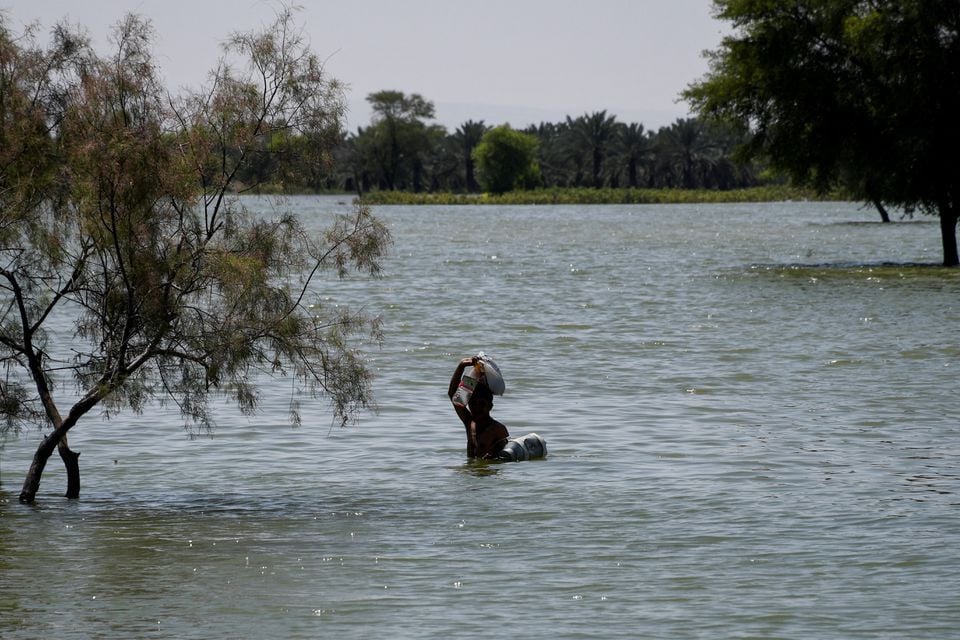 Sindh braced for yet more flooding on Thursday as a surge of water flowed down the Indus river, threatening further devastation in a country already a third inundated, in a growing disaster blamed on climate change.
The Indus was in high flood with a flow of 531,000 cusecs water at Guddu; 529,000 cusecs at Sukkur and 408,000 cusecs at Kotri. According to the Indus River System Authority (Irsa), so far, 16.7 million acre feet water had been released to the sea.
Meanwhile, flood torrents, after devastating Larkana, were raging in the Dadu district. After inundating the Khairpur Nathan Shah taluka of the Dadu district and Sujawal Junejo taluka of Kambar-Shahdadkot district, the Mehar taluka of Dadu came under serious threat of flooding.
The flood is now gushing towards Shahdadkot town. To prevent the flooding, three cuts were made in Kambar-Larkana road and two in Garhi Khairo road to lessen the water pressure but it severed the road link between Shahdadkot and Balochistan.
To avoid flood, residents of Johi town of Dadu district made a cut in the Flood Protection (FP) embankment to divert water towards Manchhar lake. Manchhar breached its banks at six places, increasing water level in the flooded villages.
Tens of thousands of people were stranded in Khairpur Nathan Shah after the entire town was inundated by floodwater. The army and the navy evacuated around 1,000 people to safer places.
Read: Pakistan declares emergency amid catastrophic floods
Record monsoon rains have triggered floods that have killed at least 1,191 people, including 399 children. The floods have swept away homes, businesses, infrastructure and roads. Crops over some 2 million acres of farmland have been destroyed.
The government says 33 million people, or 15% of the 220 million population, have been affected. The military said that the troops had evacuated some 50,000 people, including 1,000 by air, since rescue efforts began.
The National Disaster Management Authority (NDMA) said some 480,030 people have been displaced and were being looked after in camps. The World Health Organization said that more than 6.4 million people were in dire need of humanitarian aid.
" More than 3 million children are in need of humanitarian assistance and at increased risk of waterborne diseases, drowning and malnutrition due to the most severe flooding in the country's recent history," the UN children's agency warned.
Sindh, with a population of 50 million, has been hardest hit, getting 466% more rain than the 30-year average. Some parts of the province look like an inland sea with only occasional patches of trees or raised roads breaking the surface of murky floodwaters.
Thousands of families have taken refuge on roads, the only dry land in sight for many. Villagers rushed to meet a Reuters news team passing along one road near Dadu, begging for help. Many are headed for urban centres, like Karachi.Indus floods"We're on a high alert as water arriving downstream from northern flooding is expected to enter the province over the next few days," Sindh government spokesman Murtaza Wahab said.
He added a flow of some 600,000 cusecs was expected to swell the Indus. However, Preetam Das, the managing director of the Sindh Irrigation and Drainage Authority (Sida) said there was no threat of riverine floods in any part of the province.
However, the level is gradually rising at the Kotri Barrage, where the irrigation department recorded 438,162 cusecs. The water level at Guddu Barrage dropped slightly to 531,000 cusecs but it remained unchanged at the Sukkur.
Irsa said that the water level in various rivers upcountry was also declining, stressing that all the rivers except the Kabul river, were flowing normally. It added that water flow had registered a decline of 92,000 cusecs in the Kabul river.
According to the country's top water management body, Tarbela Dam had been filled to the capacity, holding 9.4 million acre feet water. Irsa further said that the Indus at Terbela was flowing at 187,000 cusecs.
At Chashma barrage the flow was 357,000 cusecs, the Jhelum's inflow in Mangla dam was 28,000 cusecs, while the flow at Kalabagh was 251,000 cusecs. However, Irsa reported, there was a high flood Taunsa Barrage at 580,000 cusecsMore aid
Britain on Thursday pledged £15 million in aid.
Foreign Secretary Liz Truss said the country had made the donation that would be used to provide water, sanitation, shelter and to protect women and girls.
Separately, the Meteorological Office forecast more rains and flash flooding this month. It said that Punjab and the Sindh were expected to receive above-normal rainfall, adding that isolated heavy downpours could trigger flash flooding.
(WITH INPUT FROM REUTERS)


Source link