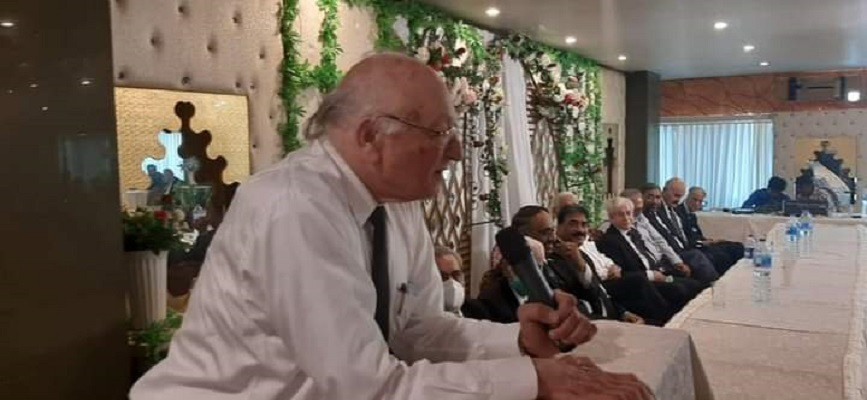 [ad_1]
Former president of the Supreme Court Bar Association and senior lawyer Latif Afridi was killed by a distant relative due to an alleged family feud.
According to sources, the primary accused, Adnan, is the son of Samiullah Afridi, a senior lawyer, and the nephew of slain anti-terrorism judge Aftab Afridi. Samiullah, Aftab and Latif Afridi were related and were all reportedly killed due to a familial conflict.
Both Latif and Samiullah also served as counsel for Shakeel Afridi, arrested in the Osama Bin Laden case. Following the case, Samiullah started receiving threatening calls and was later killed.
His family accused Latif of the murder and proceeded to murder Latif's cousin as revenge. Samiullah's family claimed that Latif's relatives attacked and killed anti-terror judge Aftab Afridi – a relative of Samiullah – as retribution for the murder of Latif's cousin.
However, Latif condemned the murder of Aftab and denied involvement in the incident.
Read Top religious scholars issue unanimous edict against terrorism
Yet, relatives of Aftab and Samiullah were confident that Latif was involved in the murder of their grandfather, grandson and mother-in-law. They had also nominated Latif in the first information report (FIR) and the court case.
Latif Afridi was shot dead inside the Peshawar High Court on Monday when an assailant disguised as a lawyer opened fire at him.
According to Senior Superintendent of Police (SSP) Operations Kashif Abbasi, the attacker fired approximately six bullets when the senior lawyer was sitting with other lawyers inside the bar room, critically injuring him.
Latif was a renowned lawyer and a former member of the National Assembly. He was the former president of the Awami National Movement (ANP) but later inclined towards the Pashtun Tahafuz Movement (PTM) due to which ANP leader Aimal Wali Khan expelled him from the party.

[ad_2]
Source link