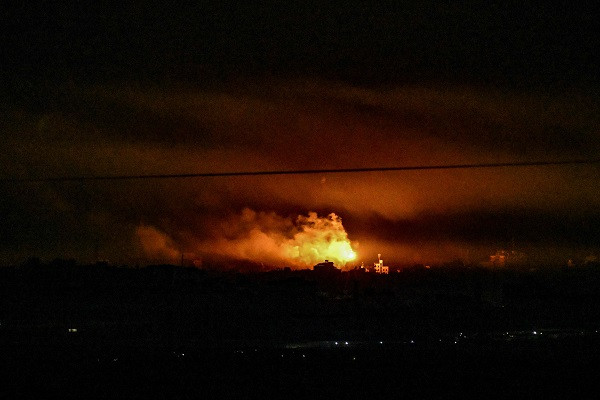 Foreigners, wounded set to leave Gaza as fighting intensifies

GAZA:

A number of foreigners and critically wounded people were set to leave the Gaza Strip under a Qatari-mediated deal on Wednesday as Israeli forces pushed their offensive against the besieged Palestinian enclave.
The deal was reached between Egypt, Israel and Hamas.
Israeli airstrikes hit a densely populated refugee camp in the Gaza Strip, killing dozens of Palestinians as medics struggled to treat the casualties in the enclave where food, fuel and basic supplies are running scarce.
The health ministry in Gaza said Israeli air and artillery bombardment has now killed more than 8,500 Palestinians, two-thirds of them women or children.
The Israeli military said 11 soldiers were also killed in fighting in Gaza on Tuesday, the biggest one-day loss for the armed forces since Hamas fighters attacked southern Israel on October 7.
Israeli army artillery howitzers are stationed at a position along the border with the Gaza Strip in southern Israel. PHOTO: AFP
Israel's Army Radio said most of the dead were infantrymen whose vehicle was struck by an anti-armor missile.
Israel sent its forces into Gaza following weeks of air bombardments in retaliation for the attack, and an Israel Defense Forces (IDF) statement claimed the airstrikes on Jabalia, Gaza's largest refugee camp, had killed Ibrahim Biari, a Hamas commander it said was "pivotal" in the planning and execution of the assault.
"I understand that is also the reason why there are many reports of collateral damage and non-combatant casualties. We're looking into those as well," said IDF spokesperson Lieutenant Colonel Jonathan Conricus
Hamas spokesperson Hazem Qassem denied any senior commander was in the camp, and called the claim an Israeli pretext for killing civilians. Palestinian health officials said at least 50 Palestinians were killed and 150 wounded.
A Hamas statement said there were 400 dead and injured in Jabalia, which houses families of refugees from wars with Israel dating back to 1948.
The blast left large craters surrounded by wrecked buildings. Israel repeatedly warned Gaza residents to evacuate northern areas and while many have gone south, many have stayed.
Israel besieged Gaza after the Hamas attack, and the UN and other aid officials said civilians in the enclave were living in a public health catastrophe, with hospitals struggling to treat casualties as electricity supplies petered out.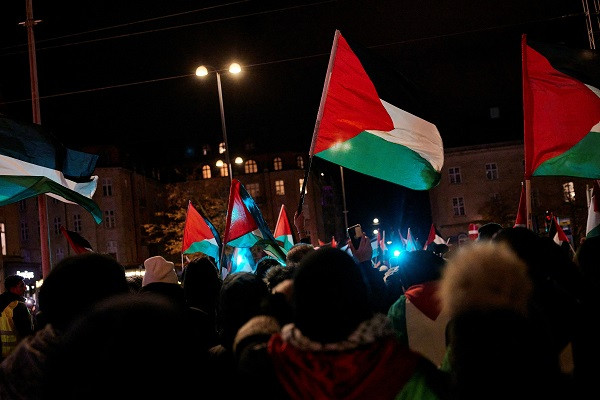 People take part in a demonstration in support of Palestinians in Gaza in Aarhus, Denmark. PHOTO: Reuters
On Wednesday, communications and internet services were completely cut off in the enclave again, Gaza's largest telecommunications provider Paltel said.
Public health crisis engulfs Gaza
In Washington, a group of anti-war protesters raised red-stained hands to interrupt a hearing in Congress on providing more aid to Israel. They shouted slogans including, "Ceasefire now!" "Protect the children of Gaza!" and "Stop funding genocide." Capitol police removed them from the room.
Power generators in Al Shifa Medical complex and the Indonesian Hospital in Gaza will run out of fuel in a few hours, Ashraf Al-Qidra, spokesperson for the health ministry in Gaza said. He called on petrol stations owners in the enclave to urgently feed the two hospitals with fuel if possible.
After the attack on Jabalia, dozens of bodies lay shrouded in white, lined up against the side of the Indonesian Hospital, footage obtained by Reuters showed.
Juggling dwindling supplies of medicines, power cuts and air or artillery strikes that have shaken hospital buildings, surgeons in Gaza have worked night and day trying to save a constant stream of patients.
"We take it an hour at a time because we don't know when we will be receiving patients. Several times we've had to set up surgical spaces in the corridors and even sometimes in the hospital waiting areas," Dr. Mohammed al-Run said.
Hamas has told mediators it will soon release some of the 200 or so foreign captives it had taken during the attack on Israel, Abu Ubaida, the spokesperson of the group's armed wing, al-Qassam Brigades, said in a video on the Telegram app on Tuesday. He gave no further details on the number of captives or their nationalities.
Meanwhile, Israeli families of the captives taken appealed to the International Criminal Court on Tuesday to order an investigation into the killings and abductions. Israel is not a member of the Hague-based court and refuses to recognise its jurisdiction.
Internet, phones 'completely' shut off in Gaza
Internet and phone networks were down across the Gaza Strip on Wednesday, the Palestinian telecommunications agency said, in the second such blackout in the besieged territory in less than a week.
"To our good people in the beloved country, we are sorry to announce that communications and internet services have been completely cut off in Gaza," the Palestine Telecommunications Company (Paltel) said on X.
Global network monitor Netblocks confirmed that Gaza "is in the midst of a new internet blackout with high impact to the last remaining major operator, Paltel.
"The incident will be experienced as a total loss of telecommunications by most residents," it said in a post on X.
An AFP journalist in Gaza confirmed the loss of communications, adding that his phone still had signal because he was using an international SIM card.
Another AFP journalist said only people with Israeli or Egyptian phone lines could still use their mobiles in the border town of Rafah.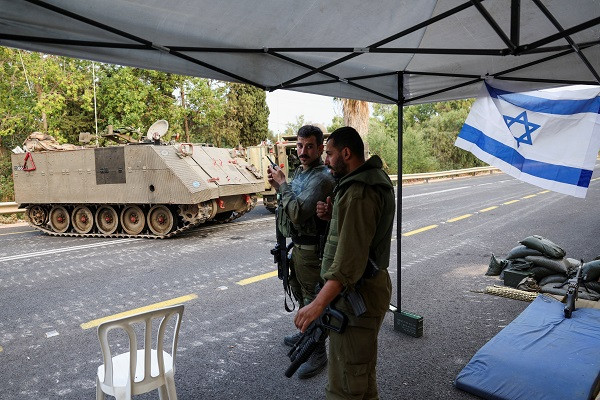 sraeli soldiers man a checkpoint near the border with Lebanon in northern Israel. PHOTO: Reuters
Internet and phone networks were completely cut last week but were restored at the weekend.
The government of Palestinian group had at the time accused Israel of causing the shutdown in order to "perpetrate massacres" in the Gaza Strip.
Palestinian telecoms provider Jawwal had blamed Israel's "heavy bombardment" of the territory for the blackout.
'Progress' on safe passage for foreigners
The United States has made "real progress" in the last few hours in negotiations to secure a safe passage for Americans and other foreign nationals who wish to leave Gaza, US State Department spokesperson Matthew Miller said.
US Secretary of State Antony Blinken will visit Israel on Friday for meetings with members of the government and then make other stops in the region, the department said.
On Tuesday, Blinken said the United States and other countries were looking at "a variety of possible permutations" for the future of Gaza if Hamas fighters are removed from control. Israel has vowed to annihilate Hamas after several inconclusive wars dating back to 2007.
Israeli Prime Minister Benjamin Netanyahu dismissed international calls for a "humanitarian pause" in fighting to enable emergency aid deliveries to civilians suffering from critical shortages of food, medicine, drinking water and fuel.
The US, Qatar and Egypt have been working to open the Rafah crossing into Egypt to allow people to come and go.
Egyptian authorities would allow 81 Gazans who were severely wounded in the weeks of bombardment to enter Egypt on Wednesday to complete treatment, the Palestinian border authority said.