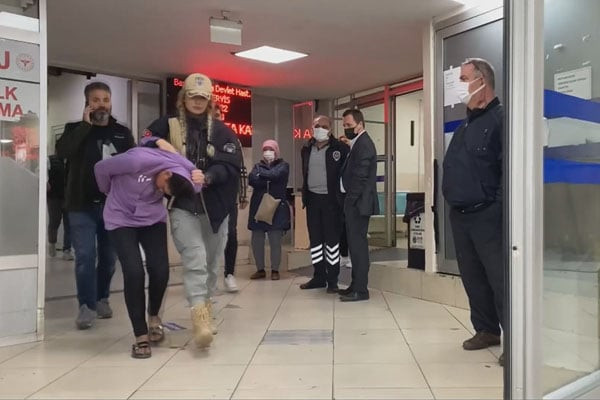 The footage came to light on Monday showing Turkish security forces as they caught a suspect thought to be behind a deadly blast on Istanbul's Istiklal Avenue.
Istanbul police teams identified the female suspect based on her physical appearance, determined via images caught on security cameras near the site of the explosion that killed six people and injured 81 on the busy pedestrian street.
The suspect, whose escape route was also determined, was later detained in an overnight raid by anti-terror forces at a hideout in the district of Kucukcekmece, located west of the attack site.
Authorities uncovered that the suspect, whose initials are A.A., is a 23-year-old Syrian national who entered Turkiye through the Afrin area in northwestern Syria.
(VIDEO) Footage shows Turkish police arresting perpetrator of Sunday's bombing on Istiklal Avenue in Istanbul, raid at her hideout pic.twitter.com/8UIwwzZZv6
— ANADOLU AGENCY (@anadoluagency) November 14, 2022
The images of her capture, recorded during the raid on the suspect's hideout, were also shared by police forces.
"Our assessment is that the order for the deadly terror attack came from Ayn al-Arab in northern Syria, where the PKK/YPG has its Syrian headquarters," said Interior Minister Suleyman Soylu.
Read more: Turkey rejects US condolences over Istanbul attack
He reiterated that Turkiye will continue with its resolute and rightful war on terror. "We will retaliate against those who are responsible for this heinous terror attack," he added.
Soylu confirmed that six people were killed and 81 were injured in the attack.
#Taksim İstiklal Caddesinde meydana gelen Bombalı Terör Saldırısını gerçekleştiren terörist YAKALANDI🚨
Olayla ilgili başlatılan çalışmalar çok yönlü olarak devam etmektedir. pic.twitter.com/CniGox6r4u
— İstanbul Emniyet Müdürlüğü (@istanbul_EGM) November 14, 2022
Fifty of the injured were released from hospitals, while five are in intensive care units, he said.
Also, two of the injured are in critical condition, he added.
People start returning to Istiklal Avenue
People started returning to Istiklal Avenue, a day after the busy thoroughfare was cordoned off due to a deadly terror attack.
Residents and local officials of the Beyoglu district left carnations in memory of the victims on the usually bustling pedestrian street.
District Governor Mustafa Demirelli told reporters that they left the flowers both in remembrance of the victims and to send a message that "Istiklal is back to its lively days."
"I believe strong solidarity will help us heal our wounds and overcome difficult times. This is an attack on our stability, unity and togetherness," Beyoglu Mayor Haydar Ali Yildiz told reporters at the site.
The explosion on Istiklal Avenue was carried out by the PKK/YPG terrorist organisation. The YPG is the Syrian offshoot of the PKK, which is listed as a terrorist organisation by Turkiye, the US and the European Union.


Source link