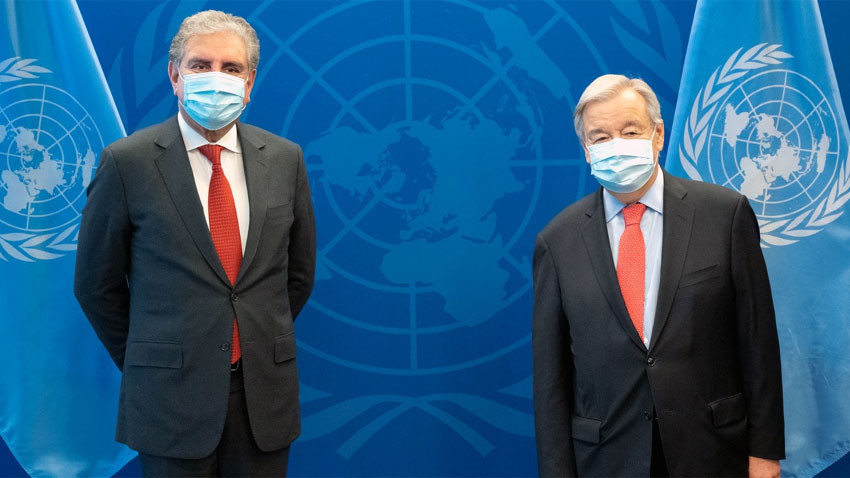 Foreign Minister Shah Mahmood Qureshi has called for urgent action to stave off a humanitarian crisis in Afghanistan as he apprised United Nations Secretary-General (UNSG) Antonio Guterres of the evolving situation in the war-torn country.
The foreign minister and the secretary-general of the world body were of the view that urgent and unconditional humanitarian assistance, as well as financial support, should be provided to the Afghan people to prevent a humanitarian disaster or an economic collapse.
Read More: Pakistan calls for 'positive engagement' with Afghanistan via 'practical steps'
Qureshi briefed the UN chief on Pakistan's assistance in the safe evacuation and relocation of UN and other international staff from Kabul and informed him of the establishment of a 'human corridor' for the delivery of aid and relief goods.
Regarding the situation in Illegally Indian Occupied Jammu and Kashmir (IIOJK), Qureshi shared a dossier containing details of the widespread human rights violations by Indian authorities.
"Unilateral Indian measures taken in the disputed territory are a threat to regional and international peace and security," a press release issued by the Pakistan Mission to the UN quoted the foreign minister as saying.
India is busy changing the demographics of Kashmir, ignoring UN Security Council resolutions and international law, the communique further quoted FM Qureshi.
Qureshi also urged the UN chief to resolve the IIOJK issue with the UN Charter and Security Council resolutions and called for pressurising India to withdraw its illegal measures of August 5, 2019, and give the Kashmiri people their right to self-determination.
During the meeting, the foreign minister also stressed the need to take effective measures to curb the growing intolerance, discriminatory attitudes and Islamophobia.
He called for the elimination of the inequality regarding the Covid-19 vaccine and for ensuring adequate financial support for developing countries to deal with the pandemic and its economic implications.
Meanwhile, addressing a news conference in New York, Qureshi called for a coordinated strategy to bring peace, stability and prosperity to Afghanistan.
He warned that Afghanistan could plunge into another crisis and the situation might deteriorate if the right policy was not pursued.
Qureshi said Prime Minister Imran Khan, in his address to the UNGA, talked about all those topics which were of immense importance for the people of Pakistan.