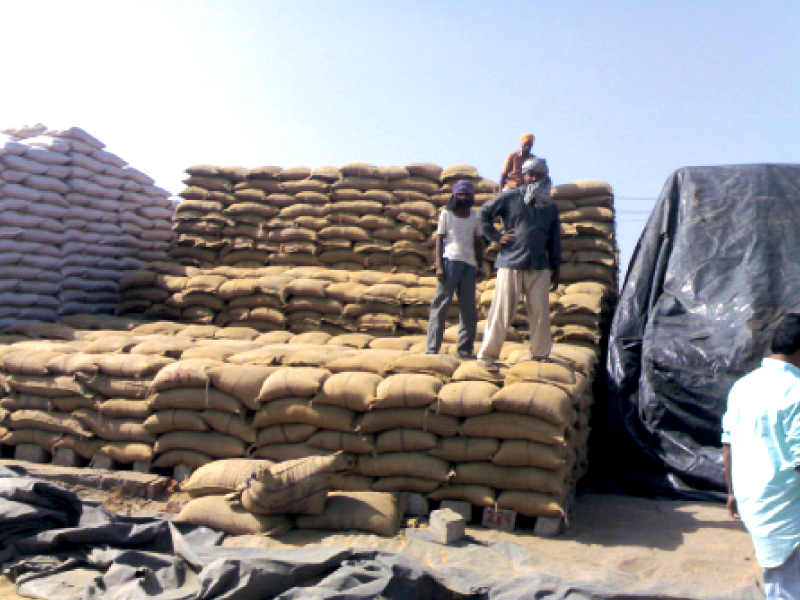 The country's nerve centre for flood response on Friday assured that there was 'no shortage of food items in the country' as food insecurity fears escalated following the devastating floods nationwide.
The National Flood Response Coordination Centre (NFRCC) stated that a 'huge stock' of wheat for the next six months is available along with a strategic reserve of two million tons which will be suffiecient till the next harvesting season.
The body added that 1.8 million tons of wheat will also be imported, out of which 0.6 million tons have reached Pakistani ports. Around 46,000 tons of wheat is released on a daily basis from the public sector.
Read Price hikes spread food insecurity fears
Crops including fruits and vegetables were most affected because of the floods and rains, said officials of the national food security ministry earlier.
The floods devastated crops worth Rs364 billion in Sindh, Rs39 billion in Punjab, Rs61 billion in Balochistan and Rs16 billion in Khyber-Pakhtunkhwa. The province that suffered the most because of the floods was Sindh.
In terms of perishable food items, the NFRCC clarified that bumper crops of tomatoes that were harvested last year are enough to fulfil the current requirement.
The NFRCC further said that the requirement for potatoes was 4.2 million tons for the country while the harvested amount was 7.5 million tons.
Potatoes and onions are in the process of being imported from Iran and Afghanistan. To ease the process, the government has also directed to waive off all duties, i.e., 27 per cent, ensuring that the release and distribution of the items are on the same day.
Moreover, the total requirement for onions and tomatoes in the country is 0.15 million tons and 50,000 tons respectively. Excluding domestic stock, more than 55,000 tons of tomatoes and 6,000 tons of onions have reached the country to address current needs.
For pulses and grains, imports from Canada, Australia and Myanmar are in the process to meet the requirement of 0.15 million tons of masoor and mash, added the flood response centre.
Read More High food insecurity poses threat
Furthermore, for rice, NFRCC stated that the requirement can easily be fulfilled through available stock till December while the crop's next harvesting season will start in October.
Pakistan produces around 9.7 million tons of rice, whereas the total consumption is 3.8 million tons.
The NFRCC assured the people that the country has sufficient food stocks and measures have been taken to further enhance existing capacity.
Army relief efforts
Relief efforts by the armed forces continued and the three branches have collectively established relief and medical camps across the country to help flood victims.
At least 4,659 stranded Individuals were evacuated through helicopter sorties. Other than that, a total of 147 relief camps, over 300 medical camps and 235 relief collection points have thus far been set up in Sindh, South Punjab and Balochistan.
Also Read Army relief fund 'receives Rs417m' so far
The armed forces have also distributed 9849.3 tons of food 1684.6 tons of sustenance items and 9,673,054 medical items.
Furthermore, 67,182 patients have been treated so far, while 20 tent cities, accommodating 19,807 people and 54 relief camps have also been established. PAF also carried out 260 sorties and evacuated 1,521 people from flood-affected areas.