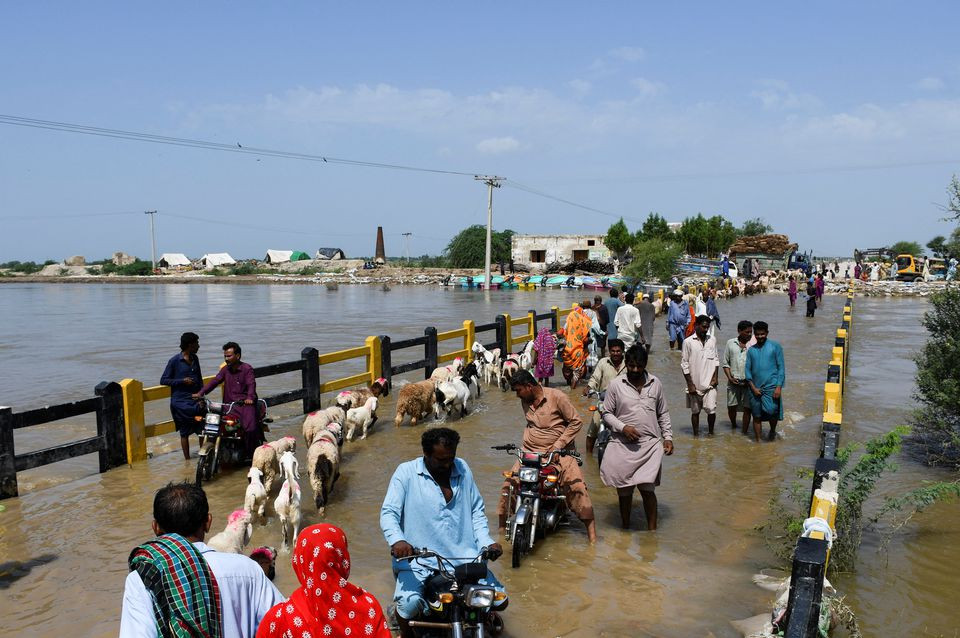 Frantic efforts were underway to save Pangrio town and a grid station in the Badin district, while more villages in the Mirpurkhas district were inundated as the floods continued its rampage on the left bank of the Indus river on Wednesday.
Puran, which empties in the Left Bank Outfall Drain (LBOD), breached its bank at many places while overflowing at many other locations. As a result, the emanating water put Pangrio, a rural town in the Badin district, and its grid station in grave danger of flooding.
Meanwhile, many villages around Sindhri town of Mirpurkhas district were inundated with water coming from Hamal lake. The lake has been receiving water which is being drained from the Sanghar district. Two dehs have been flooded in Sindhri, including a government hospital.
For the past few weeks, Manchar lake caused massive devastation in the districts on the right bank of the Indus. But now it appeared that major towns in the Dadu district have survived the flood threat.
Manchar is seeing a decline in its water level. The irrigation authorities recorded 122 reduced levels (RL) on Wednesday morning, down from the peak of more than 124 RD. The lake's water is being discharged in the Indus river from six locations.
The water flowed in the Arhal channel, Danistar channel, as well as the three cuts given to the Larkana-Sehwan embankment after a constant decline in the river flows especially at the Kotri barrage.
In the flooded town of Khairpur Nathan Shah, in Dadu district, a two feet fall in the water level was witnessed. Nevertheless, the flood-hit people continued to face difficulties either because of their displacement or of being marooned without any help.
Tens of thousands of people with their livestock are surviving in makeshift shelters, as the tents promised by the government have yet to be delivered to a large number of people in the affected areas.
Protests by the affected people have become a common occurrence in almost all the disaster-hit districts. The legal fraternity, on its part, has knocked the doors of the courts to seek justice for the victims.
The Sindh High Court (SHC) Hyderabad bench heard two petitions against the administrations of Dadu and Jamshoro districts on Tuesday and asked the deputy commissioners of both those districts to submit credible reports of their rescue and relief efforts.
Similar directions were issued by the SHC Larkana bench to the government on Wednesday on separate petitions filed against the commissioner and the deputy commissioners of the five districts of the Larkana division.
The petitioners had alleged that the respondents claimed to have spent Rs80 million so far to provide meals to the displaced people. But, they claimed, the affected people complained that either they did not get any meal or its quality was poor.
Meanwhile, the Sindh government sent Jamshoro deputy commissioner district Capt (retd) Fariduddin Mustafa, who also faces court proceedings against him in the SHC, on forced leave of one month on complaints about his inefficiency.


Source link